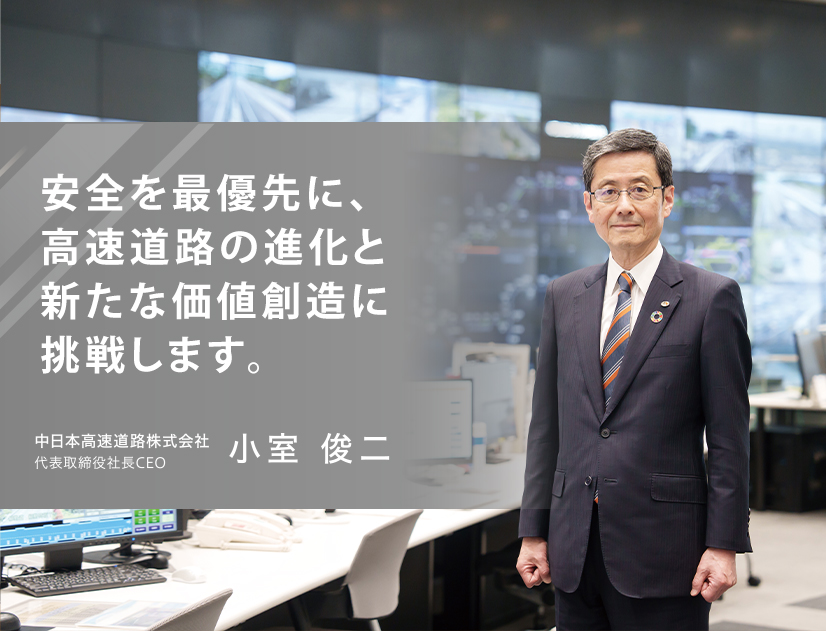 This photo was taken at the Hishima Junction of the Mei-Nikan Expressway before its opening.
A New Management Plan Challenge V (2021-2025)
Based on our Group's philosophy and role of "prioritizing safety above all, as we work towards providing safe expressways for a comfortable journey 24 hours a day, 365 days a year. By expanding our expressway network's effectiveness to create new value that will extend to the next generation, we can continue to contribute to regional revitalization and the improvement of livelihoods, to Japan's social and economic growth, and to global sustainable development," we are currently constructing a 175 kilometer-long expressway. We are also managing and operating expressways measuring a total of 2,170 kilometers used by 1,720,000 vehicles per day, as well as managing and operating 181 rest areas.
In order to realize our corporate philosophy, our role and our Group's social mission at an even higher level, in April 2021, we have newly formulated our "Management Plan Challenge V 2021-2025." Today, the Group's business environment is rapidly changing. In the wake of the spread of COVID-19 which has had a major impact on society and the economy, there is an urgent need to take measures in anticipation of changes that lie ahead. These measures include the use of rapidly advancing digital technologies; the introduction of new technologies and new services in order to cope with a new era in transportation systems; and environmental conservation focusing on a "decarbonized society."
In formulating a new management plan, and in order to accurately respond to changes in the business environment, we have taken into account the opinions of our mid-career and young employees who will lead the next generation, as well as the opinions of our Group's companies. We have reflected these opinions in our new management policy as points to be strengthened in the future, and we are incorporating them into measures in each of our business segments. These points include the "proactive introduction of new technologies and services," the "promotion of digitalization (DX)," "initiatives for a decoarbonized society," and "enhancing job satisfaction and human resource development."
Constant Efforts to Improve Safety
As a party that caused the Sasago Tunnel ceiling panel collapse, our company, with deep regret and a strong determination to never cause such an incident again, has set Management Policy 1, which is "deepening our constant efforts to improve safety," at the top of our management policies in order to maintain a high level of "safety culture."
"Safety" is the core of our management, and by linking it to all of our management policies, our entire Group will work together to tackle the never-ending challenge of improving expressway safety.
Enhancing the Functions of Expressways and their Evolution
Based on Management Policy 2, which is "strengthening the functions of expressways and evolving them into spaces widely used by customers," we will work to strengthen and evolve the functions of expressways which are important social infrastructures that transport people and goods, and support people's lives and industries.
In order to enhance the functions of expressways, we will systematically promote initiatives such as: the maintenance of networks such as the Shin-Tomei Expressway; the maintenance of smart interchanges; measures against traffic congestion; measures against aging expressways through the Expressway Renewal Project; measures to reinforce earthquake resistance; and measures to strengthen our response to increasingly severe natural disasters such as heavy rains and heavy snowfalls.
In addition, we will work to further strengthen the functions of expressways by: 1.) turning provisional two-lane sections such as the Tokai-Hokuriku Expressway into four lanes, and turning the Shin-Tomei Expressway and New Meishin Expressway into six lanes; and 2.) steadily improving environmental maintenance for parking spaces and intermediary logistics facilities in order to improve the efficiency of high-speed truck transportation which includes double trailer trucks.
Moreover, we will also develop expressways so that they can be used more extensively by: 1.) expanding and systematically renovating parking spaces at service areas to improve the comfort in and convenience of rest facilities; 2.) providing services appropriate to "new lifestyles" such as mobile ordering; and 3.) enhancing discount campaigns (drive plans) which are expected to promote inter-regional exchanges and revitalize local communities.
Efforts to Create New Value
In order to create new value with the future of our Group in mind, we will adapt to the rapid changes in our surrounding environment and take on challenges based on Management Policy 3, which is "trying to create new value by adapting to environmental changes such as digitalization and decarbonization."
Along with promoting DX* such as: 1.) "i-MOVEMENT" which will create next-generation expressways through cutting-edge business operations; 2.) "i-Construction" which improves productivity at construction sites; and 3.) the construction of roadside-to-vehicle coordination facilities in order to achieve fully automated driving (Level 4) on expressways, we will actively develop innovative technologies and nurture highly specialized human resources to achieve all these.
Furthermore, Expressway networks, we are steadily working to reduce CO2 emissions that contribute to the control of global warming, as well as being a "decarbonized society" and "sustainable." We will contribute to the realization of a sustainable society, which is the goal of the Sustainable Development Goals (SDGs).
経営基盤の強化
In order to steadily develop the Group's business activities, we have set up management policy 4 "Strengthening the management base to continue to meet the expectations of our customers and other stakeholders," and are highly sensitive to changes in the environment. Productivity improvement and work styles such as training of talented human resources, further utilization of digital technologies such as remote work environment, improvement of systems and work environment that enable diverse and flexible work styles such as telecommuting We will work to improve the motivation of our employees by advancing efforts that contribute to reforms with a sense of speed more than ever.
In addition, under efficient business management, we will enhance the competitiveness of the Group and work to further improve compliance and strengthen governance as a corporate group that conducts extremely public businesses. ..
SDGsの達成に向けて
国際社会共通の目標として2015年に国連で採択された「持続可能な開発目標(SDGs)」がめざす方向性は、当社グループの事業活動と密接に関わっています。ESG(環境・社会・ガバナンス)の取組みを重視しつつ、CSRと経営施策を一元的に推進し、高速道路事業をはじめとする当社グループの事業活動を通じて、ステークホルダーの皆さまへお届けする価値を創出することで、SDGsの達成に寄与していきます。
また、当社は2008年から持続可能な成長を実現する世界的な取組みである国連グローバル・コンパクト(UNGC)を支持し、UNGCで定められた「人権・労働・環境・腐敗防止」の4分野からなる10原則の実現に向けて、社会の良き一員として行動していきます。
NEXCO中日本レポート2021は、経営計画チャレンジVと私たちの日々の取組みの成果を、SDGsとの関わりを含めて紹介するものです。本レポートを是非ごー読いただき、忌憚のないご意見を賜りますようお願い申し上げます。
※Digital Transformation