Technology development efforts
Technology development efforts
NEXCO CENTRAL Is safe, secure and comfortable Expressway In order to provide a space, we are working together with various companies and universities to develop world-class technology as a group.
Technology for safety and security
The traffic safety of customers traveling Expressway We are striving to ensure safety, such as measures against falling objects. In addition, we can be strong and reliable in disaster Expressway We are working on technological development aiming at.
Technology development related to advanced and efficient inspection
While traveling at 100 km / h in a tunnel, we are developing inspection technology that captures images, automatically detects cracks up to 0.2 mm, and detects deformation.
Through this technological development, we will further improve the reliability of inspection technology and make inspections more sophisticated and efficient.
* This technology development is being conducted with the Ishikawa Watanabe Laboratory at the University of Tokyo.
Link:
Technology for comfort
Expressway We are working on technology development that will make it easier for customers to ride.
Visualization technology of brain activity
Put a device on the vehicle to measure changes in oxygen consumption in the brain, Expressway We succeeded in visualizing the brain activity of the driver traveling on the road. With this technology, it is possible to understand how the driver feels against external stimuli, and to understand the factors that cause traffic accidents and the effects of traffic safety measures, such as near-miss situations and uncomfortable situations. can do.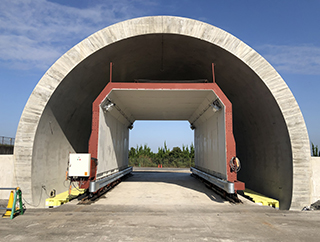 Cost cutting technology
Expressway We are working on technology development to reduce construction costs. In addition, we aim to minimize and level LCC (life cycle cost) considering long-term maintenance and repair of roads.
Cost reduction with long-life tunnel lighting
Conventional tunnel lighting fixtures used sodium and fluorescent lamps, but we have developed LED long-life fixtures that are used in conjunction with new installations and upgrades. It has better visibility than before and can reduce maintenance costs.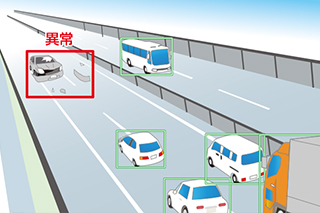 Technology for efficient business
We will promote business rationalization and labor saving to speed up the business.
Utilization of big data
Traffic volume, weather data, etc. Expressway We will work on research and development for providing information services for safety and security using big data.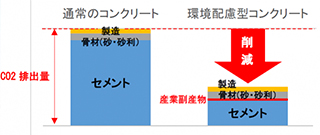 Technology for quality
We are developing technologies that improve the durability of road structures.
High performance waterproofing work for bridges
Improves the waterproof performance of floor slab concrete under the paved surface of the bridge. This improves the durability of the concrete slab.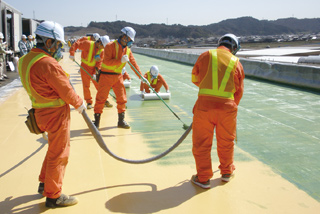 Technology for reducing environmental impact
CO 2 Reduction of global warming by reducing emissions, 3R of resources (occurrence suppression / reuse / recycling), Expressway We are working on technological development to reduce environmental impacts, such as the environment along the railway line and the preservation of landscapes.
Recycled asphalt mixture
A mixture of recycled materials (such as cutting waste) as part of the asphalt mixture. By using recycled materials instead of new materials, waste generation is reduced.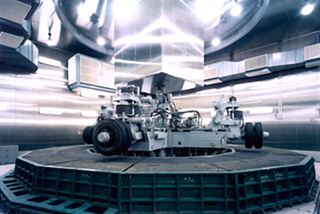 Rotary pavement testing machine for testing pavement durability