Communication Plaza Expressway It is a facility that introduces our business to make you feel more familiar. Admission is free.
Reservation required (If there is no reservation, ID may be presented.)

【Notice】
Communication Plaza Fuji Reopening Notice (Open only on weekends and holidays, reservation required, up to 10 people each time)
July 29, 2020 Update
Communication Plaza Fuji, which is temporarily closed to prevent the Large new coronavirus infections, will resume from Saturday, August 1, 2020.
Communication Plaza Kawasaki will be closed.
Information for partial resumption
◇Open only on weekends and holidays (closed on weekdays)
◇Reservation required ・Up to 10 people each time (please apply in advance by phone.)
◇ Visit time (replacement system): (1) 10:00 to 11:30, (2) 13:00 to 14:30, (3) 15:00 to 16:30
◇ Requests to visitors

Please check in advance.
* What are the communication plaza efforts to prevent the Large of new coronavirus infections? Here

Please refer to the.
*Customers visiting from outside Shizuoka Prefecture Shizuoka Prefecture Official Homepage

Please check in advance for the latest information regarding cross-prefectural transfers.
---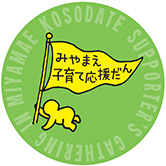 Communication Plaza Kawasaki joins "Miyamae Childcare Support Dan"!
・ A nursing room has been established at Communication Plaza Kawasaki. Baby cots, nursing chairs and picture books are available. Please feel free to use it.
・ We joined "Miyamae Childcare Support Dan", which supports mothers and fathers who are trying to raise children.
[Miyamae child care support Facebook]
[Special information]
Michimaru-kun goods will be presented to customers who have collected three stamps!
・ One stamp per visit.
・ Stamp cards will be distributed after the tour and after participating in the event.
・ Available at Communication Plaza Kawasaki / Fuji.
Please feel free to contact our staff for other details.