・ The figures are cumulative from FY2006, and the upper row shows the targets for FY2020. The bottom row is the results for FY2017 Shows.
Shin-Tomei Expressway-Shin-Meishin Expressway, such as Expressway network and smart Inter
We will steadily and efficiently develop changes to meet local expectations.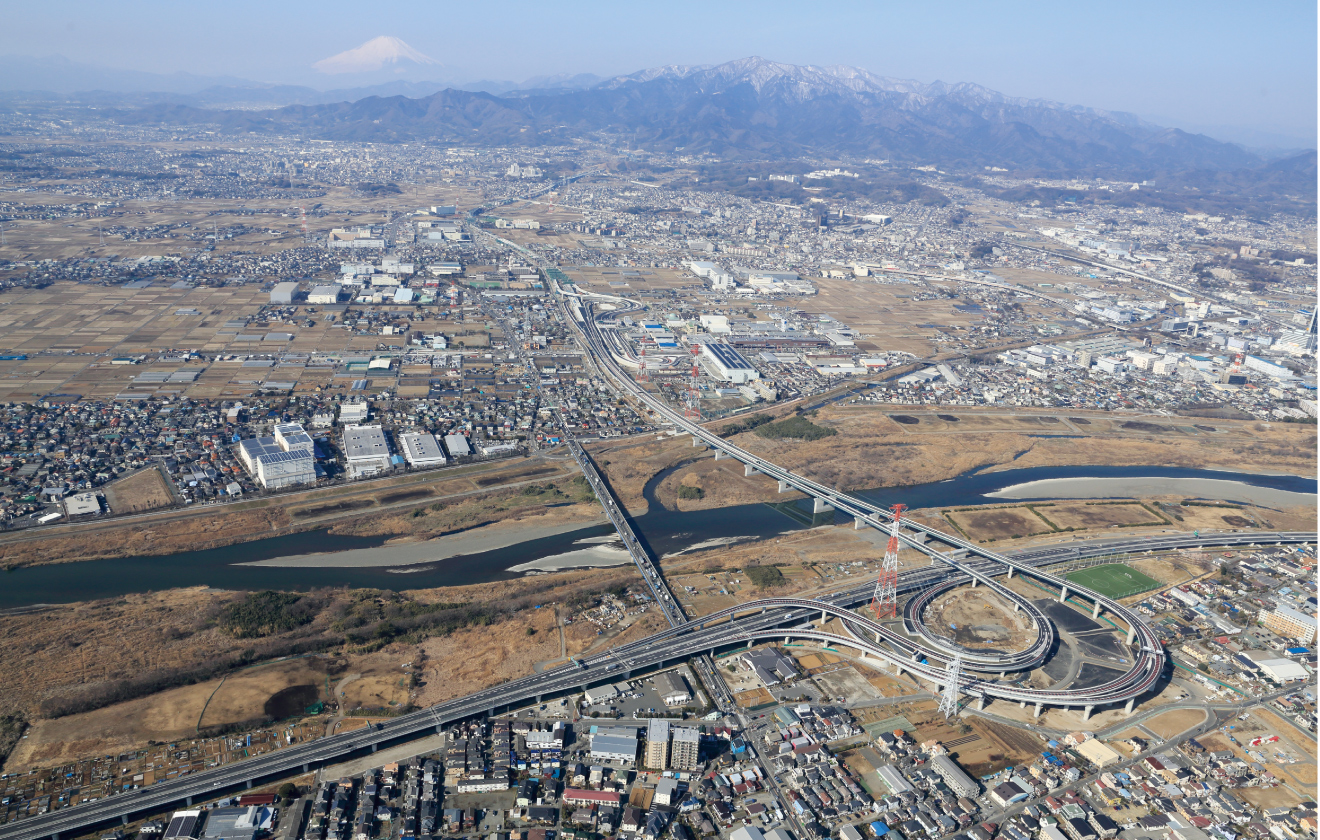 Shin-Tomei Expwy Ebina-minami JCT-Atsugi-minami IC

Expressway Network maintenance
In fiscal 2017, we established 6 km of smart interchanges for 5 km.
Scheduled completion of construction section and smart interchange (exclusive to ETC) (until FY2020)
Section under construction

Smart interchange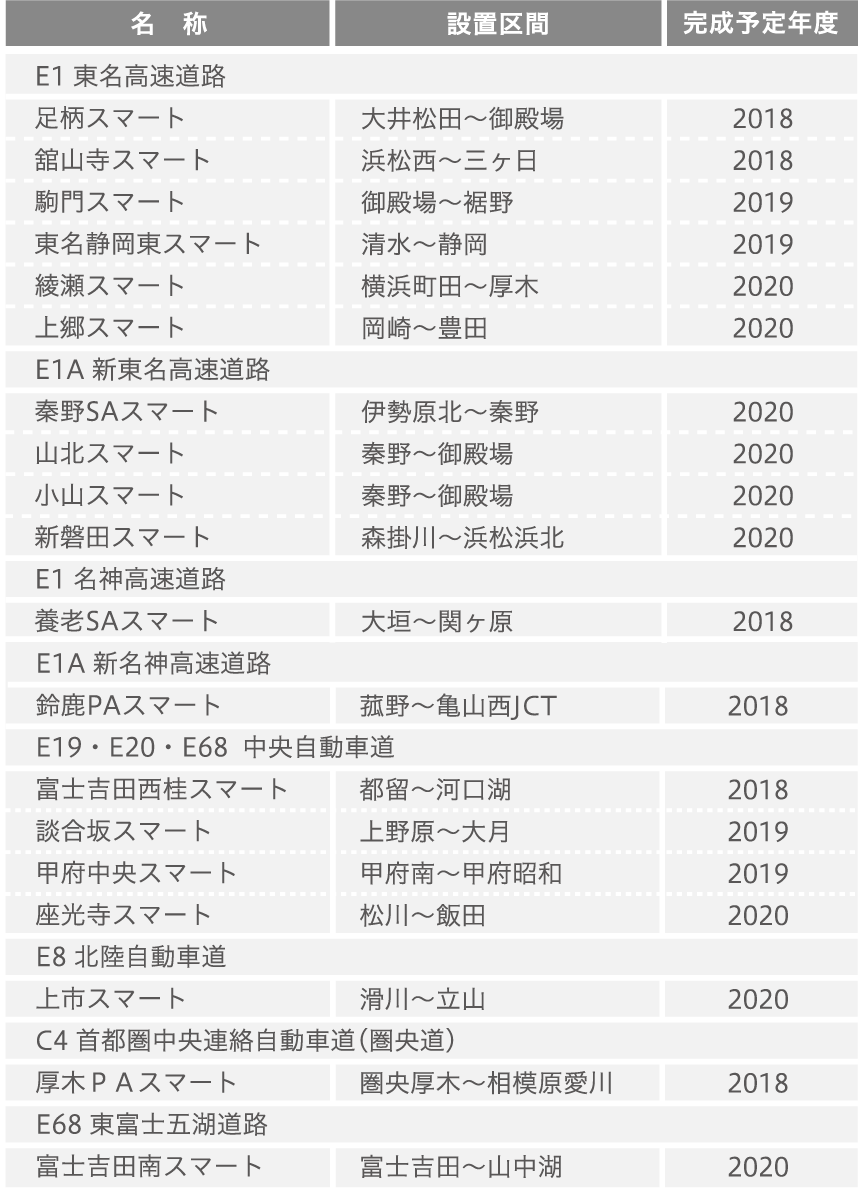 ・ The completion year of the smart IC (Gifu Miwa, Kaizu) for the section where the project will be implemented jointly with Ministry of Land, Infrastructure, Transport and Tourism will be announced again based on the status of future business progress.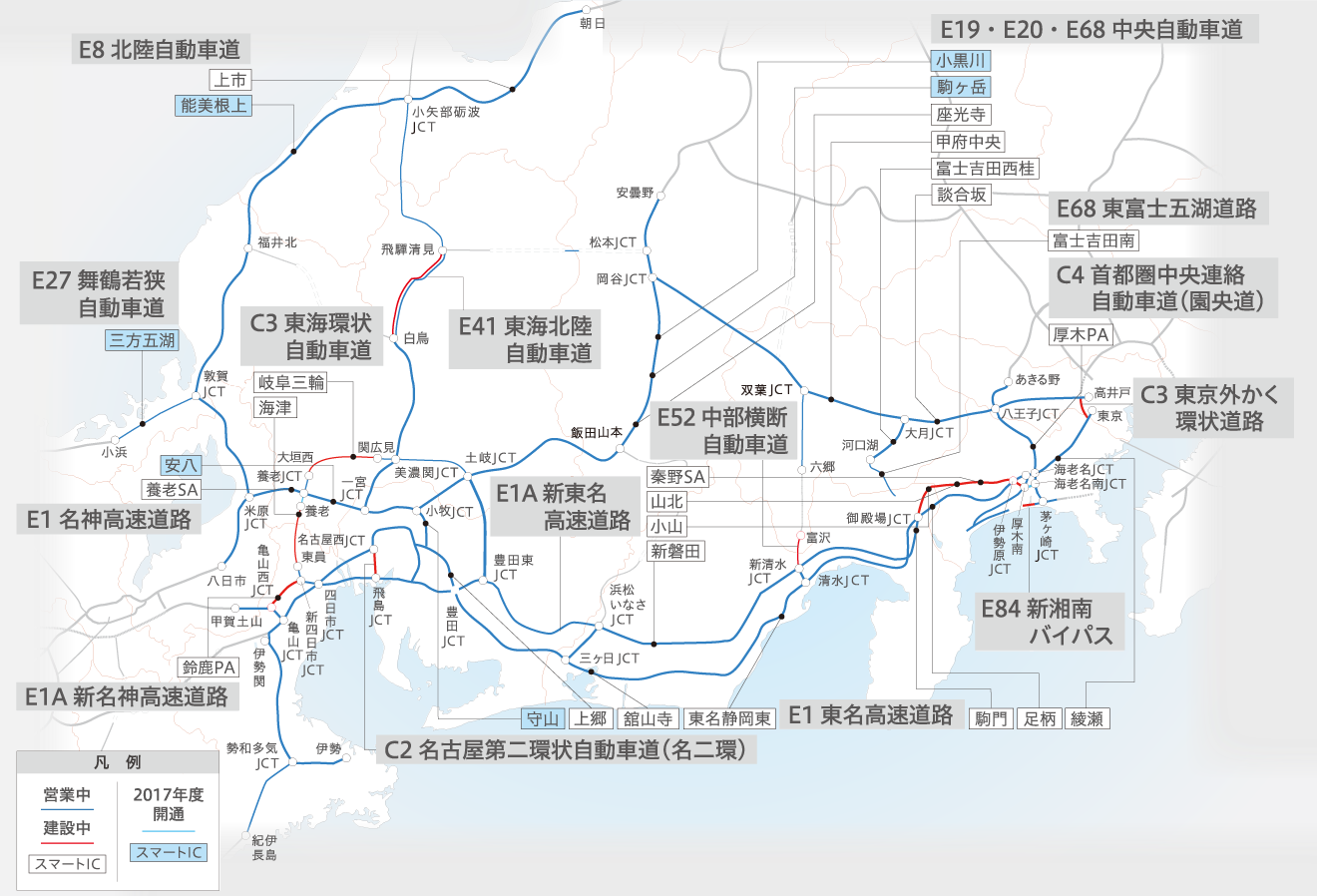 * Click on the map Large It shows
Expressway Stock Effects(maintenance effect)
Expressway In addition to shortening the required time, the opening of will bring various stock effects such as improving productivity of economic activities, revitalizing the region, contributing to early restoration in the event of a large-scale disaster, and promoting tourism.
Increase productivity by reducing traffic congestion
Shin-Tomei Expwy(Shin-Tomei Expressway) Congestion loss time due to opening between Gotemba JCT and Toyota-higashi JCT * 1 Is reduced by about 90%, required time * 2 Is reduced by about 22 minutes, contributing to improved punctuality (time reliability), more efficient logistics, and associated productivity.
The opening of the section under construction is expected to further reduce traffic congestion and shorten the required time.
* 1 The difference in required time depending on the presence or absence of traffic, indicating the loss situation. Based on our traffic statistics data, calculated from the difference in transit time between crowded and uncrowded traffic and the number of passing traffic.
※ 2 2011 private probe data and the 2016 years of traveling on the Tomei Shin-Tomei Expressway calculates the average value than private probe data that was traveling.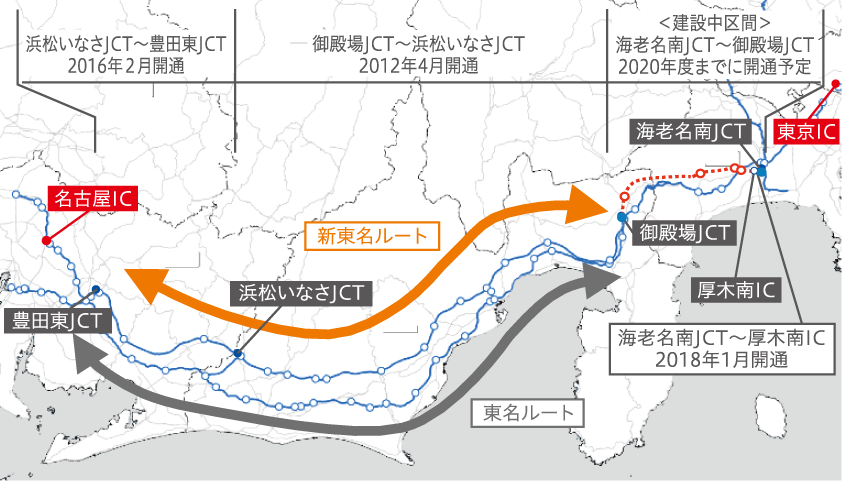 Congestion loss time between Shin-Tomei Expressway Tomei Gotemba JCT and Tomei Toyota JCT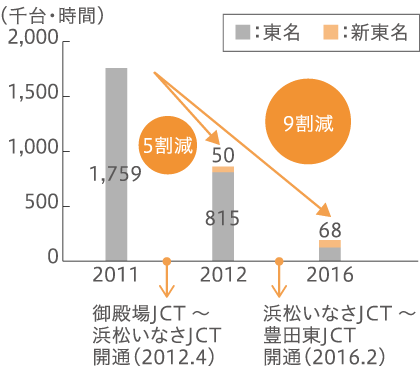 Changes in time required from Gotemba JCT to Toyota JCT

Expressway Revitalization of the local economy through maintenance
20-Year Economic Ripple Effect of Improvement of Isewangan Expwy(Isewangan Expressway) * 3 Is worth about 12 trillion yen in Aichi and Mie prefectures, and is worthy of raising the economy of both prefectures by about 1.4%.
* 3 Calculated from changes in required time, modeling the relationship between changes in required time between regions due to road development, called regional econometric analysis model, and economic activities such as private consumption and corporate capital investment.
Expected economic effects for 20 years depending on whether or not the Isewangan Expressway is constructed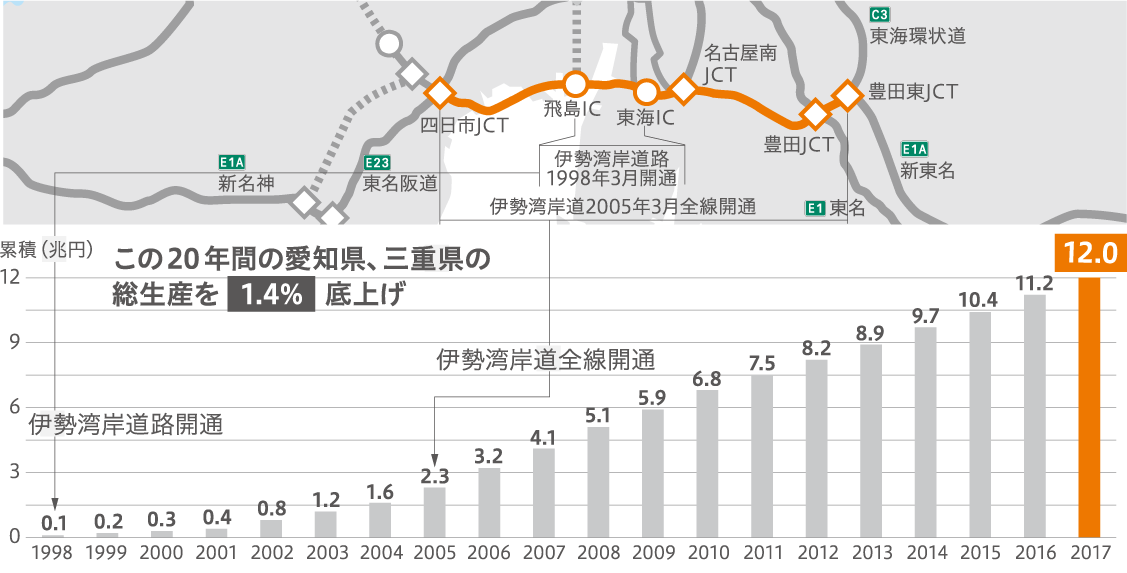 Contributing to early recovery in the event of a large-scale disaster
Extension of the Shin-Meishin Expwy(Shin-Meishin Expressway)Shin-Yokkaichi JCT to Kameyama-nishi JCT to form a double network with the Higashi-Meihan Expwy. Redundancy * 4 By using rest facilities, we will support rescue and rescue activities in the event of a disaster, and support early recovery.
* 4 English for "redundancy" and "surplus". In the national land plan, when a failure occurs due to a natural disaster, the disruption of some sections or the destruction of some facilities will not lead to the overall malfunction. In addition, it shows the nature that the transportation network and lifeline facilities are multiplexed in advance and spare means are prepared.
Shin-Meishin Expressway, which passes inland and is not easily affected by huge earthquakes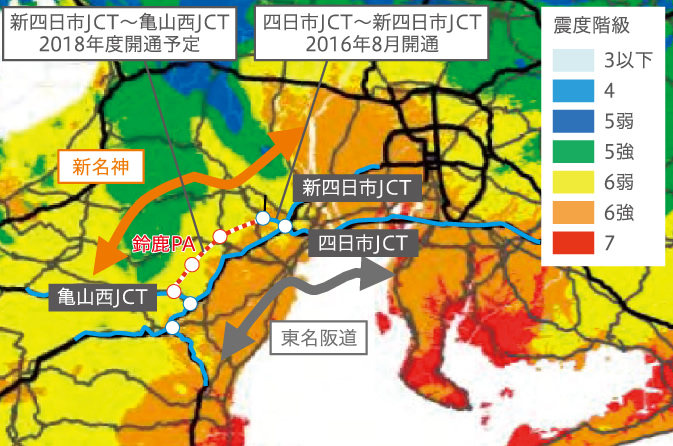 Source: Cabinet Office Central Disaster Prevention Council, Disaster Prevention Measures Promotion Committee, Nankai Trough Earthquake Countermeasure Working Group "Assumption of Damage from Nankai Trough Earthquake" (Second Report) Relationship between infrastructure facilities and seismic intensity (land side case)
An example of support for disaster relief activities
(Heliport maintenance to rest facilities)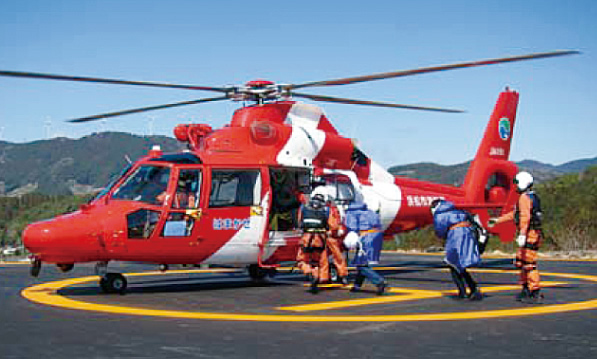 Maintenance is also planned for the Shin-Meishin Expressway Suzuka PA under construction.
Day trip sightseeing area Large Tourism promotion by
One-day sightseeing area with full opening of Chubu-OdanExpwy(Chubu Odan Expressway) * 5 Of Large and, due to an increase in tourist arrivals Nyukomi, Yamanashi Prefecture, activation of the wayside region of Shizuoka Prefecture, is expected.
* 5 The range that can be reached within 3 hours to the destination is defined as a day trip area.
Change of day trip sightseeing area to the Gonnan area in Yamanashi prefecture when the Chubu Odan Expressway is fully opened