Environmental initiatives
NEXCO CENTRAL Has established an environmental policy, and through its business activities, has been working on the prevention of global warming, the promotion of 3R resources (reduction (reduction), reuse (reuse), recycle)), and consideration for the local environment is.
Suppressing global warming
CO related to business 2 Emission reduction
Expressway CO emissions related to 2 The majority is due to automobile traffic. Drive at a more stable speed than ordinary roads Expressway As vehicle maintenance progresses, CO from automobile traffic 2 Emission is suppressed. Within the jurisdiction of 2018 Expressway Resulting from automobile traffic in Japan 2 Estimated emissions of approximately 8,902 thousand t-CO 2 However, assuming that this traffic traveled at the speed of ordinary roads, its emissions were approximately 10,786 thousand t-CO 2 The difference is 1,8844,000 t-CO 2 Is thought to have been reduced. In addition, a total of 1,925 thousand t-CO 2 Was reduced.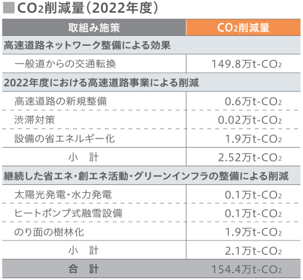 Energy conservation initiatives
We are proceeding with the development of EV quick chargers, which are indispensable for promoting the spread of electric vehicles (EVs).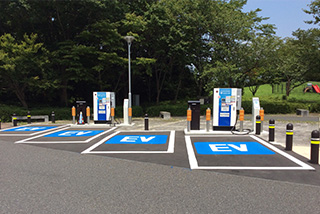 Expressway Improvement of forest on the slope
Expressway We are striving to restore the natural environment, improve the living environment, and control global warming by converting the slope into a forest. The forest area that has been developed so far is approximately 1,730 ha (360 Nagoya Domes) as CO. 2 The amount absorbed and fixed is estimated to be approximately 18,300 tons per year.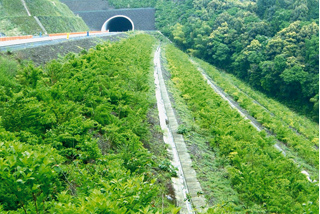 Utilization of renewable energy
太陽光や風力、水力、地熱などの再生可能エネルギーを休憩施設や道路施設に活用し、CO2排出量の削減を図っています。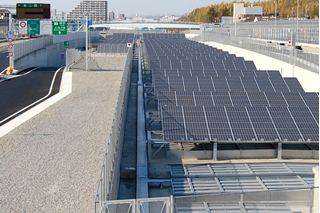 Promotion of 3Rs for resources
Extending the life of tunnel lighting
When the old lighting equipment (sodium lamp) in the tunnel is renewed, it is replaced with a power-saving and long-life lighting fixture such as LED lighting.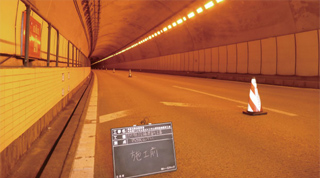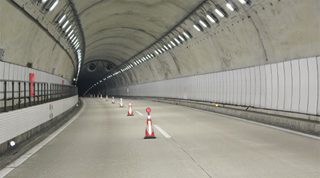 Green recycling
Expressway Plant-generated materials generated by pruning trees and cutting weeds are recycled into compost and mulching materials. Compost is effectively used as a soil improvement material for planting, and mulching material is used effectively as a herbicide for slopes. The recycling rate for fiscal 2018 was 79%.
Pelletization of plant material
A facility for pelletizing pruned branches and cut grass generated on the Expressway has been set up at Ayuzawa PA. The produced pellets are used for air conditioning at toll booths.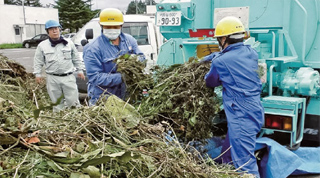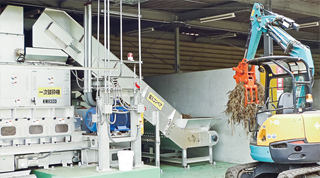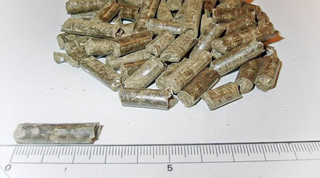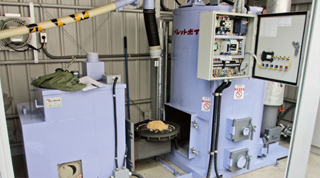 Recycling materials generated during cleaning
Expressway Wastes such as garbage and earth and sand generated by the above cleaning are separated, and those that can be recycled, such as bottles and plastic bottles, are recycled. Items that cannot be recycled are properly disposed of in accordance with the Waste Management Law.
Effective use of grown trees
The zelkova on the Tomei Expwy, which needs to be thinned 50 years after planting, has been transplanted between the newly constructed Shin-Tomei Expwy HamamatsuInasa JCT and Toyota-higashi JCT. We use trees that need to be cut down as valuable resources, and reduce planting costs for construction work.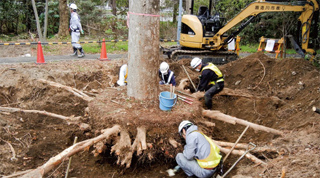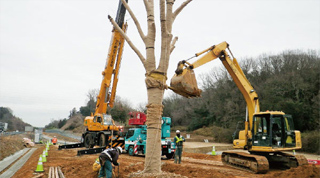 Consideration for the global environment
Tree planting by local seedlings
In the section of the road that passes through an area rich in natural environment, the seeds of trees that grow naturally at construction sites, etc. are collected in advance and grown as local seedlings, Expressway We are developing greening methods to plant on the slope. To date, a total of approximately 840,000 local seedlings have been planted.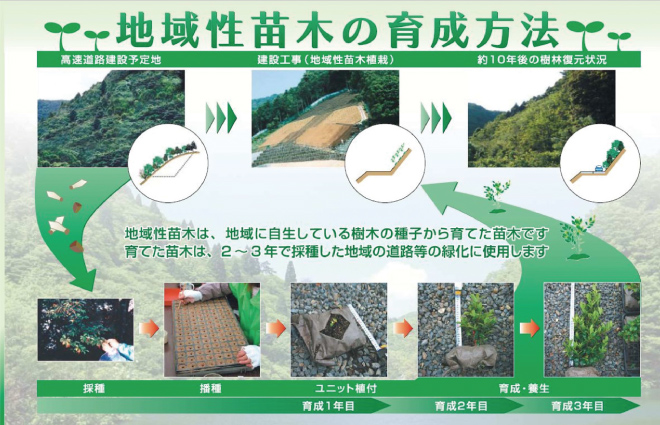 Creating eco-roads (roads that consider the natural environment)
Expressway The construction of can lead to the loss of the habitat and growth base of surrounding animals and plants and the disruption of animal movement routes. In our company, eco-roads (considering the natural environment) such as biotopes that artificially restore the habitats of animals and plants, the installation of passages that serve as beasts, and the adoption of waterway structures that allow small animals to crawl even if they fall into the waterway. We are working on the conservation of biodiversity by creating roads.
Explanation
A biotope is a habitat created or restored so that animals and plants can live forever.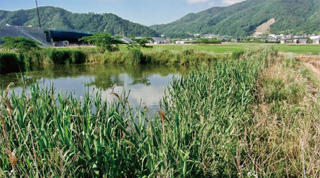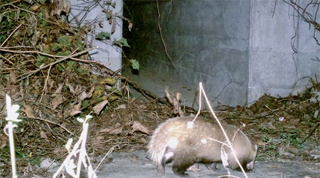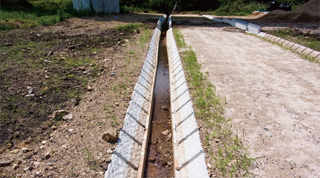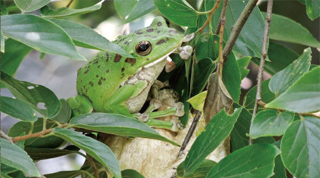 Acquired ISO14001 certification
NEXCO CENTRAL manages environmental activities company-wide by building an environmental management system (EMS) and running a PDCA cycle related to environmental activities.
Obtained ISO14001 certification