Concentrated construction
What is intensive construction?
Intensive construction is the work required to manage the roads in a short period of time, day and night. As a result, construction can be consolidated, and the number of construction regulations and congestion can be greatly reduced.
Tomei intensive construction 1988 fiscal year, Meishin intensive construction work is from 1991, Higashi-Meihan Expressway(Mei-Nikan Expressway including) refresh construction work has been conducted from 1995.
Please see here for the current planned concentration work.
Main construction contents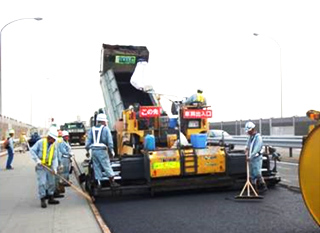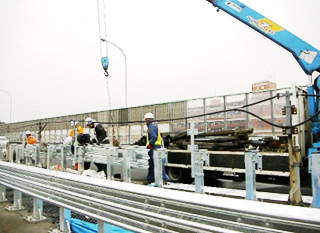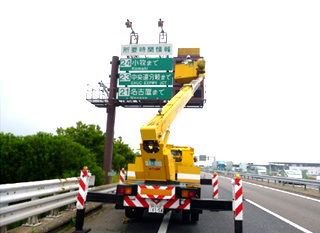 Safety measures and traffic congestion measures
We are working to prevent traffic accidents during the intensive construction period by raising awareness at construction restrictions and traffic jams and implementing continuous regulations.
Preventing rear-end collisions at the end of traffic jams
In order to prevent rear-end collisions at the end of traffic jams, traffic warning information will be provided and warning signs will be placed in front of construction restrictions or at the end of traffic jams in response to traffic jams.

Implementation of continuous regulations, etc.
Security officers patrol all the time to guide emergency vehicles and troubled vehicles, and to check regulatory materials.
In addition, if construction is restricted in a short section, the number of junctions will increase and cause rear-end collisions. For this reason, even in places where construction is not performed, regulations are continuously implemented for safety.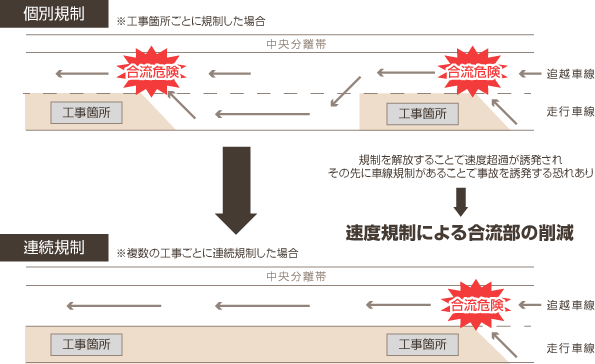 \

Provision of road traffic information
Construction Info Information for
In intensive construction, various information including the construction period will be announced in advance through TV commercials, radio commercials, posters, the Internet, banners, etc.
We also provide Highway Telephone and the Internet for traffic information that you want to know before going out or during traffic, such as traffic congestion during construction. In addition, we use regulatory signs and sign cars to call out notices of construction restrictions and cautions for Safety on the Expressway.
Road traffic information you can get before you go out
Notice regarding construction work and restrictions with a heavy impact such as intensive construction work

We will provide you with an overview of intensive construction, estimated time required, and regulatory information.
Japan Road Traffic Information Center

Road traffic information can be obtained on the official website or by telephone.
iHighway Central Japan (iHighway Central Japan)

nationwide Expressway Traffic information can be confirmed on a map or text using the mobile phone website. You can also use the "My Route Function" that notifies you by e-mail when a road closure occurs or is canceled.
iHighway Central Japan

Visual Highway Telephone
NEXCO中日本エリアを中心に高速道路交通情報をWEBサイトを利用して、マップや文字で確認できます。
なお、運転中の携帯電話の操作は、道路交通法で禁止されています。ご出発前や休憩施設でのご休憩時などの停車中、もしくは同乗者による操作をお願いします。
Road traffic information available while driving
走行中には、道路情報板、ハイウェイラジオ(1620khz)またはETC2.0(ETC2.0対応の車載器やカーナビゲーションが必要)で道路交通情報が入手できます。(詳しくはこちら)
Road traffic information available at rest facilities
The "Highway Information Terminal", which is installed at rest facilities such as service areas, provides easy-to-understand traffic information on the TV screen. Traffic information will also be provided in the area concierge.