Expressway Company's first relay distribution base "Connect Area Hamamatsu"
Connected with Enshu Truck Co., Ltd. (Fukui City, Shizuoka Prefecture), Expressway, the company's first relay logistics base, "Connect Area Hamamatsu", with the aim of supporting the logistics industry's work style reform and transport efficiency through relay transportation. Has been maintained on the site of Shin-Tomei Expwy and Hamamatsu SA. Intermediary transport is a system in which cargo is exchanged by changing the head of a trailer or changing drivers at a transit base. This is a mechanism that enables day trips by relaying long-distance operations with nights with multiple drivers. This is expected to improve the working environment, such as shortening working hours and reducing labor burdens, leading to work style reforms.
In addition to developing a relay logistics base, we will work to further support the logistics business and develop businesses that will increase the value of Expressway.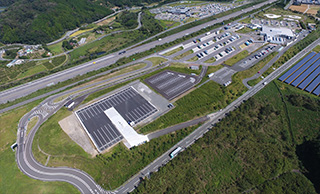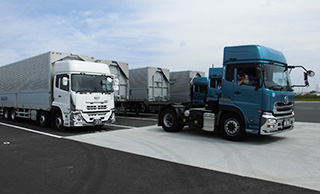 Expressway Established "Nippon Nihon Farm Suzunari Co., Ltd."
Established "Nippon Farm Suzunari Co., Ltd.", a farmland-qualified corporation jointly invested with Suzuo Co., Ltd. (Shizuoka City, Shizuoka Prefecture).
Central Japan Farm Suzunari Co., Ltd. Expressway The company is the first farm-owned corporation established as a company, and contributes to solving local issues such as the aging of farmers, the shortage of next-generation bearers and the increase in abandoned farmland, Expressway The purpose is to revitalize the area along the railway and to promote the exchange of people and goods.
This project will be implemented as one of the efforts to support Japanese agriculture, and we will produce and sell crops such as lettuce and green soybeans while utilizing multifaceted farmland crops and abandoned farmland.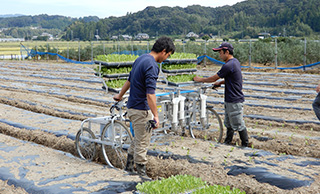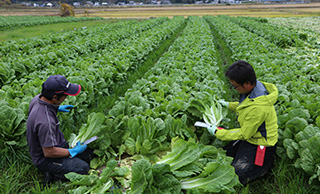 Regional development projects in cooperation with local communities
For the purpose of regional revitalization, we are promoting development projects in cooperation with local communities, such as opening the first commercial complex "Terrace Gate Toki" outside the Expressway.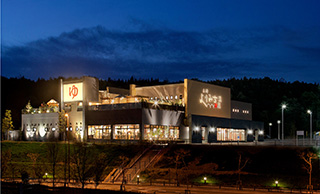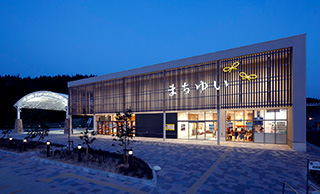 Real estate development business utilizing the site of company housing
町田市や横浜市などで、当社が土地売主となる共同事業方式による戸建住宅分譲、マンション分譲事業に取り組んでいます。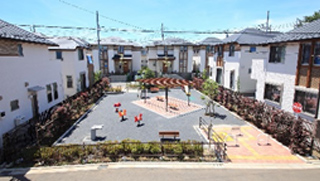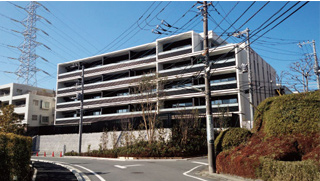 事業開発全般に関する紹介パンフレットはこちら
Profit business in Japan and overseas using technology and know-how
アジア・欧米などで、高速道路事業を展開するため、情報収集や現地機関との関係強化に努めています。特に、ベトナムでは現地拠点を設置し、インドシナ半島全域の調査をしています。コンサルティング業務は、国際貢献につながる案件を中心に進めています。
2015年度は、ベトナム、キルギス、カンボジアおよびスリランカで高速道路を整備する計画の策定や現地技術者の橋梁・トンネル維持管理能力向上の支援など、コンサルティング業務を通じ幅広い分野で国際社会に貢献しました。
また、ベトナムでは、現地企業と協力関係を構築し、同地での有料道路事業参画に向け協議を進めるとともに、グループ会社のJEXWAY(日本高速道路インターナショナル(株))を通じ、インド、インドネシアでも有料道路投資事業 参画に向けた活動をおこなっています。
In addition, our company and our group Expressway Utilizing the technology and know-how cultivated in the construction and maintenance of the company, proactive external sales such as "consulting services", "technical training services", "product development", "product sales" in the maintenance and maintenance of social capital We are.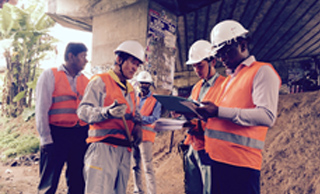 International exchange and contribution
In addition to strengthening relationships with overseas road operators, we are deepening information gathering and mutual human exchange.
Information is disseminated through participation in international conferences and seminars, as well as training and inspections from various countries through JICA. In fiscal 2015, we attended 22 international conferences and accepted training and inspections from 23 countries.
Also, Expressway We contribute to the international community by dispatching employees to each country as experts.
In 2015, we participated in the 25th PIARC (World Road Congress) World Congress held in Seoul, and presented papers and exhibited panels at the Japan booth. Expressway The technology was introduced overseas.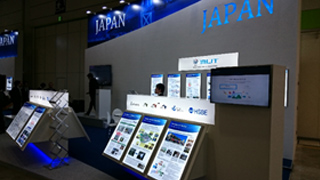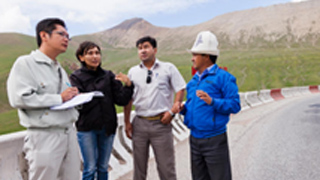 ISO 55001の認証取得
高速道路会社では初めて!
NEXCO中日本と箱根ターンパイクは、アセットマネジメントシステム国際規格ISO 55001:2014の認証を取得しました。
箱根ターンパイクの資産について、アセットマネジメントシステムを運用し、安全で安心・快適な道路の提供をとおして地域に貢献するほか、海外を含む道路プロジェクトへの参画なども推進してまいります。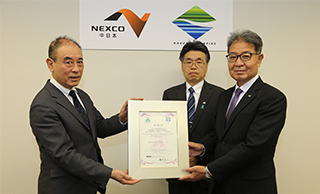 取得内容
認証組織

中日本高速道路株式会社 技術本部(海外・技術事業部)、総合安全推進部および箱根ターンパイク株式会社

認証適用範囲
有料道路(箱根ターンパイク)における
アセットマネジメント
適用規格
ISO 55001:2014(JIS Q 55001:2017)
認証取得月日
2021年3月22日
認証機関
(認証番号)
(株)マネジメントシステム評価センター
(MSA-AS-32)