Message from the President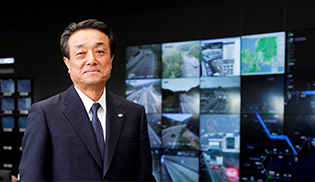 President and Chief Executive Officer Yoshihito Miyaike
Deeply rooted in people's lives, expressways are an important social infrastructure that will contribute to the development of Japanese culture and industry for a very long time. In order to provide services for safe, secure and pleasant journeys 24 hours a day, 365 days a year, our Group's management policy consists of: 1.) constantly improving expressway safety and enhancing its functions; 2. promoting technological development for enhanced safety and comfort; 3.) contributing to regional revitalization with a focus on social and economic changes; and 4.) strengthening the foundation of our management to continue to respond to social demands.
Our Group places the constant improvement of safety and the functional enhancement of expressways at the very top of our management policy. Our culture of safety that continuously operates at a high level lies at the core of our corporate management, with the goal of continuing to secure our customers' safety. With the collapse of ceiling plates in the Chuo Expressway's Sasago Tunnel in December 2012 forever in our minds, we will continue to tackle the never-ending challenge of improving the safety of our expressways, based on our "Five Initiatives Policy for Improving Safety."
In recent years, Japan has been changing rapidly, with more frequent and severe natural disasters, a declining birthrate and aging population, a rapid decline in the workforce, and accelerated technological innovation in ICT. In this light, we need to address how we can contribute to society's sustainable development. As we continue to aim for higher goals, our Group is working to solve social issues such as the maintenance of expressway networks, implementing countermeasures against infrastructure aging through renewal projects and the reinforcement of bridges for earthquake resistance, technological development utilizing ICT, and regional revitalization..
While overcoming dramatic environmental changes surrounding our Group, we continue to create value that exceeds our stakeholders' expectations. In order to contribute to the sustainable growth of society, we will build a stronger management base, with each and every employee strongly committed to their work. United in our mission, our entire group of companies will work together to pave the future of expressways, with safety as our top priority.