September 26, 2018 Miyaike President's Regular Meeting
Conference Summary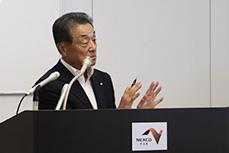 MC
Thank you for waiting. Now, let's start the 140th regular meeting.
President
[Current status of business (August 2018)]
Please see Document 1-1.
First, regarding the business situation, toll revenue in August was 70,136 million yen, an increase of 2.6% from the same month of the previous year, and the number of traffic per day was 2.16 million units, an increase of 1.3% from the same month of the previous year. It was
In August, both toll revenue and the number of vehicles passing increased due to continued favorable use of large vehicles.
In terms of traffic volume, the number of large vehicles increased by 5.7% compared to the same month last year. Such an increasing trend of large vehicles has continued for about two years.
Next is the construction situation.
Appendix 1-1 describes the sections that are scheduled to be newly opened or completed with four lanes in FY2018.
For each section, road main works such as earthwork and bridge superstructure are currently being fully developed, and pavement work, sign work, equipment work such as information boards are being started one after another when the main work is completed. is.
Among them, Tokai-Hokuriku Expressway 4 lane construction work, it was announced on September 14th, but from October 15th (Monday) to November 1st (Thursday) night closure will be done and lane switching work To carry out.
Please refer to Appendix 1-2 for the sections and times when traffic is closed.
After the construction, as shown in "Step diagram for completion" on page 10, the lane that will be driven in some sections will be switched to the newly established lane, so be careful of the signs etc. and drive safely. Thank you for your cooperation.
In addition, we will close the road for the next lane switching work in December. We will inform you again when the specific implementation date is decided.
Next is the status of the service area (SA) and parking area (PA).
Please see the back of Document 1-1.
Sales of SA / PA in August were 24,619 million yen, an increase of 5.9% from the same month of the previous year, and sales of the Food and Beverage / Sales department decreased by 0.2% from the same month of the previous year.
In August, traffic volume remained strong in the latter half of the traffic congestion period, boosting sales, but there was one day off from the same month of the previous year, and typhoon No. 13 and typhoon No. 20 had an impact. Sales in the Food and Beverage Division fell below the previous year's level.
As we will inform you, on Thursday, October 4th, "Ikinari Steak", which is very popular in the city, will open at Taga SA (In-bound line) in Meishin.
Details such as opening hours will be announced later on our official website, so please stop by.
Sales in the gasoline segment increased 22.0% year-on-year, due to higher selling prices compared to last year and an increase in the sales volume of diesel oil.
About the plans of large-scale construction regulations of the 2018 fiscal second half]
Please refer to Appendix 2.
It is already previously announced, but this fall Chuo Expressway is scheduled to carry out the renovation work at the two sections of.
Okaya JCT ~ Ihoku IC the tunnel repair work between, Nakatsugawa IC~Sonohara IC Between make the deck replacement work of the bridge. Both will start the construction work from October 9 (Tuesday).
Regarding the deck replacement work, it will be face-to-face traffic regulation, on the weekend of during the period are also expected to apologize for any inconvenience to our customers congestion occurs. Thank you for your understanding and cooperation.
In addition, here it is also previously announced, but the Chuo Expressway period of intensive construction work November 15 days from (Thursday) to 29 (Thursday) of, Takaido IC~Chofu IC will be conducted between.
This time of intensive construction work, in order to minimize the occurrence of congestion, the construction section Takaido IC~Chofu IC squeezed in one section of, was the only night-time from even 18 o'clock time zone until the next 6. In addition, as you to detour to actively Tomei to customers, Tokyo IC arrive and depart the Chuo Expressway to the customers you wish to use, Takaido IC was made to be adjusted to an amount equal to the fee in the case of departure the .
Then regard to Tomei, start with some sections of the intensive work from last week, it is from this week Tokyo IC~Toyokawa IC we carry out construction work in the whole line between.
In particular, traffic large amount of YokohamaMachida IC~ Ebina JCT between and Ken-O Road is, but we have started the construction work from last week, Chuo Expressway it is to carry out the construction work only nighttime as well as intensive construction of. As a result, the occurrence of congestion due to the intensive work in the last week for four days, Tomei In-bound line is 0 times, Out-bound once in line, Ken-O Road we were able to keep to once.
That in addition, this winter, Susono IC~Fuji IC is scheduled for renovation work between.
With regard to this renovation work, When you decide details such as the implementation period, and again let us know.
In this way, we are proceeding with renewal work and concentrated work on many sections, but we will inform you about the details of each work on the dedicated construction website and brochures.
The "Construction Regulation Scheduled Website", which we announced at the regular conference last month, also provides information on construction regulation schedules and predicted traffic congestion.
Before planning your trip on the Expressway or before going out, we would like you to flexibly select the route and time of use based on this information.
During the construction period, customers may be inconvenienced due to traffic congestion and congestion, but we ask for your understanding and cooperation.
In addition, since this kind of large-scale construction regulation will cause a great deal of inconvenience to our customers and people along the railway line, we will be able to inform you of the construction regulation schedule and plans as soon as possible. We will coordinate with related organizations.
[Development of a safety measure product "airbag type safety vest" for road work under traffic regulations]
Next is a topic on technology development.
Please see Document 3.
While working on Expressway with traffic restrictions, approximately 100 accidents of passing vehicles accidentally entering the restricted area and colliding with construction vehicles and workers occur even within our jurisdiction every year.
Therefore, this time, I would like to introduce the "airbag-type safety vest," which is a product that ensures the safety of workers on the road with traffic restrictions.
This product was co-developed by our Companies in our Group Nakanihon Highway Engineering Tokyo Co., Ltd. (Engineering Tokyo) with Mugen Denko Co., Ltd.
The newly developed "airbag-type safety vest" expands the airbag when the sensor attached to the safety vest detects a certain amount of impact, so that it can be used for normal work in normal operation. It is a product that is designed so that the airbag does not start when the vehicle receives a large impact such as a collision with the vehicle without starting the bag.
For details, the person in charge will explain the functions in detail after the interview, so please feel free to interview us.
In the future, we plan to use this product as part of the traffic regulation work carried out by ENG Tokyo, and we would like to establish a sales system so that other companies can also use it.
We are also actively promoting technology development through open innovation. Our official website is also looking for information and suggestions that will lead to new technological development on six themes, including "technology related to Expressway Renewal Project that lead to life cycle cost reduction and quality assurance."
For details, please see the back of the "Technical Strategy" booklet distributed today.
I would like to ask that person to provide information, so I would appreciate your cooperation.
Among the proposals we have received so far, there are some proposals that have led to joint research, and some that are considering whether we can conclude a confidentiality agreement and connect to joint research. .
We will continue to work on technological development together with the group, including such joint research.
[About the opening ceremony for the first Expressway company's first farmland qualified corporation "Nippon Nihon Farm Suzunari Co., Ltd." and the opening ceremony for the first Expressway company's relay distribution base "Connect Area Hamamatsu"]
Finally, we would like to inform the media.
I will inform you about the details of the planting ceremony of "Nippon Nihon Farm Suzunari Co., Ltd." announced on the 12th of this month.
"Nippon Nihon Farm Suzunari Co., Ltd.", a farmland-owning legal corporation that was first established as a Expressway company through a joint investment between our company and Suzusei Co., Ltd. We will hold a lettuce planting ceremony.
On the day of the event, the landowner who will rent the land will also participate in the planting work, which will involve hand-planting and planting using agricultural machinery.
We would like to announce the situation of this planting ceremony to the media, so please take this opportunity to interview us.
We also announced this relay distribution base on this month, but we will inform you as the details of the interview for the opening ceremony have been decided.
On the same day as the planting ceremony of Nakanihon Farm Suzunari, on October 3rd, from 11:30 after the planting ceremony, we will hold the opening ceremony of the relay logistics base "Connect Area Hamamatsu" which was first commercialized as a Expressway company.
At the ceremony, we will be demonstrating tape cutting and exchanging the head of the trailer with an actual vehicle.
The venues for both ceremonies are about 10 minutes by car. I will attend both the planting ceremony and the opening ceremony of the relay distribution center, so please be sure to cover both ceremony.
In addition, "Connect Area Hamamatsu" has begun recruiting logistics operators for use from 12th of this month. We want more logistics operators to use it.
MC
These are the topics we have prepared today. Now, let's receive your questions.
Reporter
About 3 points about safety vest. The first point was that there were about 100 accidents. Please tell us about this content again.
President
It is said that about 100 cases of general vehicles enter the areas where construction restrictions are imposed in our company and come into contact with materials and equipment under construction restrictions and workers.
Employee
The total number of cases is about 100, of which about 80% are property damage accidents. There are about a dozen or so injuries to workers, and the number of fatalities is 1-2.
Reporter
The second point is, when is the introduction of safety vests?
President
We want to introduce it as soon as possible.
Employee
Since it has just been developed, we would like to introduce the work done by ENG Tokyo as a starting point for practical application.
Reporter
Please tell us what kind of image you have when it comes to practical use, such as within a month or within a year.
Employee
We would like to sell it as soon as the sales system is set up.
Reporter
As for the third point, there was a story that it will be sold outside, but please tell us what the price is supposed to be.
President
The selling price has not been decided yet. At the moment, it is expensive at around 100,000 yen, so I would like to lower the price a little more before putting it on the market.
Reporter
Is it going to be less than 100,000 yen?
Employee
exactly.
Reporter
Please tell me the breakdown of the number of accidents involving workers in the number of accidents I mentioned earlier.
Employee
There are about 100 cases a year including property damage, but the number of accidents involving injuries was 14 last year, 16 last year, and around 15 in the last few years.
Reporter
This product is a sensor that detects when it comes into contact with a vehicle. Please tell us what kind of technology NEXCO CENTRAL made to make these products.
President
The product is a joint development with Mugen Denko Inc. It is designed to swell when a shock is sensed to soften the shock, and was jointly developed with a manufacturer that has a proven track record in developing motorcycle safety waistcoat.
Reporter
Does that mean that bike products are already on sale?
President
I heard that it is sold. The safety vest I introduced today is different from that for motorcycles, but in any case, I have commercialized something that protects and protects the body.
Reporter
Shin-Meishin Expressway of Shin-Yokkaichi from the junction (JCT) Kameyamanishi JCT opening of it is that during the 2018 fiscal year, please let me know if you decided whether to specifically open time around.
President
We are aiming to open it within 2018, but we have not decided the specific time yet.
Reporter
Many disasters occurred this summer, but was there any effect on the construction work in the area?
President
I mentioned earlier that we are proceeding with new construction and construction of four lanes at five locations, of which a large-scale slope deformation occurred on the Tokai-Hokuriku Expressway. Based on the results of the boring survey, we will proceed with countermeasure work in parallel with the 4-lane construction. Specifically, we will carry out construction work to reduce the slope of the slope.
Reporter
Please tell me if the deformation of the slope has the effect of delaying the completion of the 4-lane conversion.
President
As part of the four-lane conversion work, we introduced the lane switching work today. We will also work on measures for the deformed surface of the slope, but the relationship with the opening is not clear at the stage when the construction is not progressing yet.
Reporter
Although it is an approximate estimate, please tell us if you know the impact of the cost of countermeasures against heavy rain damage on the Tokai-Hokuriku Expressway.
President
We are about to start construction work, so it is not yet possible to calculate the specific impact amount.
In connection with the current question, I would like to talk about the support situation for other companies.For the damage of the Kansai International Airport connecting bridge damaged by Typhoon No. 21, we have installed a temporary protective fence used for lane regulation etc. It offers.
Reporter
I think it was hard for NEXCO WEST suffer from heavy rain and typhoons. Please tell us what kind of support NEXCO CENTRAL provided.
Employee
A large-scale disaster occurred during the heavy rain in July. We also support the dispatch of debris, including equipment and personnel.
Reporter
The accident at the Kansai International Airport connecting bridge was shocking, but please tell us again what kind of support you have provided, such as personnel and equipment.
President
NEXCO3 has strengthened its cooperation on a daily basis and has a system to cooperate immediately with requested items. Under such circumstances, we provided NEXCO WEST with a temporary protective fence for the median strip of the Kansai International Airport connecting bridge. Although some personnel were required to transport the temporary protective fences, there is no local dispatch of support personnel for this time.
MC
It seems that your question has been interrupted, so this is the end of your regular meeting.