07 May 25, 2018 Miyaike President briefing
Conference Summary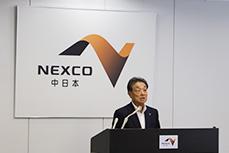 MC
We have been waiting for you.
Today, in addition to documents 0 to 6 explained by the president, we are also distributing the document "NEXCO CENTRAL Report 2018" on document 7 "Quick Journey" Shizuoka Drive Plan "Starts in August". This "NEXCO CENTRAL Report 2018" is an easy-to-understand introduction of the Group's management plan and daily initiatives, interspersed with specific examples. Please take it with you even when you have time, and if you have any comments or questions, please send them to the PR.
Now, I am just starting the 138th regular interview.
[Introduction]
President
The "Heavy rainfall in July 2018" caused devastating damage, mainly in western Japan, losing the precious lives of many people, and devastating damage in the central region. We express our sincere condolences to those who died, and to those affected by the disaster.
Even now, restoration work is continuing in various places in the heat of the year, but we hope that the disaster-stricken area will recover as soon as possible.
In our jurisdiction, a large-scale slope disaster occurred between the Tokai-Hokuriku Expwy Shokawa Interchange (IC) and the HidaKiyomi IC, and the road was closed for about six days. Emergency restoration work has been completed and the suspension of traffic has been lifted.
We apologize for any inconvenience caused to customers during the closed period.
In the section where emergency restoration work was performed, there are some places where the road shoulder is narrow, so the speed limit is regulated. When driving, please follow the signs installed and reduce the speed sufficiently to cooperate in safe driving.
In the future, we will investigate and design the restoration of the affected area, and carry out restoration work as early as possible, with customer safety first.
We will tell you again when the prospects for this recovery measure are established.
Next, a request about traffic safety.
We have been working with the police for 21 days from July 11 to the end of this month to carry out a "Summer Traffic Safety Campaign" to strengthen traffic safety calls, but since last week, traffic congestion has occurred in Meishin and Tomei. Fatal accidents due to rear-end collision at the end (matsubi) have occurred continuously.
See document 0.
As I said last month, this year's fatal accidents are characterized by (1) rear-end collisions at the end of traffic congestion (2) rear-end collisions with stopped vehicles (3) motorcycle-related accidents There is.
Above all, in the rear-end collision at the end of traffic congestion, four fatal accidents have occurred since June, so I would like you to keep safe driving in mind.
As the summer holidays begin to increase and the traffic will increase, we would appreciate your cooperation with the media.
Let's continue with today's topics.
[Business status (June 2018)]
Please see document 1.
First of all, regarding the business situation, toll revenue in June was 53,969 million yen, up 1.2% from the same month last year. In addition, the average number of traffic per day was 1,921,000 units, up 1.6% from the same month last year. Was.
In June, toll revenue and traffic increased both due to continued strong use of large vehicles. The breakdown is that small vehicles increased by 0.7% from the same month last year, large vehicles increased by 4.9% from the same month last year, and large vehicles continued to increase for about one and a half years.
Next is the construction situation.
Attachment 1 describes the sections that are scheduled to be newly opened or completed with four lanes in FY2018.
In each section, road construction works such as earthworks and bridge superstructures are currently being fully expanded, and from the completion of these main construction works, construction of paving work, sign work, information boards, etc. will be started sequentially. By the way.
Next is the status of the service area (SA) and parking area (PA).
See the back of Document 1-1.
SA / PA sales in June were 15,191 million yen, up 8.1% from the same month last year. Sales in the food and beverage business increased 0.3% from the same month last year.
In June, sales were higher than the previous year, as holidays were one day more than the same month last year. Also, as an event, "Love Live! Sunshine !! Premium Shop" was held at NEOPASA Suruga Bay Numazu (In-bound line), which has been well received, and this also seems to have contributed to the increase in sales. This event will be held until September 30 (Sun), so if you are coming to Shizuoka, please drop by.
Sales in the gasoline business increased 22.5% year-on-year due to higher selling prices and higher diesel oil sales volume compared to last year.
[Forecast of traffic congestion on Expressway during the Bon Festival 2018]
See Appendix 2-1.
We apologize for the delay in the announcement compared to the previous year due to the heavy rain in July, but we will inform you about the forecast of traffic congestion during the Bon Festival period (August 8 (Wed) to 19 (Sun)).
The peak of the congestion of our tract, Out-bound line August 11 (Saturday) from 13 days (month), In-bound is the line August 13 (Monday) and 14 (Tuesday). In addition, 10km more congestion number of times during the period, Out-bound 98 times in the line, In-bound 133 times for a total of 231 times in the line, we expect them 30 km or more of the traffic jam occurs 19 times to suit up and down lines. Compared to last year's results, it is projected to increase 42 times for traffic congestion over 10 km and 7 times for traffic congestion over 30 km.
In addition, in order to promote decentralized use of Expressway as a measure against traffic congestion during this year's tray period, the application dates for holiday discounts will be changed on a trial basis.
Holiday discounts are not available on Saturdays and Sundays of August 11 and 12, and instead of the holidays of Thursday and Friday of August 9 and 10 immediately before.
With the change of the application date of this holiday discount, if about 3% of the nationwide changes the usage date, we think that traffic congestion of 10 km or more will be reduced by about 20%, so distributed use Thank you for your cooperation.
The "Congestion Prediction Guide" distributed at hand will be distributed at SA / PA and toll booths as usual, but if you use the Expressway when returning home to Obon, etc. I think.
Today, after the regular interview, the Expressway Driving Advisor of the Nagoya Regional Head Office will use Document 2-2 to explain in detail the forecast of traffic congestion in the Tokai area. If you have time, please come and join us.
[About the conclusion of "Agreement on cooperation between Central Nippon Expressway Company Limited and Chubu Electric Power Co., Ltd."]
Next, the topic on concluding a mutual cooperation agreement with Chubu Electric Power Co., Ltd. in the event of a disaster in NEXCO CENTRAL.
Please see document 3.
We have concluded cooperation agreements with the government and local governments along Expressway order to promptly promote mutual cooperation such as securing emergency transportation routes and rescue activities in the event of a disaster. Concluded a mutual cooperation agreement with Chubu Electric Power in preparation for a disaster.
The main contents of the agreement are the following four points.
Mutual sharing of damage / recovery status during disasters
Traffic on Expressway such as emergency vehicles during a disaster
Provision of information on the status of damage discovered by emergency vehicles while traveling on the Expressway
Strengthen mutual cooperation through cooperation training and liaison meetings
We will continue to strengthen cooperation with other organizations in the event of a disaster and contribute to the local community through quick recovery activities.
[Recruitment of technical proposals that lead to improvement of structural safety and safety of on-site work]
Next is the topic on technology development.
See Appendix 4.
In order to provide a safe, secure and comfortable Expressway space, we promote technology development through open innovation based on our technology strategy.
Up to now, "technology related to Expressway Renewal Project that reduce life cycle costs and ensure quality", "technology that enhances inspections", "technology that helps traffic safety support and traffic congestion mitigation using ICT", "automatic We have set up four themes of "Technologies that will lead to roadside support to spread driving" and have been seeking technical suggestions on our website.
We have added two themes, "Technology that Improves Safety of Structures" and "Technology that Improves Worksite Safety," and we have announced that we have started recruiting. Both themes are important issues that the Group is currently facing.
After examining the needs, feasibility, economics, etc. of the proposed technology, if it is judged to be useful, a confidentiality agreement is concluded with the proposer and commercialization is carried out through joint research and commissioned research. I aim.
Please check our website for information on how to apply.
In addition, on August 1, the NEXCO CENTRAL Technology Fair, held last year in Minokamo City, Gifu Prefecture, will be held in Atsugi City, Kanagawa Prefecture for the first time in the Tokyo metropolitan area.
At this technology fair, demonstrations of inspection methods for locations that are difficult to inspect, such as rope access and the use of drones, will be introduced, and various technologies and products of the Group related to the maintenance and service business will be introduced.
On the day of the event, infrastructure manufacturers and research institutes will also participate, so we hope that through technology exchange, open innovation will lead to the development of new technologies and the introduction of new technologies.
If you have time, we would appreciate your coverage.
In addition, we have created a booklet that summarizes the outline of our technology strategy, and we are distributing it today. We would love to see it and send us your feedback and questions.
[Development of new forest management methods using plant growth regulators]
The next topic is about technology development.
See Appendix 5.
Expressway slope, there is a risk that trees will grow and fallen trees may occur. Trees are being pruned as a response, but they often grow again in three to four years, and pruning has required a great deal of labor.
Therefore, we have introduced a new forest management method that extends the pruning cycle using plant growth regulators.
The new forest management method was jointly developed by the Company and its Companies in our Group, Naka Nippon Highway Engineering Tokyo Co., Ltd. (Engine Tokyo), and the Nichino Group.
The new forest management technique is to apply a plant growth regulator before the new branches begin to grow after pruning once, and then spray it again a year later to maintain the effect of suppressing tree growth. With this method, the pruning cycle, which used to be about 4 years, can be reduced to about 9 years, and the management cost can be reduced by about 50%.
In addition, by setting the pruning cycle to about 9 years, the amount of disposal of pruned branches can be reduced, further reducing costs.
For reference, the status of trial construction in joint research is described in the materials. During the period of about three and a half years from March 2013 to October 2016, it was confirmed that the height of trees could be reduced by about 50% by using plant growth regulators.
As a plant growth regulator suitable for this forest management method, "land worker wettable powder" has been newly registered as a pesticide and commercialized by Engineer Tokyo and the Nichino Group.
The actual "land worker wettable powder" is on display behind the venue, so please take a look.
We will continue to work with our Companies in our Group to develop technologies to realize safe, smooth and easy-to-use Expressway.
["Roots of Kawaii" Naito Rune Exhibition in Okazaki, Birthplace]
The next topic is about the exhibition of "Rene Naito Exhibition". See Appendix 6. This topic is what was announced on July 17, but, from July 27 (Friday) Shin-Tomei Expressway in NEOPASA Okazaki, in cooperation with such Okazaki will be held the exhibition's "Naito Rene". "Rene Naito" is from Okazaki City, Aichi Prefecture, and is said to have created a prototype of Japan's unique "Kawaii" culture that spreads around the world. It is said that this year will be 85 years old and 10 years after his death, but the design has not yet faded, and has recently attracted attention again.
This time, NEOPASA Okazaki will display the original reprint of "Rene Naito" and sell limited goods, as well as hold the "Okazaki City Tour Stamp Rally" with a pin badge. At NEOPASA Okazaki, please enjoy "Rene Naito" 's view of the world.
The Group will continue to promote such cooperation with the local community and contribute to the development and revitalization of the local economy by striving to create unique SAs and PAs that can communicate the appeal of the local community.
MC
These are the topics we have prepared today. Now, let's receive your questions.
Reporter
We talked about the effects of heavy rains in western Japan. Please tell us if there are places outside of closed roads that are affected.
President
At Tokai-Hokuriku Expressway, there was a deformation on the slope. Currently, we would like to consider full-scale countermeasures while conducting boring surveys and other activities locally. No other areas were affected.
Reporter
Please let us know if there are any effects from the ongoing intense heat.
President
As I mentioned earlier, the traffic volume in June has not been reduced due to the extreme heat, but there are risks to outdoor activities. We work on hot roads, but we are taking appropriate measures against heat stroke, so there is no problem at the moment.
Reporter
Regarding disasters, please tell me when this restoration between HidaKiyomi IC and Shokawa IC will be completed.
President
Deformation of the slope has occurred, but measures have been taken to ensure that vehicles can pass safely by emergency recovery. We are currently conducting drilling surveys and designs. When it comes to when, I'd like to have some more time.
Reporter
The location of the incident overlaps the scope of the four-lane business, but was there no impact on the four-lane construction? Also, the impact on the schedule of the four-lane project is inevitable, but please tell us how you think about the risk of delaying the schedule.
President
For sections other than the site where the deformation occurred, we would like to proceed with construction as scheduled. The place where the deformation occurred is the drilling investigation and design being advanced as mentioned earlier.
Reporter
Regarding the effects of heat, please let us know if there are any unprecedented events or phenomena, such as increasing the road surface temperature and restricting traffic.
President
No events have occurred, such as the failure of road structures or equipment due to elevated temperatures. I'm worried about the intense heat, but I'm also worried about the rear-end collision mentioned earlier.
Reporter
What is the status of the agreement with Chubu Electric Power?
President
We have already concluded cooperation agreements with various related organizations such as local governments and the SDF. I guess the question is why we have concluded an agreement with Chubu Electric Power now, but we have been working in cooperation in practice for some time. It was officially converted into an agreement.
Reporter
Regarding the agreement with Chubu Electric Power, please tell us if you have any plans to conclude with other electric power companies such as Tokyo Electric Power and Kansai Electric Power in the future.
Employee
This is the first agreement with a power company, and we would like to consider it based on the operational status of this agreement.
Reporter
Please let me know if you know the status of other Expressway companies.
President
NEXCO WEST also cooperates with other organizations, for example, by signing an agreement with a power company.
Reporter
Just in case, please tell us what kind of cooperation will be taken if a serious accident occurs at Hamaoka Nuclear Power Plant due to the Nankai Trough earthquake.
President
What kind of system is to be decided within the framework of a nuclear power plant disaster agreement, and we will respond accordingly.
Reporter
Under the agreement with Chubu Electric Power, the fact that emergency openings can be used means that by using several places between ICs, you can run on the Expressway for as long as possible. The emergency openings are, for example, how many places are located, how many meters are installed at intervals, and are there any numbers that make it easy to imagine that area?
Employee
There are 320 emergency openings.
Reporter
We introduced the breakdown of traffic fatal accidents, but let us know why they are growing at the worst pace in the first place, and tell us if there are any roads that are increasing especially by road. Please give me.
President
We do not understand why it is increasing, but as a tendency to rear-end collisions at the end of traffic congestion is increasing, so as I mentioned earlier, I want you to drive carefully In the event of a traffic jam, I would like to ask you to take safety measures according to the materials distributed to you.
Employee
In the last line of the rear-end collision accident at the end of traffic congestion, one incident occurred in Meishin in June, and one incident occurred in Isewangan Expressway, Meishin, and Tomei in July.
Reporter
Due to the heavy rains in western Japan, it is estimated that the closing of the traffic from HidaKiyomi IC to Shokawa IC had a considerable effect on the entire Tokai-Hokuriku Expressway. In addition, there are reports that cancellations are occurring one after another at tourist facilities in Gifu Prefecture, so please let us know if there is data that shows how much traffic has decreased compared to normal times.
Employee
It is traffic data after the opening on the evening of Friday, July 13, and it is 102% compared with the same period of last year in one week from the 16th (Mon) to the 22nd (Sun) of the following week. As it is out, Expressway is not expected to have any significant impact even after opening.
Reporter
Please tell us how the figures for the whole Tokai-Hokuriku Expressway were, including the period of heavy rain and the period of suspension.
Employee
Check it out and I'll explain later.
Reporter
Regarding the agreement with Chubu Electric Power, please tell us when the joint training will be conducted, and how large and where will it be.
Employee
Training and training will be coordinated with Chubu Electric Power from now on, so it has not been determined yet. We will decide on the time, including the timing.
MC
It seems that your question has been interrupted, so this is the end of your regular meeting.