May 24, 2018 Miyaike President's Regular Meeting
Conference Summary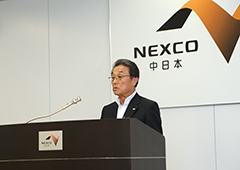 MC
Thank you for waiting. We will start the 136th regular meeting from now.
[Current status of business (April 2018)]
Please see Document 1-1.
First, regarding operating conditions, toll revenue in April was 56,242 million yen, an increase of 3.3% from the same month of the previous year, and the number of traffic per day was 1,962,000 units, an increase of 2.8% from the same month of the previous year. It was.
In April, the use of large vehicles continued to be strong, and the weather was favorable due to the weather during the first half of Golden Week, which was three consecutive holidays. Increased compared to.
Next is the status of construction.
As shown in Appendix 1-1, we plan to open new lines and complete four lanes in five sections in FY2018.
For each section, road main works such as earthwork and bridge superstructure are currently being fully developed, and pavement work, sign work, equipment work such as information boards are being started sequentially from the completion of these main works. By the way.
Of these, due to the construction of Tokai-Hokuriku Expressway with four lanes, we will carry out night traffic closure from June 18, and carry out lane switching work.
The construction work was announced on May 18, but the sections and times of the road closures are as shown in Appendix 1-2.
After the construction, as described on page 11, the lanes that will be driven in some sections will be switched to the new lanes. Please be careful about signs, etc. and drive safely.
In addition, due to this lane switching work, we will also close the road this fall. We will inform you again when the specific implementation date is decided.
Next, I would like to inform you about the opening schedule of the smart interchange (smart IC). Please see Documents 1-3 and 1-4.
We are steadily and efficiently developing smart ICs to promote effective use of Expressway and revitalization of the area.
Starting this year, on April 15th, Chuo Expressway ・ FujiYoshidaNishikatsura IC opened the Tokyo entrance / exit, followed by Meishin ・ Yoro service area (SA) smart IC in June. It will be opened on the 24th.
We expect that this will further enhance the convenience of Expressway, so I would like you to use it.
Next is the situation of the SA / parking area (PA).
Please see the back of Document 1-1.
SA / PA sales in April were ¥ 16,904 million, an increase of 9.9% year-on-year, and sales of the Food and Beverage / Sales division increased 6.1% year-on-year.
In April, as I mentioned earlier, the first half of Golden Week was three consecutive holidays, and the weather was favorable, so sales exceeded the previous year.
Sales in the gasoline segment increased 17.2% year-on-year, due to higher selling prices compared to last year and an increase in the sales volume of diesel oil.
[First Expressway company! Establish a farmland qualified corporation]
Please see Document 2.
In recent years, Japanese agriculture has faced issues such as the aging of agricultural workers, a decrease in next-generation farmers, and an increase in abandoned cultivated land.
In order to help solve these problems, we decided to establish the first farmland qualified corporation as a Expressway company in collaboration with the agricultural corporation Suzunari Co., Ltd.
The target area is Hamamatsu City, Shizuoka Prefecture, etc., where lettuce, edamame, etc. are cultivated by utilizing the farmland or abandoned farmland borrowed from farmers during the fallow season as rice and vegetables. The cultivation period is from September to May of the following year for lettuce and from March to July of edamame, and the business is scheduled to start in July of this year.
The outline of the location, capital, cultivated land scale, etc. of the new company is as described in Appendix 2.
By establishing a new company and entering agriculture this time,
(1) Revitalize the area by solving problems in the area along the Expressway and promote interaction between people and things.
(2) By making new cultivation on abandoned cultivated land, it will lead to effective use of land and maintenance of local landscape.
(3) It will contribute to the stable supply of domestic vegetables.
I think I can do it.
We view this business as one of the efforts to support agriculture in Japan, and will continue to actively support the improvement of the value of areas along the Expressway.
[NEXCO CENTRAL 's i-Construction Initiatives]
Next, I will talk about the use of ICT technology in pavement repair work.
Please see Document 3.
Ministry of Land, Infrastructure, Transport and Tourism and Expressway companies are promoting i-Construction for the purpose of improving safety and productivity.NEXCO3 is the first company to fully utilize ICT technology. I will introduce the pavement repair work that I tried.
The construction targeted for the trial was Tomei Expwy (specific update, etc.) carried out in the last fiscal year at Fuji Pavement Pavement Repair Work, where ICT technology was introduced to the construction work, preliminary surveying, creation of 3D design data, and 3 Applicability was verified in all processes of construction and inspection (production control) using dimensional data.
The four concrete ICT technologies we have tried this time are:
(1) Preliminary survey using a survey instrument using a light wave and a laser scanner
(2) Creation of 3D design data using pre-measurement data
(3) Automatic control of construction machines such as pavement cutting machines and asphalt finishers utilizing 3D design data
(4) Inspection after construction by surveying equipment using light waves and laser scanner (work management)
As shown in the comparison table on page 2, the trial results confirmed that the same quality as before could be secured and that the safety of the work by automatic control of the construction machine was secured.
In the future, we will further develop pavement repair work using ICT technology, evaluate the production efficiency against the conventional construction method based on the data obtained there, and review the management criteria based on surveying accuracy and construction accuracy. To improve the safety and productivity of pavement repair work.
[Introduction of "voice" alert system using speakers]
Next is a topic on technology development. Please see Document 4.
Regarding traffic fatal accidents, I mentioned in a regular interview in January this year, but in our jurisdiction, 40 fatal accidents occurred in the last year, including 7 rear-end collision accidents at the end of a traffic jam.
In addition to this, there are many rear-end collisions at the end of traffic jams that do not lead to fatal accidents.
So, today I would like to introduce a system that is effective for alerting you at the end of a traffic jam.
This system arranges multiple speakers in a tunnel in front of a traffic control section for renovation work and informs the customers who are traveling by "voice" that there is a traffic control section due to construction in the front.
An overview of this system can be found on page 2, but look at the TV monitor on the front.
Currently, traffic information on the main line is visually informed to passengers using the Expressway using information boards, signs, and sign cars, etc., but attention is being paid to the view ahead. If it is not suitable, this information may not be recognized.
On the other hand, by adding new auditory information in the form of voice, we believe that it will be possible to more effectively alert the customer directly, which will help prevent rear-end collisions.
Up until now, there have been "warning sounds" to alert the speaker, but "voice" is the first initiative of a Expressway company.
This system has already started operation in the renewal construction section of Odawara-Atsugi Road.
This time, we will focus our efforts only on the tunnel where the sound is not diffused, but in the future, we will continue to develop the technology so that it can be used in sections other than the tunnel.
By using this system, we can prevent rear-end collisions caused by drowsy driving and provide traffic jams more effectively to our customers, helping to prevent traffic accidents so that the Expressway can be used more safely and securely. I will continue.
MC
These are the topics we have prepared today. Now, let's receive your questions.
Reporter
Regarding the entry into agriculture, the capital is 70 million yen, but please tell us the investment ratio.
President
We plan to invest 40 million yen and Suzuo 30 million yen.
Reporter
It says, "We will gradually Large cultivated land in the next five years." Please tell us, for example, in what area you would like to Large original cultivated land area of 13 ha.
President
We would like to aim for about 23 ha in the next five years. We are considering the area shown in Figure 1 on page 2 of the document (around Hamamatsu City) as a region.
Reporter
Please tell us how this business contributes to your profits.
President
Our business includes Expressway business and related businesses, which are profits from the related businesses.
Reporter
Do you think that the sales of agricultural products will be profitable as they are?
President
Since the new company will become an affiliate of the Company, revenue will be recorded according to the equity.
Reporter
Please tell us if you plan to use the voice alert system for all construction work in your area.
President
Not all of them have been done yet, but we are using it on a trial basis for the construction of Odawara-Atsugi Road, and we will expand it to other constructions while seeing the effects. At present, it is used in tunnels where sound does not diffuse, but I think that we must proceed with technological development so that it can be used in sections other than tunnels. In any case, I hope that it will be effective in reducing the tragic accidents at the end of the traffic jam.
Reporter
Is it a business tie-up with Suzusei due to the entry into agriculture?
President
It is a form in which both the Company and Suzusei invest to establish a company.
Reporter
It means that you are a legal person who owns farmland, but you don't own farmland, but do you rent it?
President
In the future, we may own farmland, so it means a company that is qualified to own farmland.
Reporter
Please tell me what kind of person actually does the farm work.
President
Employees of Suzusei and the Company are scheduled to be dispatched to the new company, and the members of the new company will perform agricultural work.
Reporter
Is the harvested lettuce, green soybeans, etc. sold through JA?
President
We are thinking of utilizing the distribution channels that Suzuki sells to the food service industry and the food service industry, but in the future, we believe that retail sales and sales at our SA are possible.
Reporter
Please tell me if you have a production target.
Employee
In the first year, we plan about 220t for lettuce and romaine lettuce and about 35t for edamame. In the future, we plan to double the area, which will double the production.
Reporter
Please tell us if you are considering expanding to other areas besides Hamamatsu City.
President
Our company's management policy is "contributing to regional revitalization." As part of this, we would like to expand our participation in agriculture widely if we have the opportunity, but at the moment we have no concrete plans.
Reporter
What inspired you to establish a farmland-owning corporation?
President
As I mentioned at the beginning, there are issues facing Japanese agriculture, but while we are working to contribute to the revitalization of the region, Suzuki manages a farm widely in Shizuoka prefecture. Therefore, by collaborating with each other, it has become such a business model.
Reporter
The voice alert system will be tried until the end of July, but please tell us how to use it after that.
President
As a trial in the renewal construction of Odawara-Atsugi Road, it is until the end of July when the construction is being done.
Employee
Future plans have not been decided yet, but if they are effective, we plan to use them for other construction.
Reporter
Although it is said to be used to provide traffic congestion information, please let us know if you have any guideline, such as how many kilometers of traffic will be used when traffic other than construction occurs.
Employee
At the moment, we have not decided on such operational aspects, so we would like to decide in the future.
President
As I mentioned earlier, we are currently only using it in tunnels, but in the future we would like to promote technological development so that it can be used anywhere such as in sections other than tunnels, and if it is effective, we will broadly expand it. .
Reporter
Regarding the entry into agriculture, does the initial 13ha mean that abandoned cultivated land will be used?
President
Although some abandoned cultivated land is included, most of the development will be lettuce cultivation in the paddy field, or edamame cultivation in the broccoli field.
Reporter
Although it is a role division with Suzusei, it is basically Suzusei's role to grow vegetables, please tell us how you are involved and the specific role, such as your company selling.
President
Our company also dispatches executives and employees to actually manage and administer. In the future, I would like to utilize this know-how to broaden the business.
Reporter
Regarding the voice alert system, how many km of traffic congestion will be notified from the tunnel, and recently there are more inbound people using car rental, but in the future it is also possible to support foreign languages Please tell us about these two points.
President
Speakers can be used in any language, so I think it's a story that can be realized immediately.
Employee
This time, we are using it in the traffic control section of the renewal work, so if there is a traffic jam, we will broadcast it as "Traffic traffic ahead warning". Therefore, instead of being within a few kilometers of the tunnel, it means broadcasting when traffic congestion is detected.
MC
It seems that your question has been interrupted, so this is the end of your regular meeting.
以上