01 May 24, 2018 Miyaike President briefing
Conference Summary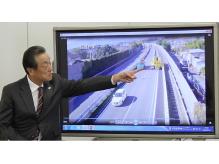 MC
We have been waiting for you. We have just begun the 132nd regular conference.
[Introduction]
From January 22 to 23, heavy snowfall occurred on the Pacific side of the Kanto Koshin region due to the influence of the southern coastal cyclone.
Due to this heavy snow, traffic was closed at Shin-Tomei Expressway and Ken-O Road. We apologized for the inconvenience of our customers.
Based on the forecast of snowfall, we will notify the roads and sections where traffic is expected to be closed in advance and request winter equipment, and we will deploy snowplows, deicing agents, tractor shovels and other equipment locally. We are implementing measures such as snow removal.
However, in the case of heavy snowfall such as this time, it may not be possible to maintain a safe driving environment, such as a traffic accident or a vehicle that cannot run on its own.
From today to tomorrow, the strongest class of cold air will flow into the sky this season, and heavy snowfall, especially in northern Japan and the Sea of Japan, will require strict caution.
Therefore, we will make a publicity announcement in advance to inform the press of the roads and sections that are expected to be closed due to heavy snow, as well as on our official website, so please check the latest information.
In addition, we would appreciate your continued cooperation with the press, such as providing information on sections where traffic is expected to be closed and calling for winter equipment.
[Business status (December 2017)]
Please see document 1.
In terms of business conditions, toll revenue in December was 57,055 million yen, an increase of 1.7% from the same month last year. In addition, the average number of traffic per day was 1944,000 units, a decrease of 0.1% from the same month last year. . In December, holidays did not take three consecutive holidays, so the use of small cars decreased slightly, but the use of large cars continued to be strong, and toll revenues increased slightly and the number of traffic remained flat. .
Continuing on the construction, next Sunday, at 15:00 on January 28, approximately 2km between Ebina-minami Junction (JCT) and Atsugi-minami Interchange (IC) of Shin-Tomei Expressway will be opened.
This opening is expected to reduce traffic congestion around the Tomei Ebina JCT and Atsugi IC, improve productivity by improving logistics efficiency, and promote regional development.
Prior to the opening, the opening ceremony will be held at 10 o'clock on the day of the event.
Next is the status of the service area (SA) and parking area (PA). See the back of Document 1. SA / PA sales in December totaled ¥ 17,067 million, an increase of 5.9% from the same month last year. Sales in the food and beverage business decreased by 2.6% from the same month last year.
In December, compared to the previous year, there were no three consecutive holidays, and due to lack of blessings, sales decreased year on year.
Sales in the gasoline business increased 22.7% year-on-year due to higher selling prices and higher sales volume of diesel oil.
[We will show the construction site of the 2018 Expressway Renewal Project "E1 Tomei Expwy Replacement Work"]
See Appendix 2.
Expressway Renewal Project is a project to repair bridges and tunnels that have deteriorated and to use them for a long time.
This time, we will inform the press about the floor slab replacement work between Numazu IC and Fuji IC, which started at the end of last year.
The date and time of release is scheduled from 10:00 to 12:30 on Tuesday, January 30.
The site we will be introducing this time is the floor slab replacement work for the Expressway renewal work on the Tomei Akabuchigawabashi/ Out-bound line.
The construction site is a section with a lot of traffic, so to minimize any inconvenience to customers, we will not completely shut down traffic, but we will enforce face-to-face traffic restrictions day and night.
This two-way traffic regulation will be carried out at the bridge part targeted for construction, but it will be necessary to rub the front and rear from two lanes on one side to one lane.
For this reason, it is necessary to minimize the risk of traffic accidents due to face-to-face traffic regulation on routes with heavy traffic. As a new initiative, this time, a mobile protective fence utilizing a concrete protective fence (road zipper system) Was adopted.
Please see the video provided.
The mobile protective fence you have seen has been used at Expressway in Japan since last year.
By using this system, a safe fence can be moved quickly, so that a safe and speedy fence can be installed.
At the site release, a demonstration of the mobile protective fence actually used on the site is also planned.
The Tomei Renewal Construction is scheduled to be implemented in the coming years, and we will actively adopt a highly safe construction method.
We will also introduce other safety measures and ideas for construction that is being carried out on site at the site release on the 30th, so please take this opportunity to interview us.
As described in the pamphlet, the continuous lane regulation during the Tomei Renewal Construction will be from Susono IC for 109 days from January 9 (Tuesday) to April 27 (Friday). This will be conducted on the upper and lower lines between Shimizu JCT.
During the construction period, traffic congestion is expected. We apologize for any inconvenience to our customers, but please understand that it is necessary to repair Expressway, which is aging.
In addition, please check traffic information and transit time on a dedicated WEB site or dedicated dial before going out, and cooperate with us such as wide area departure using the Expressway network and detour to general roads. .
[About the occurrence of traffic fatal accidents in 2017]
Next, I would like to report on the situation of traffic fatal accidents that occurred in our service area in 2017.
Please see document 3-1.
In the year from January to December of last year, a total of 40 fatal accidents occurred in our service area, and 46 people died. This resulted in an increase of two cases and five deaths since last year (2016).
One of the characteristics of the accident is that 13 accidents were in the form of a rear-end collision with a vehicle stopped on a Expressway increase of 6 accidents from the previous year (2016).
Looking at the breakdown of these 13 cases, rear-end collisions with vehicles stopped at the end of traffic congestion accounted for more than half, and one rear-end collision with vehicles that had to be stopped due to breakdowns occurred. You.
If you must stop on an Expressway due to an accident or breakdown, be careful not to stay on the main line or inside the car, but to a safe place behind your own vehicle and outside the guard rails and other protective fences. Please evacuate and report.
In recent years, there have been many reports on "tilting driving" and "falling objects on Expressway".
If you are suffering from "drift driving" and are persistently stuck, evacuate to a safe place such as SA and call 110.
In addition, to prevent falling objects, please check the vehicle and secure your luggage before departure or during breaks.
If you find a fallen object while driving, please report to a road emergency dial (# 9910) from a safe place such as SA or a passenger.
We are working on alerts in cooperation with the police and other related organizations, but we have also stated in the press release that document 3-2 "Request for safe use of Expressway" About point, we want you to cooperate in alerting.
[Trial introduction of new anti-freezing agent using sodium propionate]
Next is the topic on technology development.
See Appendix 4.
Introduced for the first time at a regular conference last month, in cooperation with the University of Toyama Prefectural University and the Institute of Civil Engineering in Sapporo, we are applying on-site application of a new antifreeze using sodium propionate (pronat). I have been considering.
For the full-fledged introduction in the future, we will inform you that we have decided to spray on some sections of the main Expressway order to respond to the issues in actual spraying work and verify the spraying effect.
See Appendix 4 for an overview of the trial implementation. First, the trial introduction section is between Shirakawago IC and Gokayama IC Tokai-Hokuriku Expressway.
The reason for selecting this section is that Pronat has a slight vinegar-like smell, and it is necessary to verify the effect of the smell on the surroundings by spraying it. Sections.
In addition, the trial introduction time is scheduled from March of this year to the end of the snow and ice measures period of April. Please contact the secretariat (public relations office) if you would like to have an interview on site, either after the conference or at a later date.
As for the mixing ratio of sodium chloride (salt) and pronat, test spraying is performed with 90% of salt and 10% of pronat based on the results of metal corrosion tests conducted in the past in the room.
The main verification contents by trial introduction are "Workability", "Odor status", "Road surface condition", "Slip resistance of road surface", "Effect of suppressing metal corrosion" and so on.
In particular, the verification of the "metal corrosion suppression effect," which has been attracting attention this time, is performed by attaching metal pieces to road facilities such as guardrails and snow and ice work vehicles such as scatter trucks, and monitoring the corrosion status for a certain period of time. We will compare and verify the difference from the case of spraying.
The results of the trial spraying will be compiled after the spraying period ends, and will be announced once it is completed.
We will continue studying this new anti-freezing agent that can be used as soon as possible in the field as a new anti-freezing agent that can control the deterioration of structures. We will continue to develop technologies that place high priority on safety and lead to high durability and reduced life cycle costs.
MC
These are the topics we have prepared today. Now, let's receive your questions.
Reporter
If you know the breakdown of traffic fatal accidents by prefecture or route, please let us know. In addition, in the documentation "Expressway, but it is written and in", has been the subject Expressway because, please tell me to include a general road car-only road.
President
This is for roads managed by our company. The specific content will be answered later by the department in charge.
Reporter
Please tell me if there is a classification of so-called "tilting" for the occurrence of traffic fatal accidents.
Employee
We have not been able to ascertain whether there was a "drift driving" before the accident.
Reporter
Is the accident in which the couple died in Tomei recently included in the document "anti-stop vehicle"?
Employee
The accident in question is included in "personnel". "Vehicles to stop" includes accidents when a person is in the vehicle, and accidents in which a person is run over on the main line are classified as "people".
Reporter
This is exactly the case where a car hits a person.
Reporter
It is related to the previous question about the situation of traffic fatal accidents. If you know the breakdown of age and gender of the deceased, please tell me. Also, the number of motorcycles seems to be decreasing. If you understand this factor, please tell me.
President
I will answer the data by age and gender later. Regarding motorcycles, it has certainly decreased compared to last year. We have been conducting various educational activities to prevent motorcycle accidents, but we have not been able to analyze whether these educational activities are directly effective. In addition, during the high season of spring and autumn when motorcycles increase, we are strengthening our awareness activities.
MC
It seems that your question has been interrupted, so this is the end of your regular meeting.