November 19, 2015 Miyaike President briefing
Conference Summary
[Moderator]
We have been waiting for you. We have just begun the 108th regular conference.
[Miyaike president]
Let's talk about the topics we have prepared today.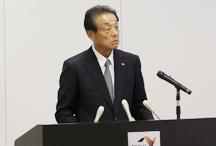 [Business Status (October 2015)]
See page 1 of document 1.
In terms of business conditions, toll revenue in October was 57,088 million yen, up 5.3% from the same month last year. In addition, the average number of traffic per day was 1,981,000 units, a 6.9% increase from the same month last year. Increased.
The factors of the increase, this year in October, received a decline of that and crude oil prices were blessed with good weather, Expressway use will be mentioned that it was strong. In addition, toll revenue and traffic volume increased year on year due to a decline in Expressway use due to typhoons 18 and 19 in the previous year.
Construction situation.
This is an overview of the construction work for the section scheduled to open in FY2015.
From 55456 km between Shin-Tomei Expressway Hamamatsu-Inasa junction (JCT) and Toyota-higashi JCT It was an outlook.
Details will be explained later.
Shin-Meishin Expressway Yokkaichi from JCT Shin-Yokkaichi JCT between 4km and Tokai-Kanjo Expressway Shin-Yokkaichi from JCT Toin JCT between 1km is, as who also is described in the briefing of up to last month, the No. 18 typhoon of this year in September, Cut Slope A collapse has occurred, and measures are being taken to secure safety after opening, such as anchors and concrete frames. It is difficult to open the cut slope up to the end of this fiscal year because measures are required for a cut slope of about 900 m in length, which is similar to the collapsed site. We will remind you of the prospect of opening.
Next is the situation of the service area.
The total number of service areas (SA) and parking areas (PA) remains unchanged at 177 locations.
SA / PA sales in October were 15,402 million yen, up 5.9% from the same month last year. Food & Beverage sales increased 9.4% year-on-year.
The reasons for the increase were the relatively favorable weather this year compared to the previous year when the typhoon landed twice, the reopening of Shizugatake SA (In-bound), and the "Yokai Watch Family Outing Campaign". As a result, sales were strong, and we think that sales were up year on year.
Gasoline sales declined 1.3% year-on-year.
The decline was due to lower oil prices.
[Efforts for the 2015 snow and ice season]
See Appendix 2.
The full-fledged snow and ice season is coming again this year. Including the prolonged suspension of traffic on Tokai-Hokuriku Expressway December of last year and the Hokuriku Expressway in February this year, snow closures on the Expressway caused inconvenience to customers. In this winter, we will combine 56 newly installed snow removal machines with existing snow removal machines to deploy vehicles efficiently and effectively. Furthermore, in order to detect stuck vehicles that hinder snow removal at an early stage, 37 new monitoring equipment will be installed, and measures will be taken against snow and ice, such as strengthening remote monitoring.
But is asking to their clients, by not carrying not mounted or tire chains of winter tires, In-bound vehicle which became a climbing impossible in such slope becomes an obstacle for snow removal work, it may lead to suspension of traffic.
Cooperate with customers to prepare early winter tires and tire chains, and to refrain from using unnecessary or urgent cars if heavy snow is expected please.
We will provide you with information on snow in order to use the winter Expressway safely, so please make use of it in advance, before and during your outing.
For information provision for Safety on the Expressway, there is a "Snow Road Drive Guide" on our official website, and we distribute a "Guide to Be Careful on Winter Roads".
In addition, as a preliminary information provision about heavy snow about three days before the snowfall referring to the weather forecast, we will throw heavy snow information on our official website and information board, including throwing it into the media companies.
In addition, iHighway Central Japan will provide 50 live images and broadcast snowfall images at 63 rest areas so that you can check the actual snowfall situation.
This is a request to the media, but in the event of a heavy snow forecast, we will provide information to the media in advance, so we ask for your cooperation.
[Shin-Tomei Expwy Aichi section]
I will explain the prospect of opening and the concept of a new rest facility.
First, please refer to Document 3-1 for the forecast of opening time.
Work has been completed on countermeasures at the location that was causing the delay in opening the road.Currently, construction of pavements, signs, rest facilities, etc. is being carried out intensively on the entire line. have become. We apologize again to our customers and related parties for the one year delay in opening.
This opening is expected to reduce traffic congestion at the Tomei Expressway, improve reliability through double networking, and strengthen cooperation between the three major metropolitan areas as Japan's main artery. In the future, it will be used as a detour when conducting large-scale renewal projects at Tomei Expressway to reduce the impact on traffic.
Next, I will explain the concept of a new rest facility. See document 3-2.
Okazaki SA and Nagashino Shigarahara PA will be opened in conjunction with this opening.
Okazaki SA will be a NEOPASA brand, similar to the seven areas of the Shizuoka section of Shin-Tomei Expressway, which will be integrated in the vertical line. In-bound line is "Okazaki-juku of the 53rd Tokaido", and the Out-bound line is "Mori no Entrance".
Nagashino-Shitaragahara PA is based on the concept of "The Battle of Nagashino Shitara original" and is based on the image of the Sengoku area.
Please use the area born on the Shin-Tomei Expwy and enjoy a comfortable highway drive in the future.
These are the topics we have prepared today.
Now, we are ready to receive your questions.
[Reporter]
It is said that the sections scheduled to open this year for Shin-Meishin Expressway and Tokai-Kanjo Expressway are difficult to open by the end of the year. How long is it specifically delayed?
[Miyaike president]
Currently, we are closely examining the process, but we hope to complete the construction by summer next year.
[Reporter]
Please tell me again the impact of the typhoon in September, which affected the opening.
[Miyaike president]
Due to typhoon No. 18 in September this year, a large-scale landslide occurred due to a landslide in a part of the 4 km section from Shin-Meishin Expressway Yokkaichi JCT to Shin-Yokkaichi JCT. Investigating similar geological conditions, we found that high risk geology was about 900m long. In order to ensure safety against such heavy rains, we are implementing countermeasures for glue frames and anchor works.
[Reporter]
How many places did the collapse occur?
[Miyaike president]
There are two places.
[Reporter]
Is the location of the collapse site Yokkaichi City?
[Miyaike president]
exactly.
[Reporter]
Regarding the opening of Shin-Tomei Expressway, this area is accumulating industry, especially in the automobile industry, and truck use is likely to be higher than in other sections. What benefits can be expected from the opening of the facility, from the perspective of improving logistics in the region?
[Miyaike president]
One of the major benefits of the opening is that traffic congestion in Tomei will be greatly improved, and the time required will be shortened. In addition, we expect that accidents will decrease as traffic congestion in Tomei decreases. In addition, by forming a double network with Tomei, we hope that redundancy will be secured in the event of a huge earthquake, and that it will contribute to rescue operations and early recovery in the event of a disaster.
From a logistics perspective, long-haul flights that run in Tokyo, Nagoya, and Osaka tend to use Shin-Tomei Expressway. This time, it will be further connected to Aichi prefecture section, so it is presumed that the trend will not change and Shin-Tomei Expressway may be used.
[Reporter]
How long will the provisional three lanes near Tomei Okazaki be operated?
[Miyaike president]
The timing of returning to the original two lanes will be determined in the future by checking with the traffic situation after opening and coordinating with related organizations.
[Reporter]
Shin-Tomei Expressway the opening of New Tomei, it will be a double network with Tomei, and the impact of traffic due to large-scale renewal work will be reduced, but will you start large-scale renewal work of Tomei from the next fiscal year? .
[Miyaike president]
Large-scale renewals and large-scale repairs need to be carried out systematically within our network. After opening, it does not mean that you will immediately start the Tomei Aichi section.
[Reporter]
Please tell us if you have any plans to start in the future.
[Miyaike president]
Regarding the construction plan, it is not possible to talk specifically.
[Reporter]
When does the reduction of traffic congestion from the Tomei Mikkabi JCT to the Toyota JCT by 80% mean when will the reduction be 80%?
[Miyaike president]
We estimate that the traffic congestion frequency in 2014 will be reduced by about 80% from the opening of traffic to about 150 times a year.
[Reporter]
Is the opening of "during February" a recognition of being brought forward?
[Miyaike president]
We have worked hard to bring construction work ahead of schedule, including countermeasures.
[Reporter]
When will it be opened in February?
[Miyaike president]
I'll let you know as soon as possible once it is decided.
[Reporter]
With regard to autonomous driving, I think that manufacturers are advancing development with the aim of commercializing it on Expressway. Shin-Tomei Expressway also scheduled to go through all traffic in 2020, but are there any initiatives with manufacturers that are considering anything on the Expressway side that will accept them?
[Miyaike president]
It has been reported in newspapers that automakers are aiming for commercial use by 2020. We also participate in the national committee on autonomous driving as a Expressway company, and we are studying what we can do as a Expressway and what we need to do.
[Reporter]
How long is the opening of the Shin-Tomei Expressway whole line including Kanagawa?
[Miyaike president]
Some sections of the Kanagawa section will be opened ahead of time, but the entire line that is entirely connected to the Ken-O Road will be launched with the target of FY2020.
[Reporter]
How much will a regular car cost from Tokyo to Nagoya if this service is opened this time?
[Employees]
At present, a regular car from Tokyo IC to Nagoya IC costs 7,110 yen. After opening, the distance via Shin-Tomei Expressway Tomei will be a little shorter and the price will be 7,090 yen, which is 20 yen less. If the starting and ending points are the same, the toll will not change when using Tomei or Shin-Tomei Expressway Tomei.
[Reporter]
Please tell us about the factors behind the one-year delay in the opening of Shin-Tomei Expressway, if you know the cost of the countermeasure work and the expected daily traffic volume after this opening.
[Employees]
Regarding the cost of countermeasures, the cost required for cut slope remediation work was estimated at about 5 billion yen, and the treatment of pyrite and heavy metal-containing soil was initially expected to be 1.3 million m3, but it increased substantially and doubled Is about 2.5 million m3, about 55 billion yen, and about 2 billion yen is required for bridge settlement settlement measures. Regarding the traffic volume after the next opening, the daily traffic volume from the Tomei Mikkabi JCT to the Toyota JCT in 2014 before the opening of Shin-Tomei Expressway Tomei was 91,000 vehicles. On the other hand, the expected traffic volume of Tomei in 2017, the second year of the opening of Shin-Tomei Expressway Tomei, is 54,000 vehicles, and the expected traffic volume of Shin-Tomei Expressway Tomei is 44,000 vehicles. We anticipate that it will cover east-west traffic.
[Reporter]
Please tell me if you estimate how much the travel time between Tokyo IC and Nagoya IC will be shortened by the opening of Shin-Tomei Expressway.
[Employees]
Due to the effect of the double network, the time required from Gotemba JCT to Toyota JCT when the Shin-Tomei Expressway Tomei Expressway opens is 180 minutes when passing through the current Tomei Expressway, and 123 minutes when passing through the Shin-Tomei Expressway Tomei Expressway, which is about 60 minutes shorter. Will be. The 180 minutes when passing through the current Tomei Expressway is the data from the Shin-Tomei Expressway traffic volume survey in the past, and is called the "road traffic census" in 2010 (Heisei 22) before the opening of the new Tomei Expressway. .. The actual time required at that time is 180 minutes. Compared to the data from such past surveys, if the Shin-Tomei Expressway is created, it will run smoothly, so assuming a speed of 100 km / h, it will be shortened by about 60 minutes.
[Moderator]
It seems that your question has been interrupted, so this is the end of your regular meeting.