03 May 28, 2018 Miyaike President briefing
Conference Summary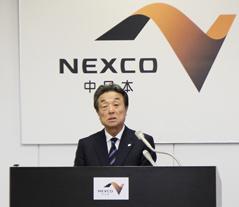 MC
Thank you for waiting. We will start the 134th regular meeting from now.
[Current status of business (February 2018)]
Please see Document 1-1.
Regarding the business situation, the toll revenue in February was 48,110 million yen, a decrease of 0.4% from the same month of the previous year, and the average number of vehicles passing by was 1,846,000 units, a decrease of 0.3% from the same month of the previous year. .. In February, despite the impact of heavy snowfall, especially in the Hokuriku region, the use of large vehicles continued to be strong, so both toll revenue and traffic volume remained almost unchanged.
Next is the construction situation. As described in Document 1-1, all sections scheduled to open this year are open. We have already announced the opening schedule of the Shin-Tomei Expressway from next year onward last week, but I would like to briefly introduce it.
Please see Document 1-2. On the 20th of this month, we will hold a liaison and coordination meeting with related organizations such as Kanagawa Prefecture, and regarding the outlook for future opening, from Atsugi-minami Interchange (IC) to Isehara Junction (JCT) in 2018, from Isehara JCT to Isehara Kita IC in 2019, 2020 We announced Gotemba JCT from Isehara Kita IC in the fiscal year.
We will continue to provide information as needed, taking into account the on-site conditions.
Next, regarding the status of smart interchanges (smart ICs), please see Document 1-3.
We are steadily and efficiently developing smart ICs in order to promote the effective use of Expressway and contribute to regional revitalization.
Six locations were opened this year, and a total of 34 smart ICs are in operation.
As a result, the average IC spacing of Expressway within our jurisdiction will be 7.5km, which is expected to further enhance convenience and contribute to regional revitalization.
In addition, from fiscal 2018 onward, we will further promote our business in collaboration with the local community toward the early opening of 23 smart ICs under construction.
Please see the back of Document 1-1.
February service area (SA) and parking area (PA) sales were 13,828 million yen, up 8.2% year-on-year, and food and beverage sales increased 0.8% year-on-year. I did.
In February, despite the impact of heavy snowfall in the Hokuriku region, there were three consecutive holidays this year, and sales in the food and beverage and product sales divisions were about the same as the previous year.
Sales in the gasoline division increased by 21.0% year-on-year due to higher selling prices compared to last year and an increase in diesel fuel sales volume.
[E1A Isewangan Expressway road (Tokai IC from Tobishima IC stock effect between)]
Next, I would like to introduce the stock effect of the 20th anniversary of the opening of Isewangan Expressway road. Please see Document 2.
It will be 20 years since the whole line opened between Tokai IC and Tobishima IC on Isewangan Expressway on March 30, the day after tomorrow.
Since the press release in December of last year, we have held events and light-ups to express our gratitude to the many customers who have used the service and everyone along the line.
On March 25th (Sun) and 26th (Mon), we will hold a field tour where you can climb the tower of Meiko Higashi Ohashi Bridge, which is one of the Meiko Triton bridges. In a lottery, we invited 20 groups and 30 people to the top of the tower, which is about 125m above the sea level.
We would like to express our sincere gratitude to everyone in the press for their help in promoting the 20th anniversary of the opening of the Isewangan Expressway road.
Now, regarding the stock effect of this Isewangan Expressway road, when calculating the economic ripple effect over the past 20 years, due to the shortened travel time, it has reached approximately 12 trillion yen in Aichi and Mie prefectures alone. This contributes to the revitalization of the regional economy, worthy of the fact that the average annual economic growth in Aichi and Mie prefectures has risen by about 1.4%.
Looking at the breakdown of the stock effect, first of all, in terms of tourism, the number of inbound tourists at the Nagashima resort tourism located along the railway line has increased by about 1.6 times, contributing to the promotion of tourism in the areas along the route.
Next, in terms of industry, we are contributing to the promotion of industry in the areas along the railway line, with transportation from the finished car factory to the export port of Nagoya Port being able to make 3 to 4 round trips per day.
In addition, the transportation of the east-west axis in the Chubu area has been changed from the Tomei-Meishin route to the Isewan coast-Shin-Meishin Expressway route, which is responsible for Japan's logistics arteries connecting Tokyo-Nagoya-Osaka, as well as accidents and disasters. It has also been used as an alternative route for traffic closures and traffic congestion, improving the punctuality of travel.
For other effects, please check the handouts.
In addition, in the 2018 fiscal year, the area between Shin-Meishin Expressway Shin-Yokkaichi JCT and Kameyamanishi JCT is scheduled to open, so it is expected that further effects will be exhibited.
[We will carry out a national traffic safety campaign in spring]
Please see Document 3-1.
The Spring National Traffic Safety Campaign will be held for 10 days from April 6 (Fri) to 15 (Sun).
Since the beginning of this year, a total of 11 traffic fatal accidents have occurred on our Expressway which is the worst pace in the past three years.
In particular, in March 2018, 6 out of 11 traffic fatal accidents occurred, which is extremely serious.
Another characteristic of the accident form is that there are many rear-end collisions at the end of traffic jams and accidents involving motorcycles.
Among them, the number of fatal accidents at the end of the traffic jam was 7 in total last year, so we just called out at the regular meeting in January, but in less than 3 months since this year, It is the situation that 3 cases have already occurred.
If you encounter a traffic jam, signal a following vehicle by lighting a hazard lamp, etc. to prevent a rear-end collision, and be careful to keep the distance to the vehicles in front and behind.
Also, in order to be aware of the traffic jam information provided by the road information board and vehicles that are stopping in front of us, please do not use "side-by-side driving" or "while using a smartphone."
In addition, points for safe use of the Expressway are described in Document 3-2, and brochures such as "Safety Drive" are distributed to call on customers using the Expressway. Since this is being done, we ask for the cooperation of everyone in the news media.
We will hold traffic safety events in cooperation with related organizations during the spring national traffic safety campaign at SAs in our jurisdiction.
Detailed dates, times, places, etc. are summarized in Document 3-3. We ask all members of the press to come and interview us.
[Outline of FY2017 Customer Feedback] and examples of improvements]
Next, please see Document 4.
Regarding our business, we have received a great many "customer opinions" on a daily basis.
Today, we would like to present an overview of our customer feedback this year and examples of improvements that make use of the opinions and requests received from customers.
We have established the NEXCO CENTRAL Customer Center, which is free of charge and is available 24 hours a day, 365 days a year to respond to customer feedback.
Our center accepts a wide range of "customer feedback" not only by phone, but also through multiple methods such as e-mail and the "Highway Post" postcard provided for SA / PA.
In addition, of the customer feedback we receive, we will promptly respond to customer safety issues and create a database, and the relevant departments will cooperate with each other in a sincere response.
In addition, the aggregated and analyzed "customer feedback" is shared throughout the NEXCO CENTRAL Group and reflected in management policies and business activities.
This year, we received about 500,000 "voices from customers", of which about 90% were "inquiries" such as road information.
About 20,000 opinions and requests were received, of which about 60% were related to SA / PA.
The back side of Document 4 introduces examples of improvements in SA and PA, which account for a large portion of the customer's opinions and requests.
In today's material, we have mentioned some examples of the top three "commercial facilities", "parking lots", and "toilet" with the largest number of cases, but in addition to this, we have made many improvements, including detailed ones. I will.
Next, please see the booklet that is handed to you.
We are working to foster a CS mindset by gathering casebooks of gratitude and gratitude from customers into a booklet called "Thank You Bouquet" and sharing them widely among group employees.
Above, we have introduced the outline of customer feedback and examples of improvements, but the Group will continue to accurately understand customer needs and reflect them in the business with the aim of creating better Expressway space. I will.
[Participating in local monitoring activities of local governments along Expressway and promoting regional support]
Please see Document 5.
We are strengthening communication with local governments along the Expressway line, and are working to resolve issues facing the region and support activities to revitalize the region.
As part of that activity, Nagoya Regional Head Office discovered an anomaly while managing Expressway on a daily basis in order to support the creation of a community where everyone can live with peace of mind. In this case, we are engaged in "regional monitoring activities" in which we notify relevant organizations such as the city and police. To date, we have signed agreements with 42 local governments in Aichi, Gifu, Shiga, Nagano, and Mie prefectures to expand the circle of regional support.
Specifically, through daily work such as construction and inspection of Expressway and patrol inside and outside Expressway, children and elderly people who are lost, newspapers and mail items at the entrance and mail box When an event such as a situation where the situation is apparently different from daily life is found, such as when it has accumulated, it notifies the relevant organizations such as the city and police.
Examples of cases that we have dealt with so far include a case in which we contacted an elderly man who was lost in the vicinity of ToyotaHigashi IC in December last year and sent him to his home by road patrol car.
By promoting such "regional monitoring activities", Expressway can be improved in safety by preventing people from getting lost in entering Expressway. We hope that we will continue to conclude agreements with other local governments along the way and contribute to solving local issues and revitalizing them.
MC
These are the topics we have prepared today. Now, let's receive your questions.
Reporter
Isewangan Expressway for stock effect of the road, and the prefecture of the breakdown of the 12 trillion yen, please tell me the effect itemized breakdown, such as capital investment and private consumption.
Employee
The breakdown of 12 trillion yen by prefecture is 3.2 trillion yen in Mie Prefecture and 8.8 trillion yen in Aichi Prefecture, as shown in the pie chart on page 2 of Material 2. Regarding the breakdown by effect item, the economic ripple effect explained today is not calculated by accumulating each item, but is calculated using the regional econometric analysis model as described on page 2 of document 2. This is a method of calculating the economic effect by modeling the increase in productivity due to the improvement of accessibility due to the improvement of roads and the shortening of travel time between points, and there are times when there is no Isewangan Expwy. There is no breakdown for each item as the economic ripple effect is calculated by calculating the difference in total production from changes in required time.
Reporter
I'm confirming, but will the opening time of all Shin-Tomei Expressway lines change from 2020?
President
There is no change.
Reporter
I think there is a story that an Enshu truck will be established as a relay station adjacent to the Shin-Tomei Expressway Hamamatsu SA. If there is something that you can talk about, such as the status of the maintenance and the situation toward opening.
President
We plan to build a parking lot on the land adjacent to Hamamatsu SA of Shin-Tomei Expressway and use it as a relay base for long-distance trucks. Currently, we are asking dozens of shipping companies to conduct a survey of usage intentions, and if you can answer that they have utility value, we are as soon as possible, and if possible, we will aim for the summer of 2018 Enshu Truck. I would like to start a business jointly with.
Reporter
Please tell us again the significance of what this relay point can do for your company.
President
As you know, in the logistics industry is in a difficult situation such as labor shortage, improving the working environment by relaying will help solve the problems of the shipping company. I would like to contribute to the development of the logistics industry through this business.
Reporter
The other day, executives and others were accused of being indicted for the accident in the Sasago Tunnel. Please comment on this.
President
We sincerely apologize to those who died in the accident. We will refrain from commenting on the fact that the prosecution has been issued, as it is the judgment of the District Prosecutor. I have told all the bereaved families that we have to do, but I think it is all about providing a safe Expressway, so we will continue to improve safety steadily. I will do my best.
Reporter
In the rigging case involving the linear construction of JR Tokai, measures have been taken to eliminate nominations mainly in public works in various places, but please tell us what measures you will take regarding future orders for the four major general contractors. .
President
We are currently considering it.
Reporter
Does the consideration include exclusion?
President
We are currently considering ways to deal with it, including whether or not to exclude it.
MC
It seems that your question has been interrupted, so this is the end of your regular meeting.