October 21, 2015 Miyaike President briefing
Conference Summary
[Moderator]
Thank you for waiting. From now on, we will start the 107th regular conference.
[Miyaike president]
Let's talk about the topics we have prepared today.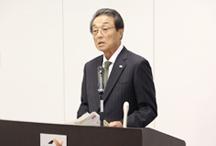 [Business status (September 2015)]
See page 1 of document 1.
In terms of operating conditions, toll revenue in September was 55,786 million yen, an increase of 2.7% from the same month of the previous year, and the average number of traffic per day was 1,982,000 units, 3.1% of the same month of the previous year. Has increased.
In September of this year, due to the influence of Silver Week, the use of Expressway on holidays increased, and the use of Ken-O Road continued to be strong. And the number of passing cars also increased.
Construction situation.
This is an overview of the construction work for the section scheduled to open in FY2015.
55km between Shin-Tomei Expressway Hamamatsu-Inasa Junction (JCT) and Toyota-higashi JCT, the construction work for cut slopes, which was the cause of the delay in opening, was almost completed, and paving, markings, and buildings in the rest facility were built over the entire line. We are working hard on such construction. We are currently scrutinizing the process, and we would like to inform you of the opening schedule for next month.
Shin-Meishin Expressway Yokkaichi from JCT Shin-Yokkaichi JCT between 4km and Tokai-Kanjo Expressway Shin-Yokkaichi from JCT Toin between JCT 1km is, with the goal of opening of this year, but we are promoting the construction work over the whole line, it is also described in last month's briefing As you said, Typhoon No. 18 caused a collapse on the cut slope.
As a result of studying with academic experts, the cut slope of about 1km before and after the collapsed site is similar in geology to the collapsed site. Is required, and the detailed design of the countermeasure work is currently underway, and the entire process is under close examination.
Next is the situation of the service area.
The total number of service areas (SA) and parking areas (PA) remains unchanged at 177 locations.
SA / PA sales in September were ¥ 15,982 million, an increase of 5.0% year-on-year. Sales in the Food and Beverage Sales Division increased 7.5% year-on-year.
As a factor of the increase, Silver Week was 5 consecutive holidays this year, and due to the holding of the "10th anniversary thanksgiving event" and "Hokkaido Bussan Exhibition (Ebina In-bound)", sales were favorable and it was a year-on-year increase. .
Sales of the gasoline division decreased 0.8% year-on-year.
The decline was due to lower oil prices.
[Status of bid failure in the first half of the year and measures against bid failure]
See Appendix 2.
Regarding the status of bad bids in the first half of fiscal 2015, there were 34 bad bids for construction projects that cost more than 2.5 million yen, and the incidence rate is 19.2%. Continuing from last year, the types of work with a lot of bad tenders are civil works and road repair work. In the last fiscal year, due to the effects of the unfavorable special life estimation consultation system, the rate of occurrence of unfavorable bids improved significantly to 13%, but this year it is increasing.
We are continuously working on countermeasures for bad bids, but since they are not immediately effective, we will continue to take necessary measures while closely monitoring trends.
As a major countermeasure against bidding failure so far, adoption of the unfavorable extraordinary quotation consultation system and exchange of opinions with industry groups as an improvement measure for construction management, aiming to solve construction management issues We have just reviewed each guideline that we have in common.
This fiscal year, we will continue to work on measures against bad bids, and as a revision of the accumulation standard that reflects market trends, we will Large the application of the market unit price method and review various expenses aiming to closely follow price fluctuations. I am.
In addition, with the aim of responding to issues such as "we can not secure engineers who are scheduled to be deployed", which is the main cause of failure to make up the majority of bad bids, and to utilize young engineers who will be the future bearers, Due to the construction of the general competitive bidding, in which bids will be announced after August, the experience and qualifications of the engineers scheduled to be placed, which were required as a bid participation requirement, were reviewed at the start of the site rather than at the time of bidding. As a result, the placement engineer is not specified from the time of bidding, and anyone who satisfies the experience and qualifications can place it.
At the same time, we have removed the evaluation of placement engineers from the technical evaluation items at the time of bidding, so we think that it will lead to the active promotion of young engineers without being particular about experienced engineers. We hope that this measure will reduce the number of failed bids.
We will continue to review and improve the bidding contract system, calculation standards, construction management, etc. in order to steadily execute the construction business and the 3-Year Plan for Improving Safety, and to promote the business such as specific renewal that will be in full swing from now on. I will come.
[Status of strengthening efforts for overweight vehicles]
Please see document 3.
Since April this year, we have strengthened our efforts for overweight vehicles, and we would like to make an interim report on the status of our efforts so far.
As shown on page 1 of Document 3, 5 cases have been filed up to now for overweight vehicles that could significantly affect the deterioration of road structures and lead to serious traffic accidents. Announcements and announcements are made on our official website.
Among them, on October 19, the day before yesterday, we announced the first accusation in the Tokai area regarding a case of crackdown at the Gifu Kakamigahara Interchange (IC) on the Tokai-Hokuriku Expwy. Regarding the case of Tomei Expwy YokohamaMachida IC, which was accused to the Kanagawa Prefectural Police on July 29, I heard that the documents were sent on September 8 at the announcement of the Kanagawa Prefectural Police.
To implement new crackdowns, we have a specialized crackdown team at the interchange entrance, and take measures such as "U-turn" to order the offending vehicle to leave the Expressway.
From April of this year, for severe violations above a certain weight, we will implement severe measures such as `` reduction of cargo '' to reduce weight and `` suspension of traffic '' to order stop on the spot until obtaining a passage permit. We carried out 12 cases.
We are cooperating with related organizations to strengthen the crackdown on the eradication of overweight vehicles, and we will continue to work vigorously in the future.
[Large areas covered by unlimited Expressway for foreign visitors to Japan]
See Appendix 4.
Regarding foreign tourists visiting Japan, the country aims to increase the number of foreign tourists to 20 million by 2020 with the aim of promoting tourism-oriented nations. We now have.
Under such circumstances, Expressway, which is currently sold to foreign customers, is a discounted product that allows unlimited rides on a fixed amount, "Speed Travel Central Nippon Expressway Pass" [abbreviated name "CEP" (Sep)] I would like to inform you about.
From November 1, we will Large the CEP unlimited ride area to the Kyoto area (Yokaichi IC / Kokatsuchiyama IC-Kyoto Minami IC) managed by the West Japan Expressway, in addition to the Expressway currently managed by our company. .
By including Kyoto, which is one of Japan's leading tourist destinations, in the all-you-can-ride area, we believe that CEP will become more attractive and will lead to foreign tourists visiting Japan to tourist destinations in the central area such as Shirakawa-go, Kanazawa, and Mt.Fuji. .
In addition, the number of car rental companies that can apply for CEP has increased to 76, making it even easier to use.
We would like to encourage foreign visitors to use the Expressway an easy-to-use all-you-can-use pass to go to attractive tourist destinations in the Chubu area.
These are the topics we have prepared today.
Now, we are ready to receive your questions.
[Reporter]
Aichi Prefecture announced a policy to privatize toll roads, but what is your view on the restriction of participation of road companies in bidding?
[Miyaike president]
I think we are in a position to comment.
[Reporter]
Have you considered bidding?
[Miyaike president]
I was paying close attention to the conditions. We are connected to the Expressway that we manage, so I think it is important to take measures to avoid inconvenience to our customers.
[Reporter]
Regarding the issue of bad bids, the incidence of bad bids decreased with the introduction of measures last year, but this year it has risen. Is there any cause?
[Miyaike president]
Although it is difficult to identify the cause, we have taken various measures to prevent the construction period from being affected for work with a limited construction period, such as the 3-Year Plan for Improving Safety and Expressway construction work. I am. We are working on the construction site for which the contract conclusion is delayed, so that we can make it in time for the construction period while devising it on site.
[Reporter]
Do you think that the relaxation of engineer requirements and the use of young engineers can be adequately addressed in terms of quality assurance?
[Miyaike president]
I think it is important to have a well-established on-site management system and to further strengthen it to ensure quality.
[Reporter]
Will the Shin-Meishin Expressway 's slope measures be affected by the opening in 2015?
[Miyaike president]
We are currently examining the process to see how long it will take because we have to take measures for the slope of about 1 km, which was not in the original plan. I'm wondering if there will be any outlook for that next month.
[Reporter]
It has been about six months since the opening of Terrace Gate Toki but what about the trends of customers who use it?
[Miyaike president]
Thanks to your support, the number has been 104% of the expected number of customers and has been well received. We would like to do our best so that more and more people can use it.
[Reporter]
Is there any synergistic effect with nearby outlet malls?
[Miyaike president]
I also think that there is. I would like to continue to devise various ways for our customers to stop by.
[Reporter]
When did the unlimited pass for foreigners visiting Japan begin? If you know the usage status by country, please let me know.
[Employees]
It started in 2012. The usage status is about 40 in FY2012, about 200 in FY2013, and about 900 in FY2014. This year we have about 1,000 cases in half a year. By country, data from April to the end of July this year show that 85% of customers are from Hong Kong, and the remaining 15% are from Southeast Asia such as South Korea and Taiwan.
[Reporter]
The sales period has been extended, but was it limited?
[Employees]
It was a product up to the end of this fiscal year, but we decided to extend it for about half a year as the area for unlimited rides Large. From November next year, I would like to continue thinking while continuing to watch the sales situation.
[Reporter]
Given the increasing number of inbound tourists, how do you think they are contributing to tourism promotion in the Shoryudo area?
[Miyaike president]
I hear that the number of individual customers will increase in the future, so I think that the use of cars will increase.
[Reporter]
It is said that the number of foreigners will increase in the future. For example, will you be able to handle road signs in Japanese and English as well as in other foreign languages?
[Miyaike president]
Since the country is considering it for the Tokyo Olympics and Paralympics, we think it is necessary for us to respond when it is decided. Currently, the signs are written in Japanese and Roman letters, but we are currently working on concierges in the service area and patrols for foreigners. We are also promoting various fields such as foreign language display in SA / PA and Wi-Fi.
[Reporter]
We celebrated 10 years of privatization on October 1st. Please tell us your aspirations for the future.
[Miyaike president]
The Ministry of Land, Infrastructure, Transport and Tourism's operational inspection regarding the 10 years of privatization received an evaluation that it was well done. A new issue that has emerged 10 years later is the aging of equipment represented by large-scale renewal and large-scale repair work. Furthermore, at the time of the Great East Japan Earthquake, Expressway was opened early within 24 hours for the transportation of goods, and it was extremely useful, so I would like to continue working steadily as it ages. As for the future, autonomous driving is a hot topic recently. With regard to what Expressway can do, it seems that automobile manufacturers also have a goal of 2020, so I think Expressway must prepare for it and respond accordingly. If automated driving can be achieved, Expressway will lead to fewer accidents and less congestion. I think it is necessary to work on IT for maintenance.
[Reporter]
For example, is it possible to consider the flexibility of reducing the price of a self-driving car?
[Miyaike president]
I've never considered it, but I would like to study it as an idea.
[Reporter]
The increase in the number of unlimited rides is large, but the cause of the increase is whether this is generally a so-called inbound effect, the advertising effect has spread, or whether the use has been incorporated into something. How do you see
[Miyaike president]
I haven't analyzed it in detail, but I think it's been gradually announced.
[Employees]
A supplementary explanation will be given. Over the last three or four years, we have increased the number of sales and usage locations of car rental companies. It is cheap and easy to use for foreigners who are unfamiliar, so we think that it has increased due to its PR effect.
[Moderator]
It seems that your question has been interrupted, so this is the end of your regular meeting.