06 May 24, 2015 Miyaike President briefing
Conference Summary
[Moderator]
Thank you for waiting. The 104th regular meeting will now begin.
[Miyaike president]
Before I discuss today's topics, I would like to thank you for your understanding.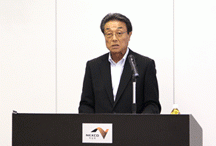 The intensive construction work for Chuo Expressway Expressway, Higashi-Meihan/ Mei-Nikan Expressway and Meishin's spring that started on Monday, May 18th was completed on Saturday, June 20th. Thank you for your cooperation.
During the construction period, we apologize for any inconvenience caused to customers using the Expressway and those in the surrounding area.
For the time being, on lines where intensive construction has been carried out, lanes will not be regulated continuously for 24 hours a day, except for emergency work, but in order to enable customers to use the Expressway comfortably and with peace of mind, work consolidation and annual construction regulations To reduce the number of times, we plan to continue intensive construction in Tomei in the fall. Detailed schedule will be announced on our website as soon as it is decided.
We apologize for any inconvenience caused during the construction period, but we ask for your continued understanding and cooperation.
Let's talk about the topics we have prepared today.
[Business status (May 2015)]
See page 1 of document 1.
Regarding operating conditions, toll revenue in May was 55,570 million yen, an increase of 9.8% from the same month of the previous year, and the number of traffic per day was 1,894,000 units, an increase of 1.1% from the same month of the previous year. have become.
Concerning fee revenue, the convenience promotion project by national expenses ended at the end of March last year, and the fee system was reviewed from April, but for the three months until the end of June, due to mitigation measures, an originally discounted holiday The discount has been deferred to 5 discounts. Therefore, this year, there was a 20% discount difference compared to the previous year, resulting in an increase of 9.8% year-on-year. This trend is expected to continue until June.
As for the number of passing vehicles, compared with last year when the fare system was revised, this month was almost flat, increasing by 1.1% year-on-year.
Construction situation.
This is an overview of the construction work for the section scheduled to open in FY2015.
Shin-Tomei Expressway Mei Hamamatsu-Inasa Junction (JCT) to Toyota-higashi JCT 55km, all tunnel main works are completed, and bridges and earthworks other than the sections where countermeasure work that has caused the revision of the opening time are being completed are almost completed We are developing pavement construction and equipment construction. We are proceeding as planned with regard to measures to prevent the cut slope, the disposal of heavy metals and sediment, and the measures to prevent the sinking of bridges, which caused the revision of the opening date. At the moment, the opening target is the end of 2015.
Shin-Meishin Expressway Yokkaichi from JCT Shin-Yokkaichi JCT4km and Tokai-Kanjo Expwy Shin-Yokkaichi JCT ~ Toin over Interchange 1km is the whole line, is in the entire deployment earthwork, construction of bridges. The pavement work is currently in preparation for the construction start, and is scheduled to start next month. We are developing a business with the aim of opening it at the end of fiscal 2015.
We will do our utmost to open the service as soon as possible. We appreciate your understanding and cooperation.
See page 2 of document 1.
Regarding the ETC situation, the average daily usage rate in May was 91.1%.
Next is the situation of the service area.
The total number of service areas and parking areas remains unchanged at 177 locations.
Sales in the service area in May were ¥16,588 million, an increase of 3.4% year-on-year. Sales of the Food and Beverage Sales Division increased 5.7% year-on-year.
The reason for the increase is that the number of consecutive holidays and the number of holiday days of GW is larger this year than in the previous year, and the number of days and blessings are good.
Sales of gasoline decreased by 2.3% year-on-year. The reason is that all oil types are below the selling price of the previous year.
[Meishin Expwy 50th Anniversary Event]
See Appendix 2.
At the regular meeting in April, we announced that we will celebrate the 50th anniversary of the opening of the whole Meishin Expwy on July 1, but we will inform you about the details such as events and commemorative products.
On July 4th and 5th, we will hold an event to thank our customers at three rest facilities on the Meishin Expwy. In addition to a panel display of the status of the Meishin Expwy 50 years ago, we will introduce managed vehicles running on the Expressway, street performance by employees, and hospitality by our original character "Michimaru-kun". In the Owari Ichinomiya parking area, hydrogen vehicles "MIRAI" will be exhibited.
A limited amount of curry and ramen will be offered at the food court for 50 yen for the 50th anniversary, and the restaurant will sell old-fashioned Western dishes as a commemorative menu at a thankful price.
Also, it took about 30 minutes for the driver of the founder of Pokka to finish drinking coffee in the Yoro service area at the time of opening, which was the reason for the development of canned coffee of Pokka Sapporo. We will sell commemorative canned coffee that was reprinted from the original design of the original Pokka coffee.
In addition, we will hold a campaign to win 2,000 ETC mileage points for 250 people by lottery.
For details on events and commemorative products, please check the handouts.
Please take this opportunity to drop in at the event venue on the Meishin Expwy.
It introduces the current Meishin Expwy has an economic effect of 500 billion yen per year, and the development of the Japanese economy along with the extension of Expressway that support freight transportation.
I greet the whole line opened 50 years Meishin Expwy started, Expressway as aging measures, to start a large-scale renovation and repair work from the current fiscal year, for many years to come in the future, safe, secure and comfortable Expressway offers access to We would like to ask for your continued understanding and cooperation.
[Advantageous "Fast Journey Drive Plan" for unlimited rides on Expressway]
Please see document 3.
Summer vacation is about to begin, but I would like to introduce you to the "Fast Travel Drive Plan," which allows you to use Expressway at reasonable prices.
The "Fast Travel Drive Plan" is a value-for-money travel product that allows unlimited rides on Expressway within preset tour areas.
In addition to "Fast Travel "Actually it's all Mie!" Drive Plan", we are selling four drive plans sequentially from June 12 (Friday), all products from July 1 (Wednesday) It is available.
For details on the drive plan and examples of advantageous use, please see the leaflets.
By all means, from summer to autumn, enjoy a great drive plan and enjoy a fun trip with your family and friends.
[Service area event information]
See Appendix 4.
We will inform you that three events will be held in the service area for summer vacation.
The first is a collaboration event with the popular anime "Evangelion". This year is "2015" during the middle of the year, and since "Third New Tokyo City" in the stage is Hakone, we will hold it at the nearest Tomei Expwy EXPASA Ashigara (Out-bound). The event name is "Nerv Central Japan Evangelion Ashigara" and will open on July 17.
The second is a tie-up event commemorating the 10th anniversary of both our company and the restaurant Tabelog. Based on the reviews of Tabelog users, we will hold the Tabelog Product Exhibition, which has more than 100 carefully selected back-ordered gourmet products, from July 4th in the Chugoku ChuoExpwy Dangozaka service area (In-bound).
The third is the "Yo-Kai Watch" event, which is very popular with children. The "Summer Vacation! Yo-Kai Watch! Gift Campaign" will be held from July 4 to August 31 for 50 service areas and parking areas managed by the Company.
Please enjoy this summer vacation at NEXCO CENTRAL service area with many events.
[10th Expressway "Bridge" Contest made with newspapers]
See Appendix 5.
The "Bridge Contest" is a competition for the design and strength of works by making bridges on Expressway using familiar newspapers and adhesives. We have held this event every year since 2006, with the goal of getting people to feel the dynamics of roads and structures, and familiarize themselves with Expressway. This year marks the 10th time this year.
The submission period for the works is from August 24 to September 4 for two weeks.
Each of the "design division" competing for design, the "load-bearing division" competing for how many weights can bear, the "lightweight division" competing for how to make a bridge that bears 1kg weight lightly, and the "group competition" for high school students and above We will set up a department to hold the competition.
Judging by the design department will be held on September 26th and 27th at AEON MALL Otaka in Midori-ku, Nagoya City, and the competition for load-bearing, lightweight, team competitions and the awards ceremony will be held on November 7th at the NGK Forum Reception in Minami-ku, Nagoya City. We will do it in the hall and open it to everyone.
We would like to take this opportunity to thank the mass media for their support.
It is also a perfect subject for free study during summer vacation. We are looking forward to submitting many works.
These are the topics we have prepared today.
[Moderator]
Now, we are ready to receive your questions.
[Reporter]
It's been 50 years since the whole Meishin line was opened, but I would like to ask you about the acceptance of the 50th anniversary again and the effect that Meishin has opened.
[Miyaike president]
The Meishin Expwy has played a very important role in the last 50 years. The most important thing is that the problem of deterioration is advancing. I think that my biggest challenge is to carry out large-scale renewal and large-scale repair work so that everyone can use the Expressway safely and with peace of mind.
Regarding the effect, Meishin Expwy can shorten the time and bring about a great economic effect, and there are many industries concentrated around Expressway. Even in recent cases, new effects such as the accumulation of factories near the interchange of Ken-O Road, which has been opened, can be seen, but Meishin is a pioneer. In the future, if Shin-Meishin Expressway opens, we think that it will become a double network and its importance will increase.
[Reporter]
The large-scale renewal will start from now on, and it will take about 10 years to implement it. What kind of problems do you have?
[Miyaike president]
The biggest challenge is to manage and operate the network by minimizing the impact of traffic restrictions such as suspension of traffic due to large-scale updates. I also think it is important to build a reliable Expressway that will last a long time, and to work while successfully establishing both. For example, by ordering the work for a certain section at once, or by ordering the work for various types of work at once, we have been working to reduce costs and construction periods, or improve durability while introducing new technology. I am thinking.
On the other hand, there are two major factors that accelerate the deterioration of roads. One is the acceleration of damage to the road due to the running of overloaded large vehicles, and the other is the effect of salt used as a measure to prevent freezing in winter. We believe it is important to consider these measures as well.
[Reporter]
I would like to ask about double networks. Shin-Meishin Expressway in Mie Prefecture section of was opened, or do you think that there is any such thing as the role of Meishin.
[Miyaike president]
Higashi-Meihan Expressway is causing inconvenience due to chronic traffic congestion. Shin-Meishin Expressway and Mie Prefecture section of double-networked opened, traffic is distributed, I think that this congestion is also reduced. In addition, I think that it has a role as a detour to avoid congestion during large-scale renewal and large-scale repair work.
[Reporter]
Please tell us about your impressions of your first year in office.
[Miyaike president]
As I said after moving from an electric power company, when I was appointed, my job was to make a so-called lifeline: safe, stable, inexpensive, environmentally friendly and comfortable for our customers. Is to provide you with a Expressway. I feel that this is an industry in common with electric power companies. This year, we are celebrating the 10th anniversary of the split privatization, and during this time, I feel that we are doing well in a difficult situation, such as the Sasago Tunnel accident and the tax evasion case of employees before that.
Over the past year, we have visited 40 maintenance and service centers and construction offices, and while talking to our employees, let's continue our efforts to become a company that customers can trust, taking advantage of the hardships of these 10 years. I am arguing with.
[Reporter]
I think that when the road corporation was privatized 10 years ago, it was planned to repay the debt and make it free by 2050. There are users who think that tolls should be reduced on Expressway with a large number of users. What do you think about the toll system for the last 10 years?
[Miyaike president]
Regarding the fee system, we have reported on the results achieved in 10 years. One is to cut the management cost at that time by 30% and use the resources to provide time zone discounts and other discounts. In terms of construction costs, we have cut costs by about 20% on new routes and cut personnel costs by about 10%. We are steadily returning the initial interest-bearing debt. We will continue to aim to be a company that customers can trust.
[Reporter]
We have decided that the summit will be held in Ise-Shima on May 26th and 27th next year. Please tell us your thoughts on this.
[Miyaike president]
The other day, Mie Prefecture requested to participate in the Summit Prefectural Conference, but we would like to cooperate fully with the aim of the success of this Summit, to ensure the safety and security of people involved when they move. I am. In addition, since it overlaps with the Higashimeisaka refresh work that is being carried out every year, we would like to coordinate the timing of the work with related organizations in the future.
[Reporter]
I think that the number of foreign visitors will increase, but what about the company's response to this?
[Miyaike president]
The other day, Shoryudo was certified as one of the seven wide-area sightseeing routes. Our company has already issued a free pass for foreigners, and we are working to promote multilingualization of service areas and to establish an environment where Wi-Fi can be used.
[Moderator]
It seems that your question has been interrupted, so this is the end of your regular meeting.