December 26, 2018 Miyaike President briefing
Conference Summary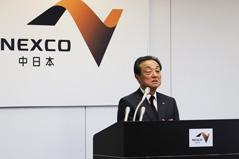 [Moderator]
Thank you for waiting.
Today, after the regular meeting, the drive adviser of our Nagoya Regional Head Office will set aside time to explain the traffic congestion forecast and traffic congestion avoidance points in the Tokai area during the year-end and New Year holidays. Please come to see us later.
Now, let's start the 143rd regular meeting.
[President]
[Introduction]
Before introducing the topics, let me say a few words.
The cold wave is expected to arrive at the end of the year, so I will inform you again about the "preventive traffic regulation (advanced traffic closure)" introduced from this winter.
As for the "preventive traffic regulation", as already announced, the road is closed before a large-scale vehicle is stuck due to a large-sized vehicle being stuck, and concentrated snow removal is promoted to minimize the closed time.
When heavy snowfall is expected, it is necessary to make a comprehensive judgment after sharing information such as weather forecasts and surrounding road conditions, including general roads, with related organizations, so it is necessary to make a comprehensive judgment. Unlike planned suspensions, it is difficult to announce the closed sections and times in advance.
However, as a preliminary public information, heavy snow forecast information for each region 3 days before, information on routes and prefectures that are expected to be closed 2 days ago, routes that are expected to be closed the day before, between ICs and estimated time to start closing Information will be provided on our official website and radio commercials, so please use it as a reference when planning your outing.
Also, so that you can more delivered to customers information about the heavy snow, in cooperation with Weathernews Inc. of weather information company, other Expressway was provided from December 25, the new information providing site in collaboration with the company So I would like you to use this as well.
If you are expected to be closed, please refrain from going out unnecessarily and urgently. If you have to go out, please consider detouring or changing the operation plan.
Also, when riding on snowy roads, be sure to wear winter tires and carry a tire chain.
[Current status of business (November 2018)]
Please see Document 1.
First of all, regarding the operating situation, the fee revenue in November was 59.47 billion yen, an increase of 2.5% from the same month of the previous year, and the number of traffic per day was 2,709,000 units, an increase of 1.8% from the same month of the previous year. It was.
In November, toll revenue and the number of vehicles passed increased due to continued strong use of large vehicles.
Looking at the number of passing vehicles, the number of large vehicles increased by 5.4% compared to last year. Such an increasing trend of large vehicles has continued for about two years.
Next is the construction situation.
Appendix 1 describes the sections that are scheduled to be newly opened or completed with four lanes in FY2018.
For each section, the road construction work such as earthwork and bridge superstructure work is now almost completed, and the pavement work, sign work, and information work such as information boards are being fully developed.
Of these, for the four-lane business between Tokai-Hokuriku Expressway Shirotori interchange (IC) and HidaKiyomi IC, we have started to operate four lanes sequentially from the completed section, and to date, Shirotori IC. Four lanes from io to Takasu IC and from Hirugano Kogen Service Area (SA) to HidaKiyomi IC have been completed.
After 4 lanes, there is no traffic congestion due to traffic congestion. From now on, during the year-end and New Year holidays and during the ski season, traffic will be concentrated, but traffic congestion will be alleviated compared to last year, and it is expected to be used more smoothly.
For Takasu IC to Hiruganokogen SA, which have not been completed with four lanes, we are proceeding with construction aiming for completion within this year. We will announce the specific completion time as soon as the outlook is available.
Next is the situation of (SA) and parking area (PA).
Please see the back of Document 1.
Sales of SA / PA in November were 18,248 million yen, an increase of 6.3% from the same month of the previous year, and sales of the Food and Beverage / Sales division increased by 1.8% from the same month of the previous year.
In November, we had one less holiday than last year, but due to the favorable weather as a whole, sales were favorable mainly in large areas, so sales exceeded the previous year. .
From Saturday, December 8th until the end of March next year, we are holding the "Genki-Dakka Hokkaido Support Fair" to support Hokkaido with most of our SAs and PAs.
A portion of the proceeds from this "support fair" will be donated through the Hokkaido Disaster Relief Fund Recruitment Committee. We hope that by purchasing our products from Hokkaido, we will help promote tourism in Hokkaido.
Details of the implementation area and period will be announced on our official website.
Please drop in when you go out.
Sales in the gasoline division increased 14.7% year-on-year, due to higher sales prices compared to last year and an increase in the sales volume of diesel oil.
[Verification toward full-scale introduction of new antifreeze agent that uses sodium propionate]
Next is a topic on technology development.
Please see Document 2.
As I introduced at the regular interviews in December last year and January this year, we have collaborated with the Toyama Prefectural University and the Institute of Civil Engineering for Cold Region in Sapporo to develop a new antifreezing agent site using sodium propionate (Pronat). We have been studying its applicability to the Tokai-Hokuriku Expressway the winter of last year and tested its effect on a trial basis.
As a result of the verification, we were able to confirm a certain effect, so this winter we will Large trial introduction scale from last year, continue to verify for full-scale introduction, and also work on stable procurement of Pronat. I will let you know.
First of all, let me tell you about the results of the trial implementation last winter.
The section that was tentatively sprayed last winter was between Shirakawago IC and Gokayama IC the Tokai-Hokuriku Expressway, which is shown in blue in Fig. 1, and the snow and ice countermeasure period will end in the middle of March of this year. It was sprayed by the middle of the year.
The main contents verified were five items: "workability", "odor situation", "road surface condition", "slip resistance of road surface", and "metal corrosion inhibition effect".
The detailed verification results are shown on page 3 and subsequent pages.However, the "road surface condition" and "slip resistance of the road surface" could not be sufficiently verified because there was no snow on the road surface during the trial introduction period. .
On the other hand, regarding the "metal corrosion inhibition effect", when a metal piece was attached to a snow pole or a spray car on the main line and the rust occurrence situation was compared with the case of conventional sodium chloride (salt) spray, the salt spray section It was found that rust was less generated in the Pronat spraying section than in the Pronat.
Based on the verification results of last year, this winter we will Large trial introduction section to the range shown in red in Figure 1.
The verification content and verification method are basically the same as last winter, but the trial run on the Tokai-Hokuriku Expressway in "Trial introduction section ①" will start spraying from around the end of January.
Regarding the trial on the Hokuriku Expressway in "Trial introduction section ②", the main purpose is to confirm that there is no problem in workability at any of the snow and ice work bases, because the shape of the work equipment is different. , Will be sprayed in March.
If you would like to collect information about the situation of Pronat spraying on site, please contact the Public Relations Office as it is okay to finish the interview or at a later date.
In addition, as described on page 5, when Pronat is fully introduced, it is necessary to procure about 5,000 tons of granular Pronat per year within our jurisdiction.
Currently, Pronat is in powder form, which is mainly used as a food preservative, and its distribution volume is less than 50 tons per year.
Therefore, in the future, we plan to confirm the possibility of cooperation through interviews with domestic and overseas trading companies and chemical manufacturers in parallel with on-site verification for stable procurement of Pronat.
We will continue to prioritize safety and continue to develop technologies that lead to higher durability and reduced life cycle costs.
[Introduction of basic contract method in seismic reinforcement design]
Please see Document 3.
In the Kumamoto earthquake that occurred in April 2016, the part called the bearing that supports the bridge girder was damaged, and it took time to restore its function as an emergency transportation road.
Based on this situation, in order to prevent similar events from occurring, we will prioritize bridges (about 600 bridges) in the area where seismic intensity of 6 or more is likely to occur in the next 30 years, giving priority to reinforcement and replacement of bearings. We have been taking measures such as this since FY2017.
When advancing these measures, it takes time to consider the design and construction conditions in consideration of traffic regulation discussions, and it is not possible to start design work promptly or due to overlapping work start times May be concentrated, and there are many bidding failures.
Therefore, we decided to introduce a contract method in which a basic contract for consolidating multiple designs of the same type into one work is signed, and individual contracts are sequentially signed and the work is started from the ready bridge.
As described in "Image of the work implementation system for the main benefits of the contractor", the conventional ordering method required two persons, a verification engineer and a management engineer, to have a business record. By having one person in charge of supervising the entire contract, the management engineer for each individual contract will not be required to have a work record, so it is expected that human resources development will be achieved by allocating young engineers. The management technician can also serve as an individual contract.
In addition, by allocating engineers according to the work volume of the contractor, which leads to leveling of the entire work volume and operation of the work system with an efficient implementation system, it is possible to improve work productivity by "work style reform". The effect is also expected.
Currently, we are planning to place orders for 9 design works under the basic contract method. For details, please see our official website.
[Looking back on this year]
Today is the last regular conference of this year, so I would like to talk a little about what you thought about this year.
This year was a year of severe natural disasters throughout Japan, including record heavy snowfall in the Hokuriku region, earthquakes, heavy rainfall, and strong winds and storm surges caused by typhoons.
These natural disasters caused a great deal of damage to social infrastructure such as roads and railroads, and Expressway, which we manage, was sometimes forced to be closed for a long time.
We apologize for the inconvenience caused to our customers who use Expressway and the people in the areas along the line.
We will further promote safety and functional enhancement of Expressway in order to secure the "way of life" in the event of an emergency or disaster, which is an important role of our group.
Expressway was one year in which we accelerated the "Renewal Project" (large-scale renewal and repair business) that started three years ago.
Thank you for your cooperation in detouring and changing the usage time.
From next year, construction in the Chukyo area will also begin.
Since it applies to sections with heavy traffic, it may cause a great deal of inconvenience to customers during the construction period due to traffic congestion and congestion, but measures such as detour route guidance and shortening the construction period In addition, we will endeavor to provide timely information on the construction website and so on, so we ask for your understanding and cooperation.
Next, regarding detailed road inspections, we have steadily conducted inspections once every five years as specified by the Ministerial Ordinance. It will be completed as scheduled during this year, the final year.
As a result of the inspection, we have created a maintenance and repair plan for parts that are determined to require repair, and we are proceeding with planned repairs.
Looking at the business situation, it was a year in which heavy-duty vehicle usage continued to be strong, backed by the continued moderate recovery of the economy.
This trend has continued for about two years, and the use of large vehicles has increased by about 5% compared to last year.
We will strive to provide Expressway that can be used safely and with confidence so that we can contribute to the continued economic recovery next year and beyond.
Businesses other than Expressway, so-called related business divisions, have entered the agricultural industry as a new business (establishment of a farm-qualifying corporation "Naka Nihon Farm Suzunari Co., Ltd.") and a relay distribution base "Connect Area Hamamatsu". All of the operations were opened in Hamamatsu City.
Entering agriculture is helping to solve regional issues such as the aging of agricultural workers, the reduction of next-generation bearers, and the increase in abandoned cultivated land. We believe that we can contribute to society by supporting work style reform and transportation efficiency improvement.
In the service area business, we have been working on Tomei Expressway, which will celebrate the 50th anniversary of the opening of all lines on May 26, next year, and we have been progressively renovating the stores and other facilities.
We will continue to strive to create service areas that satisfy customers by creating stores that make the most of the characteristics of the region and enhancing attractive products.
By the way, as I mentioned in the "Business Conditions" section at the beginning of the year, there are four new openings and one section with two temporary lanes and four lanes.
Construction is underway at a rapid pace for each section to open.
We will inform you again when the opening date is decided.
In order to meet the rapidly increasing expectations for functional enhancement of Expressway, such as disaster prevention and mitigation measures and Shin-Meishin Expressway with 6 lanes, the Group will continue to work as one with customers. We will strive to operate the business from the starting point.
Last but not least, thank you for all your help over the past year.
Thank you for your continued support next year.
[Moderator]
These are the topics we have prepared today. Now, let's receive your questions.
[Reporter]
I think that next year's Golden Week will be an unusually long holiday, but please tell us what you think of it and how it will affect the Expressway business.
[President]
We recognize that there are many things that many people are expecting from the 10-day long holidays. We think that congestion due to traffic concentration will be the biggest issue, and we would like to carefully consider measures to tackle it from now on, but first, we will firmly tackle traffic congestion measures for the year-end and New Year holidays. I think it is important to work on it.
[Reporter]
The other day, I was sentenced to 18 years in prison for a suspected driver in the Yokohama District Court, and I think there will be various effects on future dangerous driving on Expressway. Also, given that the accident site was your company's control area, please tell us what you think of the president.
[President]
Driving tilted has become a huge social problem. We take various opportunities to enlighten people to eliminate dangerous driving such as tilted driving. We will continue to develop awareness activities in cooperation with the police.
[Reporter]
Shin-Meishin Expressway I think the one that opened in Gaato about three months, but I would like to ask the expected opening prospects.
[President]
It will be open by the end of the year. Currently, we are energetically proceeding with the final finishing work, and we believe that the opening will greatly ease the congestion in Higashimeisaka. We have great expectations from Mie Prefecture in particular, so we would like to open it as soon as possible so that we can meet your expectations.
[Reporter]
Although the detailed economic effects may be summarized by professionals, there are chronic traffic congestion between Yokkaichi IC and Suzuka IC Higashi-Meihan on weekday evenings. I think that there are obstacles in various areas, such as traffic in East and West. Please tell us how you think this will change with the opening of the Shin-Meishin Expressway.
[President]
I think that the heavy traffic congestion in the evening in Higashi-Meihan will be almost eliminated. I especially hope that tourists and golf courses in the direction of Mie Prefecture will be used more and more when traffic congestion is eliminated.
[Reporter]
It is said that the number of large vehicles has been increasing for about two years. Please tell us how you analyze the background and whether you think this trend will continue in the future.
[President]
For example, in the metropolitan area Ken-O Road 're increasing number of logistics facilities in the wayside of you I think you know, but considering such a situation, we expect that will be the logistics are more now. With that in mind, we have already begun construction on the 6-lane Shin-Tomei Expressway in Shizuoka prefecture. Probably logistics will continue to play an important economic activity and contribute to the development of this country.
[Reporter]
The price of crude oil seems to have plummeted, but please tell us if you think that the price of gasoline will decrease, which will have a positive effect on your business.
[President]
I think this is a question about the sales of gas stations in SA, but I hope that if the price of gasoline goes down, the use of small cars will increase, which will lead to sales of SA.
[Reporter]
I would like to ask two points about the Linear Shinkansen. First, I think your company is a consultant regarding land acquisition in Kasugai City, etc., but yesterday JR Tokai delayed the goal of land acquisition in Nagoya City a little. How do you see the scope of your company so far?
[President]
I haven't heard that land income is delayed as far as we are in charge.
[Reporter]
Second, regarding the rigging case, is there an idea to temporarily exclude it from the nomination in response to the decision by the first instance issued the other day?
[Employees]
Although the suspension of nomination is the suspension of qualification registration at our company, at the time of prosecution from the prosecution, we have taken suspension of qualification registration for four companies, and the measures have already been completed. Therefore, we have no plans to suspend enrollment unless a new judgment is added to the crime.
[Reporter]
Regarding the provision of information on heavy snow, which was also the statement at the beginning, it is said that the expected time to start the closure will be announced the day before, but at the end of this year it is expected to be snowing on the 28th, so it will be announced tomorrow Does that mean?
[Employees]
Snowfall is expected mainly on the 28th, but it has not reached the point where there is a possibility of suspension of traffic. As soon as the situation changes, we will inform you on the website etc.
[Reporter]
Looking back on the year, we talked about the new business, "Nippon Nihon Farm Suzunari." Last month, where you had your first harvest, please tell us your outlook on how you will expand next year and how to increase the number of agricultural businesses. Also, please give us an evaluation of the current situation.
[President]
I haven't decided how much to increase next year. We are able to ship this year, and I hope that it will continue to develop smoothly.
[Employees]
We shipped Romaine lettuce for the first time this year, but we shipped about 27 tons last weekend.
[Reporter]
I have two questions. The first is a simple question about sodium propionate. While it requires 5,000 tons a year in your company alone, less than 50 tons are currently in circulation, but probably 5,000 tons in your company alone means that if other Expressway companies etc. introduce in the same way, it will be considerably. I think the amount will be. Is it possible to raise the amount to meet that?
[President]
Since it is difficult to procure, it is necessary to conduct hearings with domestic and foreign manufacturers to explore the possibility of procurement. We also need to talk to the manufacturers in China and Taiwan that produce our products. Procurement will be promoted along with verification of the effects.
[Reporter]
The second point is close to the request, but could you please provide information to the press when the first pre-closure is done? It is also a matter of interest, so if you let us know when you introduce it for the first time, I think that by reporting in such a way, the attention of general readers and viewers will increase and it will be well known. Please.
[President]
Since we will send out the first day, the second day, and the third day, is it said that the last day, that is, the day before the day when traffic is expected to be closed?
[Reporter]
Unlike before, we want you to inform the news media when you are newly closed.
[Employees]
As I mentioned at the beginning, unlike the planned suspension of the railway, it is very difficult to give a notice, for example, that you will be closed from 16:00. Precautionary traffic control (advanced traffic closure) is a decision made while checking the amount of snowfall and the condition of the road surface due to snow removal before a large amount of stay occurs, so I think that it will be announced just before traffic closure. When we are closed, we will inform you through our website and press releases.
[Employees]
Regarding advance public relations, we will inform you of the latest information at that time on our website at the stage where snowfall is expected and sections where traffic is expected to be closed will be narrowed down sequentially from 3 days ago. We will inform all of you by fax to each company, and we will make it even more thorough.
[Moderator]
It seems that your question has been interrupted, so this is the end of your regular meeting.