01 May 28, 2015 Miyaike President briefing
Conference Summary
[Moderator]
We have been waiting for you. We are now starting the 100th regular conference.
[Miyaike president]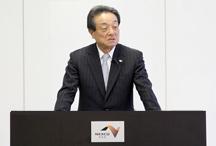 There are six topics we have prepared today.
[Business Status (December 2014)]
See page 1 of document 1.
In terms of business conditions, toll revenue in December was 52,983 million yen, up 22.4% year-on-year, and the average number of traffic per day was 1,082,000 units, 6.8% year-on-year. Decreased.
With regard to toll revenues, the rate discount system was revised from April following the end of discounts from the convenience promotion business, and has continued to increase since the previous fiscal year, with the same trend in December.
Since the review of the toll system, the number of traffic has been on a downward trend due to the continued downward trend compared to the previous year and the impact of traffic closures due to heavy snowfall.
Next is the construction situation.
For the construction section of Ebina Junction 4km from Samukawa-Kita Interchange on the Ken-O Road O Expressway, the construction of the main body has been almost completed, and pavement and facilities have been fully developed. The date and time of opening will be announced again.
Ken-O Road O Expressway Sagamihara Interchange is also progressing as scheduled for opening in 2014.
Although it is not in the data, 55 km from Shin-Tomei Expressway Hamamatsu-Inasa Juna to Toyota-higashi Junction, measures to prevent the collapse of cut slopes, treatment of sediment containing natural pyrite and heavy metals, bridge foundations Measures are currently progressing as planned.
See page 2 of document 1.
Next is the situation of ETC. The average daily usage rate in December was 91.0%.
The total number of service areas and parking areas remains unchanged at 177 locations.
Next is the situation of the service area.
Sales in the service area in December were 14,750 million yen, down 6.1% year-on-year. Food & Beverage Sales decreased 7.6% year-on-year.
The reasons for this were three consecutive holidays in December last year, but this year's stepping stone holidays in December and a decrease in traffic volume due to the suspension of traffic due to snow, etc. are considered.
Gasoline sales declined 2.9% year-on-year.
[Update plan]
See Appendix 2.
On January 15, the 18th National Roads Committee on Roads for Social Infrastructure Development was held at Ministry of Land, Infrastructure, Transport and Tourism on behalf of the NEXCO3 company on a large-scale renewal plan for Expressway. I was allowed to.
Regarding this large-scale renewal plan, the 11th National Trunk Road Subcommittee held in February last year discussed how to upgrade Expressway and how tolls should be paid.In May, the revision was extended to extend the toll period for 15 years. Related bills such as the Road Maintenance Special Measures Law have been passed and are being passed.
As background of the plan, of the approximately 9,000 km of Expressway service managed by the three companies, approximately 40% have been extended for more than 30 years, and the same applies to structures such as bridges and tunnels. There is a concern that the risk due to aging will increase with the increase. Significant changes due to changes in the usage environment are becoming apparent.
In light of this situation, the three companies established the "Technical Review Committee on Long-Term Maintenance and Renewal of Expressway Assets" and conducted studies.As a result, while immediate safety was secured, serious damage was It has been discovered, and it is clear that there is a high possibility that traffic will be closed unless large-scale renewal or large-scale repairs are implemented. In response to the proposal of this committee, it is necessary to promptly start a renewal project that is indispensable in order to continue using the function of the Expressway network permanently. This time, we have just reported on a plan that narrows down the areas that may develop into.
A variety of opinions were received from each attending committee,
・ Dissemination of information on the necessity of updating and detouring of construction points
・ Control of overloaded vehicles
We exchanged opinions about such things.
In implementing the renewal plan, the company recognizes that it is important to ensure the safety first and to disseminate information and fulfill its accountability to all concerned, so it is natural to strive to reduce costs. We would like to work on rational and efficient business implementation, including the development and research of repair and renewal technologies.
The National Land Highway Committee has also exchanged opinions.However, in order to maintain a healthy Expressway, it is very important to take measures against overloaded vehicles that have a significant effect on damage to the Expressway itself, such as bridges. We consider it important. The NEXCO3 company has strengthened its crackdown and guidance, especially for overloaded vehicles that have a significant impact on the bridge itself, but since the majority has not been eliminated, new measures, including effective crackdowns, have been adopted. We will continue our efforts to utilize the functions of the Expressway permanently while studying various methods.
[Start smart IC business]
Please see document 3.
Already announced by the Nanto City Smart Interchange District Council on January 16 and from Takaoka City and our Kanazawa Regional Head Office on January 20, we are proceeding with development in Takaoka, Tonami and Nanto in Toyama Prefecture. the Hokuriku Expwy Takaoka Tonami smart interchange and Tokai-Hokuriku Expwy sales of Nanto smart interchange, will start on March 1 (Sunday).
Opening hours are 14:00 at Takaoka Tonami Smart Interchange and 16:00 at Nanto Smart Interchange.
The two smart interchanges are smart interchanges that connect directly to the main line without connecting to the service area or parking area as before, and vehicles with a vehicle length of 12 m or less equipped with ETC on-board equipment are available for 24 hours . In addition, please stop temporarily in front of the gate when using.
[The Chubu-Jukan Expwy connects to the Hokuriku Expwy]
See Appendix 4.
Ministry of Land, Infrastructure, Transport and Tourism Kinki Regional Development Bureau will have to promote the business Chubu-Jukan Expwy and Eiheiji Ohno road, Fukui North Junction business that we have will promote the business completed in the Company, March 1 (Sun) 15:00 Chubu-Jukan Expwy and the Hokuriku Expwy are connected.
With the completion of this project, the name of Fukui-Kita Interchange will be changed to Fukui-Kita Junction Interchange, and the entrance and exit of the Expressway will also be changed. Thank you for traveling.
[Issues and responses to snow and ice]
See Appendix 5.
In the early winter season, when the snow and ice season began this year, several long-term road closures occurred. In particular, as reported in the December news conference, the Tokai-Hokuriku Expwy was closed for up to 95 hours due to snow, which caused many customers very inconvenience.
We have implemented initiatives for this winter season, but we will further address the issues in the event of road closures that occurred in the early winter season and further maximize traffic even in heavy snow as an inter-regional network that is the mission of the Expressway We will make improvements.
1) Since the winter tire installation rate was low in the early winter season, several normal tire vehicles were included in the stuck vehicles, so install winter tires and tire chains so that normal tire vehicles do not slip in. To ensure this, we will work with the police to further strengthen and thoroughly conduct chain checks during the early winter season.
2) Given that issues remain in the early detection of stuck vehicles, we will work to further strengthen on-site understanding by strengthening on-site patrols and utilizing on-site photographs with vehicle position information systems.
3) Due to the remarkable decrease in temperature, it took time to remove frozen and thin condensed snow, so we will improve the method of removing frozen and thin condensed snow and strengthen the pre-deployment of equipment and materials necessary for the removal.
4) Since issues remain in information sharing and cooperation with other organizations, we will work to further share information and strengthen cooperation with other organizations in the event of a sudden change in weather or a traffic obstacle.
We will make further improvements based on these issues in the early winter season and continue to strengthen our efforts for the full-fledged snow and ice season.
Next, we conducted a web survey on the effects of advance public relations, which we have been working on since winter.
Preliminary public information will be provided to the media such as TV and radio in addition to providing information using our official website, wide-area information boards on iHighway Central Japan and the main Expressway, about three days before snowfall, referring to weather forecasts. With cooperation, we are providing information on "Holding down during heavy snowfall, wearing winter tires".
The results of the Web survey, those of about 40% that saw the pre-publicity is "Expressway did you Hikaeyo the use of", "from the equipment for winter Expressway consciousness, such as I thought attempts to use the" Responded that there was a change. In addition, it was understood that about 50% changed their schedule and had to refrain from using the Expressway. We believe that the usefulness of the information is high and that it has also had a certain effect as an information provision tool, and we would like to actively use it.
Many respondents also wanted to get information from mass media such as television and radio.
As shown on page 3 of Appendix 5, snowfall is expected on the Chuo Expressway Expressway and the Nagano Expressway in the Kanto and Koshin regions from the 29th to the 30th, so we will throw it at 9 o'clock today, and We have publicity on our website.
Customers who use the Expressway should pay attention to future weather information and road traffic information, and install winter tires and carry a tire chain.
I want the media to cooperate in disseminating information.
[Limited sale of popular products at EXPASA Ebina Hokkaido product exhibition]
Tomei Expwy At the "Hokkaido Product Exhibition" held at EXPASA Ebina (In-bound), Glico's specialty caramel specialty store "Caramel Kitchen", which can only be purchased at New Chitose Airport, will be available from January 30. Will be sold in limited edition.
The sales period is from 1/30 (Fri) to 3/1 (Sun) until the last day of the Hokkaido Bussan Exhibition. It is a limited product that can only be purchased here at SA / PA. Please buy it by all means when you drop in.
These are the topics we have prepared today.
[Moderator]
Now, we are ready to receive your questions.
[Reporter]
Newspapers reported that studies were under way to cooperate with JR Tokai regarding land acquisition for the Linear Chuo Shinkansen. Please tell us about the current situation and outlook.
[Miyaike president]
We are discussing what kind of cooperation we can make using our know-how on land acquisition.
[Reporter]
When and how much will you cooperate?
[Miyaike president]
The answer is currently under discussion and will not be answered.
[Reporter]
Are you discussing construction techniques and know-how other than land acquisition? Also, have there been any examples of providing land acquisition know-how to other businesses?
[Miyaike president]
There are no examples of providing these to other businesses, just for land acquisition.
[Reporter]
On 3rd of this month, at the request of the Mie Prefectural Police, it was said that the service area etc. was closed, but how do you think about future responses, such as the method of preliminary publicity and whether it should have been closed? please tell me.
[Miyaike president]
The service area was not available during the traffic congestion during the homecoming rush, causing inconvenience to customers and I am very sorry.
Even if it is unavoidable to cooperate with the closure, there is also a problem that prior notice will not be effective in measures against gangs. In the future, we will discuss with Mie Prefectural Police and consider ways to avoid inconvenience to customers.
[Reporter]
Regarding the renewal plans of NEXCO3 companies, are the renewal plans for each company organized?
[Miyaike president]
In the future, I would like to coordinate as soon as possible with specific coordination with each organization.
[Reporter]
Is it okay to think about the project cost as 1/3 for each company?
[Miyaike president]
That's almost right.
[Reporter]
Next month, Centrair will celebrate 10 years of opening. Overseas customers are also increasing, but please tell us about your efforts to promote inbound use as an Expressway company.
[Miyaike president]
We are aware of our goal of aiming for 20 million foreign visitors to Japan by 2020. For example, we are devising ways to make SA toilets easy to understand for foreign customers.
In addition, we are working on proposals for discounted plans for foreign customers who use our company's Expressway using a rental car.
[Moderator]
It seems that the question has been interrupted, so this will end the regular press conference.