02 May 21, 2018 Miyaike President briefing
Conference Summary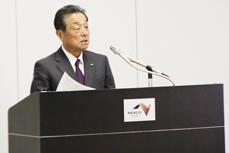 MC 
Thank you for waiting. Today, in addition to Documents 1 to 4, which the President will explain, Document 5-1 "Sales of "Fast Journey Noto Rent-a-car Rental Plan"" and Document 5-2 "Communication Plaza Kawasaki Renewal Open" We are distributing materials related to.
Communication Plaza Kawasaki is a facility that introduces the Group's businesses, and it has been about 6 years since it opened in April 2012. We would like to inform you that the facility will be reopened on March 16th as a facility where you can enjoy learning about the Expressway more than ever.
Prior to the public release, we are planning to hold a preview for the press. I will let you know about it later, so I would like you to interview me.
For details, please check your handouts.
Now, let's start the 133rd regular conference.
[Introduction]
Before introducing the topics, let me say a few words.
Due to the rare heavy snowfall in January and February in recent years, Expressway, which is managed by our company, has caused four long-term suspensions of traffic.
We sincerely apologize for any inconvenience caused.
In addition, based on the phenomenon of stuck vehicles on Shuto Expressway and National Route 8, Ministry of Land, Infrastructure, Transport and Tourism on February 16th, we will consider specific measures to reduce the impact on road traffic due to sudden heavy snowfall. In order to do so, it was announced that the "Road Traffic Security Measures Investigation Committee during Heavy Snow" will be set up in late February. Our company will cooperate with Ministry of Land, Infrastructure, Transport and Tourism to proceed with the study.
[Current status of business (January 2018)]
Please see Document 1.
Regarding operating conditions, toll revenue in January was ¥50,707 million, a decrease of 0.6% from the same month of the previous year, and the number of traffic per day was 1,739,000 units, a decrease of 1.1% from the same month of the previous year. ..
In January, the use of large vehicles continued to be strong, but due to the heavy snowfall, toll revenue was flat and the number of passing vehicles decreased slightly.
Regarding the construction situation, on the 28th of last month, approximately 2 km between the Shin-Tomei Expressway Ebina-minami Junction (JCT) and Atsugi-minami Interchange (IC) was opened.
At the opening ceremony, we would like to thank all the members of the press for their interviews.
Next is the status of the service area (SA) and parking area (PA).
Please see the back of Document 1.
January SA/PA sales were ¥15,847 million, an increase of 5.4% year-on-year, and food and beverage sales sales decreased 1.5% year-on-year.
In January, we were not able to enjoy the weather such as heavy snow, and sales fell below last year.
Sales in the gasoline segment increased 19.7% year-on-year, due to higher selling prices compared to last year and an increase in the sales volume of diesel fuel.
[We carry out disaster drills at SA / PA / toll booths]
Please see Document 2.
It has been seven years since the Great East Japan Earthquake.
We place the highest priority on customer safety and conduct company-wide disaster drills in March. This is an ongoing effort as an "approach to prevent the Great East Japan Earthquake from weathering."
This year, we will hold disaster prevention drills at a total of 419 locations, including 156 SA/PA locations and 263 toll booths, aiming to improve on-site response capabilities in case of emergency.
In this training, customers who are using SA/PA will also participate in the evacuation guidance training and operation training to actually operate the deployed emergency supplies. We will also conduct behavior confirmation drills to guide customers to evacuate at toll booths.
For the media, the disaster prevention drills will be released at the four SAs listed in the materials.
Details will be announced separately, so I would like to take this opportunity to interview you.
[Regarding the development and full-scale introduction of the required time provision system using Bluetooth®]
Next is a topic on technology development. Please see Document 3.
In this issue, we will introduce the development and full-scale introduction of a time required provision system using Bluetooth.
This system uses a product developed by our Companies in our Group, Nakanihon Highway Engineering Tokyo Co., Ltd. (Engineering Tokyo).
You may have seen that the required time is displayed on information boards of Expressway.
When performing long-distance lane control or face-to-face traffic such as concentrated construction or renewal construction, there may be an error between the time required displayed on the information board and the actual travel time, which may cause inconvenience to customers. I was hanging.
Therefore, we have developed a low-cost system that uses Bluetooth (one of the short-range wireless communication standards) emitted from customers' mobile terminals and car navigation systems.
So far, we have been conducting trial installations for concentrated construction on the Tomei and Chuo Expressway since 2014, but we were able to confirm that the required time can be accurately measured. We decided to introduce it in earnest from a large construction section and provide detailed information.
The required time measured by this system will be announced on the information boards of main lines, temporary LED signs near lane restrictions, and Highway Telephone, so I hope you can utilize it for your leisure travel planning.
[Dissemination of local attractions from SA/PA with new products proposed by university students]
Next is a topic on SA/PA product development.
Please see Document 4.
Our group is working with local people to solve local issues and revitalize the area.
This time, as with our company, five universities that have research themes of regional revitalization and problem solving, local businesses, local governments, and tenants of SA/PA collaborate to use the local resources sold at SA/PA. We will work on the development and sale of popular products and the promotion of excellent regional products.
In developing products, university students analyzed the trends and needs of SA/PA customers, visited SA/PA, and proposed new products and promoted sales themselves.
As a result, attractive products with a variety of local areas have been created that utilize the sensibilities and ideas of young people, and some of these products are already sold at SA/PA.
Today, I would like to introduce the university students who worked on product development together with our group to come to this venue.
(Introduction of products from each university student)
This is Aichi University. We have developed the Japanese confection "Karakuri Hime Dango," which uses a lot of local products from Shinshiro. Nagashino-Shitaragahara PA This product is based on the concept of "Sengoku".
This is Nanzan University. At NEOPASA Okazaki, we sell bread that looks just like Mikawa's famous Gohei Mochi. Using Haccho miso and mixed with five grains of rice in the dough, the bread has a pleasant texture and appearance.
It is Chukyo University. We have developed "Toyota no Mori", a cookie made from local ingredients, with the theme of "sweets that utilize Toyota's local resources." It is sold at Kamigo SA (Out-bound).
This is Shiga University. We devised a package design by making popular "Itoshige" products assorted. It will be sold at NEOPASA Taga (Out-bound) from March 2nd.
Gifu University. In the course of practicing industry leaders, we conducted research on the products of two companies in Gifu prefecture that participated in business meetings with Juroku Bank, and made a proposal to maximize the attractiveness of the products. .. We will exhibit at the business meeting on March 14.
Thank you to all the university students for introducing the product.
The Group will continue to promote such industry-academia collaboration efforts to create unique SAs and PAs, and to improve sales of SAs and PAs by creating hit products that will delight customers. We will also contribute to development and activation.
MC
These are the topics we have prepared today. Now, let's receive your questions.
Reporter
Regarding the response to the heavy snow at the beginning, I think that your company's response was quick and good without the occurrence of a large-scale stagnation, but we are looking forward to new issues and disasters that can be foreseen in the future. Please let us know what you are considering.
President
It is said that this year was a heavy snowfall since 1981 and it was a heavy snowfall. Especially for the Hokuriku Expressway, we closed the road for a long time, but we always prepare a system to prevent the Expressway being closed as much as possible, to remove snow, to melt snow, and to rescue stuck vehicles. We prepare and correspond. However, during the heavy snowfall the other day, work was carried out under extremely severe conditions, where heavy snow continued for a long time and freezing arose even in the severe cold, and as a result, such a situation occurred. We make every effort to prevent road closures as much as possible, but in the event that safety is not ensured, we will immediately stop traffic to ensure the safety of our customers. I would like to sort out my experience of this heavy snowfall and use it as a measure for next year.
Reporter
It's a Bluetooth system, but can you please tell us if there are any similar ones at other Expressway companies.
President
Engineering Tokyo's development is also provided to other Expressway companies, and it seems that there is a similar one at Hanshin Expressway. Details will be explained from the department in charge.
Employee
As explained by the president, the system introduced today was developed by Engineering Tokyo and is also provided to NEXCO EAST, NEXCO WEST, Shuto Expressway. In addition to this, there is also a case in which Hanshin Expressway provided the required time on a trial basis using Bluetooth.
Reporter
Please tell us how much more accurate you are when you introduce the test.
Employee
Vehicle detectors are installed at intervals of 2km on the Tomei, Meishin and Chuo Expressway Expressways to measure vehicle speed. The required time is calculated by dividing the distance by the vehicle speed, but it is difficult to know the exact location of the traffic congestion because the lane regulation will be long during concentrated construction and renewal construction. By using the Bluetooth introduced today, we can now calculate the required time more accurately.
Reporter
Continuing with Bluetooth, for general drivers, there is a concern that Bluetooth's radio waves are being taken without knowing, legal issues and personal information may not be extracted, but what kind of efforts are made Please tell me if you are there.
President
In short, we use only part of the signal, so we do not get the whole information, and we judge that it is not personal information. Details will be explained from the department in charge.
Employee
We obtain a 12-digit MAC address, delete 2 digits out of the 12 digits, and encrypt it, so it is not possible to identify the individual customer.
Reporter
It would be nice if it could be processed well, but is there a case where you get it without processing it?
Employee
The MAC address is a unique ID of the digital device, and as we explained earlier, encryption is applied so that the individual cannot be directly identified.
Reporter
Regarding Bluetooth, will it mean that we will provide time required information from FY2018 onward?
President
In the future, large-scale renewal and repair work (renewal work) will proceed even on routes with heavy traffic such as the Tomei and Chuo Expressway. We would like to utilize it in such large-scale construction sections as much as possible, and notify everyone of highly accurate required time information using road information boards, temporary LED signs near lane regulations, and Highway Telephone. ..
Reporter
What is a MAC address?
Employee
Abbreviation for "Media Access Control Address", it is an individual identification ID unique to digital devices such as smartphones and car navigation systems. As described in the pamphlet, it is 12 alphanumeric characters.
Reporter
There is a description that the receiver is a smartphone. Whose smartphone will receive this?
Employee
I am using a commercially available smartphone. It is a mechanism that installs a receiver on the emergency telephone on the side of the road, receives radio waves, aggregates them over the Internet line, and calculates the required time.
Reporter
Regarding the industry-academia collaboration with university students, please tell us whether this is a business you started this year or a business you have been doing before.
Employee
We have worked on some cases before, but we do not have detailed data at this time. The five cases introduced today are the result of new initiatives this year.
Reporter
Please tell us what you will do next year.
Employee
Looking back on the results of this year, we will decide what to do from next year.
Reporter
Please tell me how NEXCO CENTRAL is taught.
Employee
Rather than guidance, we will work with the university, local businesses, and SA/PA tenants to sell new products using local products at SA/PA, which will lead to regional revitalization. In addition, since each participant is working together, such as fostering university students as leaders responsible for regional revitalization, we do not give direct guidance.
Reporter
Please tell us how the university students participated in such activities, such as university classes and seminars.
Employee
For example, in Aichi University, please refer to Appendix 4 for details on collaboration with Professor Toshiyuki Toda of the Faculty of Regional Policy and the activities of regional contribution projects, and at Nanzan University for collaboration with Professor Tomonori Ishigaki of the Faculty of Business Administration seminar. Please give me.
MC
As a supplementary explanation of our involvement with us, our role is to act as an intermediary between the university and local companies, while at the same time providing an SA/PA sales location.
MC
It seems that your question has been interrupted, so this is the end of your regular meeting.