無料出張講座「NEXCO中日本高速道路交通安全セミナー」

新型コロナウイルス感染症の拡大防止のため、お客さまの安全を最優先に考え、当面の間、交通安全セミナーの開催を中止させていただきます。
なお、再開については、当ページにてご案内いたします。
大変ご迷惑とご不便をお掛けして申し訳ございませんが、何卒ご理解・ご協力賜りますようお願い申し上げます。(令和4年1月21日更新)
NEXCO中日本では、無料出張講座「NEXCO中日本高速道路交通安全セミナー」をおこなっています。企業、各種団体、学校などからのご要望に応じて、当社社員がおうかがいし、高速道路上での交通事故の発生状況や交通安全のポイントなど、高速道路をより安全に走行いただくためのお話をさせていただきます。
なお、感染予防対策としてオンライン形式での開催方法も検討させていただきます。実施方法については、お申込み後の当社担当部署からのご連絡時に確認をさせていただきます。
Introduces the points for safe and comfortable use of unknown Expressway by interlacing photos and data. As of February 1, 2019, a total of 5,214 seminars were held, with a total of approximately 391,000 participants.
We are still accepting applications! We look forward to your order.
講演費用・講師の交通費等、費用は一切いただいておりません。
We ask the organizer to prepare for the venue, clean up, and recruit participants.
The required time is set to one hour as Standard.
講義に必要なため、パソコン・スクリーン・プロジェクターのご準備をお願いします。(機材をお持ちで無い場合は、別途ご相談ください)
概ね30名さまから承ります。
Please note that the contents will be the same for the second and subsequent classes.
セミナー開始時刻は、月~金曜日の10時~16時の間でお願いします。
土・日・祝日の開催はいたしません。
講師派遣エリアは、群馬県、埼玉県、千葉県、東京都、神奈川県、新潟県、富山県、石川県、福井県、山梨県、長野県、岐阜県、静岡県、愛知県、三重県、滋賀県、京都府、大阪府、奈良県(島嶼部を除きます。)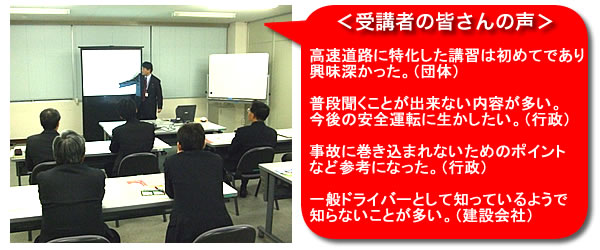 Seminar contents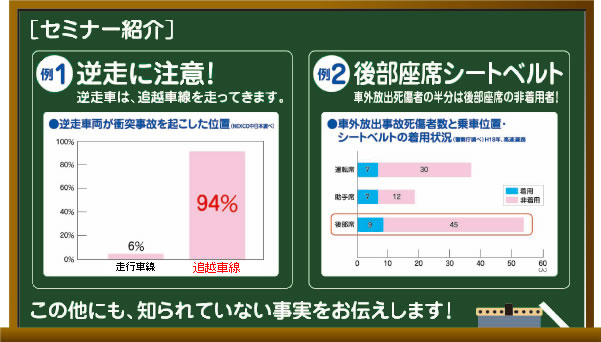 * Please apply at least one month before the course due to preparation.
Application
新型コロナウイルス感染症の拡大防止のため、お客さまの安全を最優先に考え、当面の間、交通安全セミナーの開催を中止させていただきます。
なお、再開については、当べージにてご案内いたします。
大変ご迷惑とご不便をお掛けして申し訳ございませんが、何卒ご理解・ご協力賜りますようお願い申し上げます。
Fax and e-mail applications have been abolished. Please apply from "application and inquiry".
In addition, it has been well received and even if you apply, it may not be possible to hold it depending on the situation.
For this reason, the secretariat will contact you about the availability of the event within one week of application.