To prevent the Large new coronavirus infections
We have canceled the traffic safety seminar,
We will resume accepting seminars from October 2020 (updated on September 28, 2020).
* Please note that we may not be able to hold the event if you do not take measures to prevent the Large infection or prevent infectious diseases.
NEXCO CENTRAL Then, free business trip lecture "NEXCO CENTRAL Expressway Traffic safety seminars are held. In response to requests from companies, various organizations, schools, etc., our employees will ask, Expressway The occurrence of traffic accidents and traffic safety points Expressway I would like to talk to you about driving safely.
Introduces the points for safe and comfortable use of unknown Expressway by interlacing photos and data. As of February 1, 2019, a total of 5,214 seminars were held, with a total of approximately 391,000 participants.
We are still accepting applications! We look forward to your order.
There are no costs such as lecture fees or instructor transportation costs. .
We ask the organizer to prepare for the venue, clean up, and recruit participants.
The required time is set to one hour as Standard.
Please prepare a personal computer, a screen, and a projector as it is necessary for the lecture. (Please consult us if you do not have the equipment.)
Available from approximately 30 people.
Please note that the contents will be the same for the second and subsequent classes.
Please start the seminar between 10:00 and 16:00 from Monday to Friday.
We do not hold Saturdays, Sundays, and holidays.
The instructor dispatch areas are Tokyo, Kanagawa, Toyama, Ishikawa, Fukui, Yamanashi, Nagano, Gifu, Shizuoka, Aichi, Mie, and Shiga (excluding islands).
* We are refraining from long-distance travel to prevent the Large new coronavirus infections.
For Gunma prefecture, Saitama prefecture, Chiba prefecture, Niigata prefecture, Kyoto prefecture, Osaka prefecture, Nara prefecture,
We will continue to cancel the event.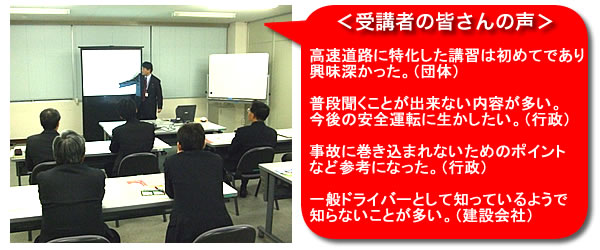 Seminar contents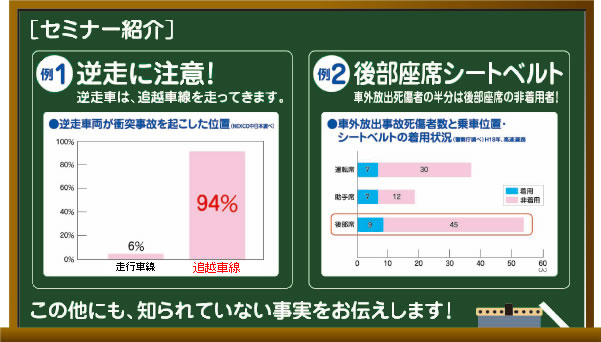 Please refer here for lecture contents


Click here for the flyer
* Please apply at least one month before the course due to preparation.
Application
We would like to ask all those who applied for the seminar to take the following infectious disease prevention measures.
In addition, we will inform you about the resumption on this page.
1. Temperature measurement at the time of entering the room, implementation of alcohol disinfection
2. Wear a mask or use anti-scattering equipment such as a face shield
3. Secure a distance of 2m or more between the instructor and the students
4. Ventilation in the venue (as much as possible)
If the number of people who can enter is limited by the country or prefecture, please set the number of people within the limit.
Please note that we may not be able to hold seminars if the above infectious disease prevention measures cannot be implemented or if a state of emergency is announced.

Please see the entry example here before applying.

Click here for "application and inquiry"
Fax and e-mail applications have been abolished. Please apply from "application and inquiry".
In addition, it has been well received and even if you apply, it may not be possible to hold it depending on the situation.
For this reason, the secretariat will contact you about the availability of the event within one week of application.
Based on our company Code of Ethics and Code of Conduct, please do not care for instructor employees.