無料出張講座「NEXCO中日本高速道路交通安全セミナー」

新型コロナウイルス感染症の拡大防止のため、お客さまの安全を最優先に考え、当面の間、交通安全セミナーの開催を中止させていただきます。
なお、再開については、当ページにてご案内いたします。
大変ご迷惑とご不便をお掛けして申し訳ございませんが、何卒ご理解・ご協力賜りますようお願い申し上げます。
NEXCO CENTRAL Then, free business trip lecture "NEXCO CENTRAL Expressway Traffic safety seminars are held. In response to requests from companies, various organizations, schools, etc., our employees will ask, Expressway The occurrence of traffic accidents and traffic safety points Expressway I would like to talk to you about driving safely.
Introduces the points for safe and comfortable use of unknown Expressway by interlacing photos and data. As of February 1, 2019, a total of 5,214 seminars were held, with a total of approximately 391,000 participants.
We are still accepting applications! We look forward to your order.
講演費用・講師の交通費等、費用は一切いただいておりません。
We ask the organizer to prepare for the venue, clean up, and recruit participants.
The required time is set to one hour as Standard.
Please prepare a personal computer, a screen, and a projector as it is necessary for the lecture. (Please consult us if you do not have the equipment.)
Available from approximately 30 people.
Please note that the contents will be the same for the second and subsequent classes.
セミナー開始時刻は、月~金曜日の10時~16時の間でお願いします。
土・日・祝日の開催はいたしません。
The instructor dispatch areas are Tokyo, Kanagawa, Toyama, Ishikawa, Fukui, Yamanashi, Nagano, Gifu, Shizuoka, Aichi, Mie, and Shiga (excluding islands).
新型コロナウイルス感染症拡大防止のため、長距離移動を自粛しており、群馬県、埼玉県、千葉県、新潟県、京都府、大阪府、奈良県につきましては、引き続き開催を中止させていただいております。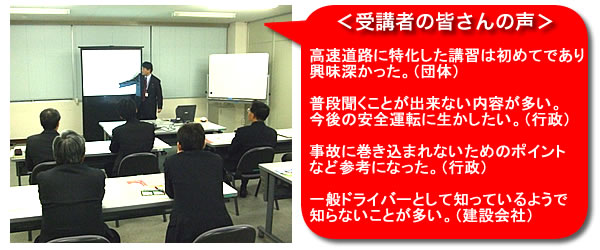 Seminar contents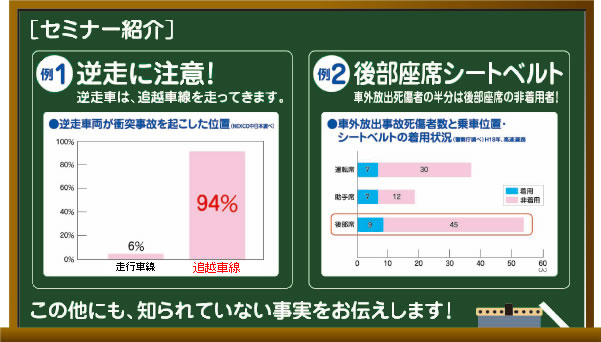 * Please apply at least one month before the course due to preparation.
Application
新型コロナウイルス感染症の拡大防止のため、お客さまの安全を最優先に考え、当面の間、交通安全セミナーの開催を中止させていただきます。
なお、再開については、当ページにてご案内いたします。
大変ご迷惑とご不便をお掛けして申し訳ございませんが、何卒ご理解・ご協力賜りますようお願い申し上げます。
Fax and e-mail applications have been abolished. Please apply from "application and inquiry".
In addition, it has been well received and even if you apply, it may not be possible to hold it depending on the situation.
For this reason, the secretariat will contact you about the availability of the event within one week of application.