Occurrence and characteristics / trends of traffic fatalities
NEXCO中日本が管理する高速道路では、2020年に20件の交通死亡事故が発生し、21名の尊い命が失われました。
車両単独の事故や、渋滞・故障などで高速道路上に停止している車両に衝突する事故による死亡者が大幅に減少した一方で、高速道路上で人がはねられる事故や走行中の車両同士が衝突する事故による死亡者の件数が増加しています。
ドライバー、ライダーの皆さまにおかれましては、十分な車間距離をとり、わき見をせず、安全な速度で思いやりのある運転をお願いいたします。
また、シートベルト未着用時の交通事故では、けがの程度が重傷化する傾向にありますので、シートベルトは確実に着用してください。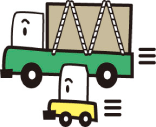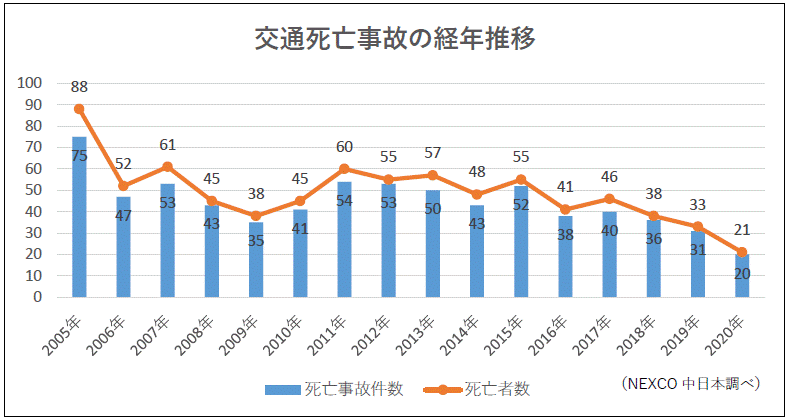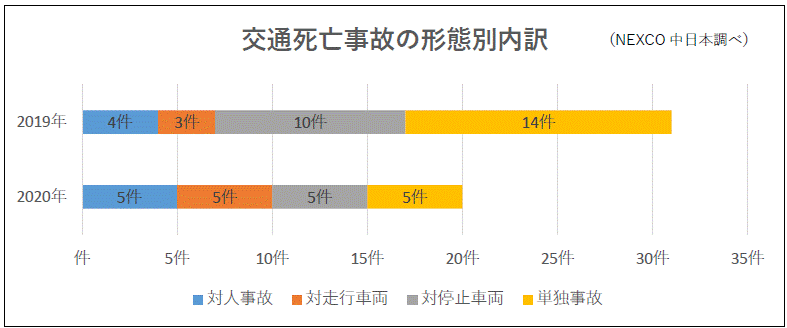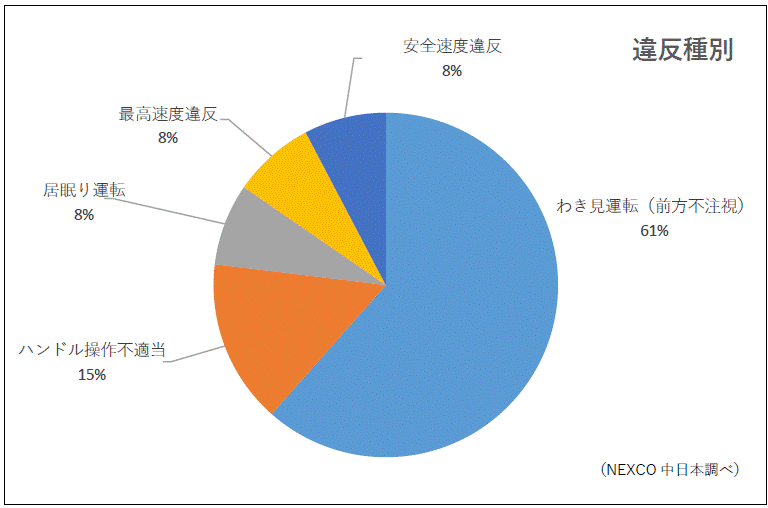 Expressway Please be careful of unexpected stop vehicles and people above
もし、事故・故障などで高速道路上に停止した場合は「後続車が気付いてくれるはず。」と過信しないで、後続車への合図をしたら、まずは、避難できる場所かどうか十分に確認のうえ、すみやかにガードレールの外など、安全な場所に避難し、110番、非常電話、道路緊急ダイヤルなどで通報をしてください。
走行中には「前方に停止車両や人がいるかも…」という意識をもって、前方に注意し、わき見をせず、安全運転をお願いいたします。
高速道路上の運転など動作が少ない環境では睡眠不足でなくても眠気がやってきます。眠気や疲れを感じる前に、適宜休憩を取ってください。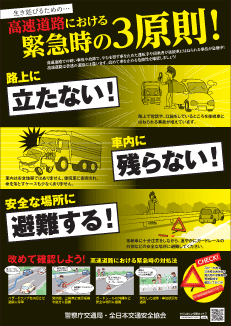 ※出典 : 警察庁WEBサイト
Requests when stopping due to an accident or failure
◎本線や路肩を絶対に歩き回らない!
◎ハザードランプ・発炎筒、停止表示器材で後続車に合図!
◎ Evacuate to a safe place such as outside the guardrail behind your vehicle!
* Everyone evacuates without leaving the car!
◎安全な場所に避難してから110番、非常電話、道路緊急ダイヤルで通報!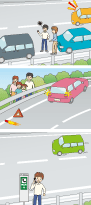 Safety on the Expressway Request about
◎前方の停止車両や人に注意!
◎渋滞末尾で停止・減速する際はハザードランプを点灯して後続車に合図!
◎情報板やハイウェイラジオなどでこまめに道路交通情報をチェック!
◎ Be sure to inspect the vehicle before departure so that no trouble or trouble occurs!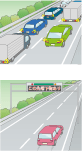 Please be careful about accidents involving motorcycles
自動二輪車の急ハンドルや急ブレーキは車両の転倒など重大事故に直結するおそれがあります。ライダーの皆さまには、周囲の交通状況に十分注意し、危険を予想しながら運転していただきますようお願いします!
◎ Do not overestimate your driving skills and vehicle performance, and try to drive at your own pace!
◎疲労・集中力の回復のため、SA・PAでこまめに休憩をとりましょう。特に、風雨が強い場合などには無理せずにSA・PAに退避しましょう!
◎ Don't do dangerous acts that ignore traffic rules and manners, such as slipping through traffic, running on the shoulders, and overtaking from the left side of the vehicle!

【Link】
I want to check again now! ? Expressway How to deal with an emergency? [Government Internet TV]

Expressway Do you know the three principles of emergency-emergency? ~ [National Police Agency]

When driving on Expressway(safety drive)