Efforts in the 3-Year Plan for Improving Safety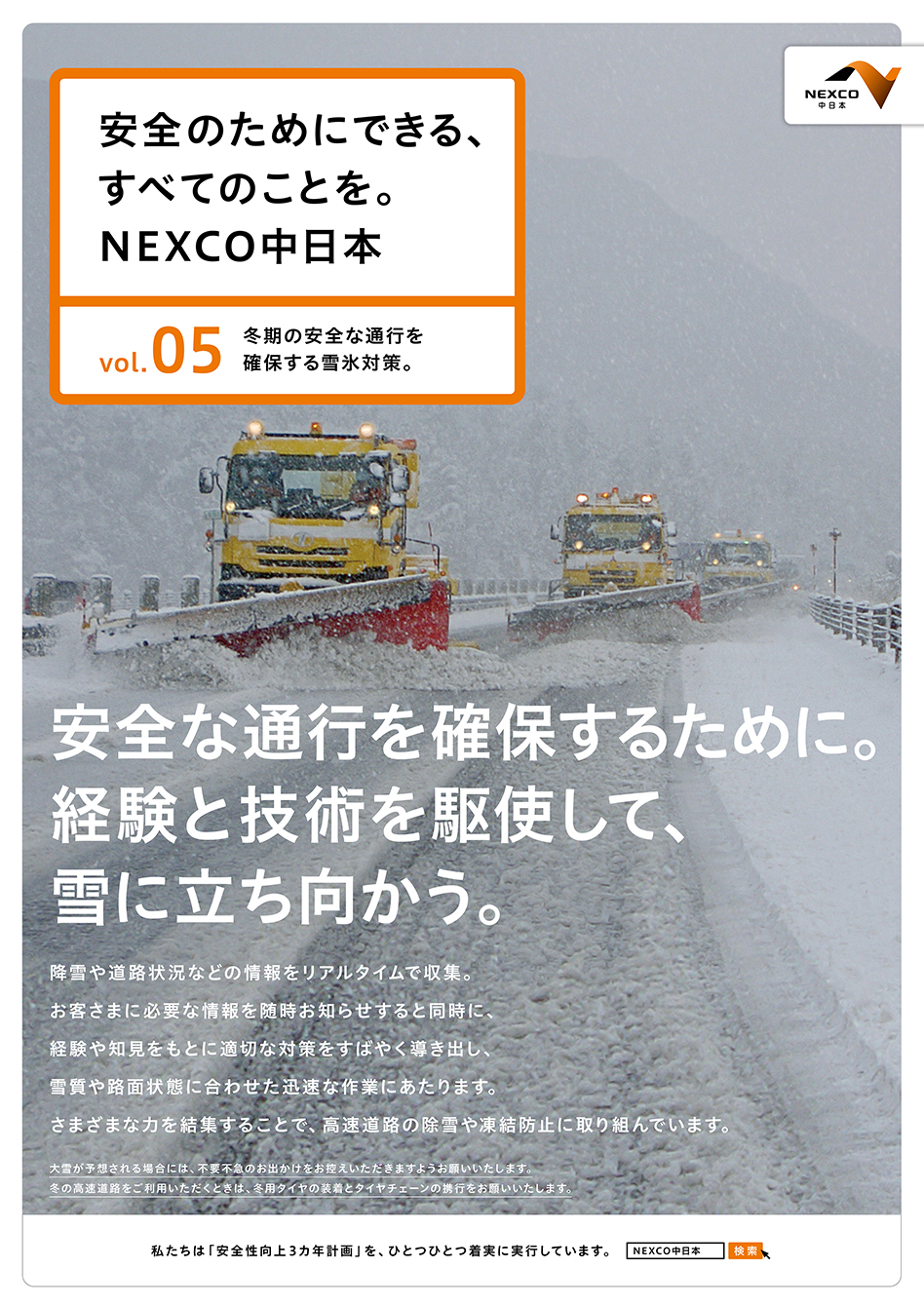 Notes on winter Expressway driving
In winter, when snow falls on the Expressway, snow storms and other factors make the outlook worse, and snow and frozen road conditions require longer stopping distances than on dry roads, and winter tires are installed at driving speeds of 50 km / h Even if you do, you will need a stopping distance of about 100m, so please exchange winter tires as soon as possible in winter and bring your tire chain with you. Before riding, carefully inspect the vehicle, observe the speed limit, maintain a sufficient distance between vehicles, and drive safely with ample driving. If heavy snow is expected, please refrain from unnecessary and urgent outings.

Snow and ice measures for driving safely on snowy roads
Safely to customers even in winter Expressway as you'll find a Expressway installed weather observation station or a fixed point camera to, such as by snow and ice patrol, weather information and Expressway collection no longer bear snow, the data, such as road conditions You. The collected information will be collected at the Snow and Ice Countermeasures Headquarters, which is the control tower for snow and ice countermeasures installed at the Conservation and Service Center, and specific work plans will be made. At the snow and ice base, which is the forefront of snow and ice work, snow removal and spraying of deicing agents are performed based on the work plan.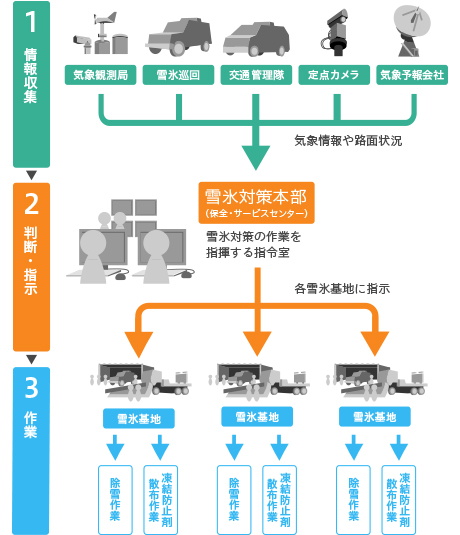 Snow and ice measures begin with information gathering.
We collect information necessary for countermeasures such as weather information and road surface conditions based on the data collected from weather forecasting companies and meteorological observation instruments, and the eyes of people who patrol the site.
● Information collection by patrol
In order to check the ever-changing weather, snowfall, road conditions, etc. in detail in real time, a snow and ice patrol team will be organized in addition to the patrol of the traffic management team when the snow and ice system is established.
The snow and ice patrol team regularly patrols the Expressway, not only the weather and road conditions, but also the concentration of sprayed deicing agent, the amount of snow and snow quality, and the danger of snow falling on signs and information boards and falling. Check directly on site for details, such as if there is any. The results will be reported wirelessly to the Snow and Ice Countermeasures Headquarters and work plans will be drafted.
Check road conditions, such as snowfall and snow quality, directly on site

To check the effectiveness of the sprayed deicing agent (salt), place the water on the road surface in a special measuring device and hold it over the headlight to measure the salt concentration.
● Collection of weather information
NEXCO CENTRAL obtains detailed forecast data from weather forecasting companies, and installs weather stations at Expressway to collect weather information data such as temperature, wind direction, and wind speed. In addition, weather and road surface conditions are monitored using images from road surveillance cameras.
In addition, for the winter of 2014, to find and move to "stuck vehicles" that can not move because of snow and hinder traffic, places where stuck vehicles are likely to occur (3 locations in Tomei, Chuo Expressway 11 locations) ) With additional road surveillance cameras.
Measures the amount of snow per hour and the amount of snow per day with a snow gauge

Collects information sent from weather forecasting companies

The key to snow and ice measures is the Snow and Ice Countermeasures Headquarters.
The Snow and Ice Countermeasures Headquarters aggregates information received from traffic management squads and snow and ice patrol teams, and predicts the timing of subsequent snowfall and road freezing based on that information. For snow and ice bases, snow removal work such as "Predict that the temperature will be 0 ° C in 2 hours, so spray anti-freezing agent", "Predict that it will change from rain to snow in 1 hour, so prepare for snow removal work" And measures such as spraying antifreeze.
Consider what measures to take based on various information received at the headquarters

Record the location and time of snow removal work, spraying of deicing agent, etc. on a diagram, which will be used as a reference for the following measures

The contact person keeps in touch with snow removal vehicles and patrol vehicles, and grasps the position of each vehicle and weather conditions one by one

The Snow and Ice Countermeasures Headquarters will send instructions to the Snow and Ice Base by phone or wirelessly to remove snow and spray antifreeze.

● Ladder snow removal
Ladder snow removal refers to the process of putting together two or three snow removal trucks and extruding snow from the median strip side to the shoulder side in order. At the end, a traffic sign is running to inform customers that snow removal is in progress and call for ban on overtaking.

Ladder snow removal

The last sign car calling for no overtaking
* Please cooperate not to pass during snow and ice work.
A snow plow is installed at the top of the snowplow to push out snow. Snow plows have a snow removal width of 3.0 to 4.5 m, and the angle can be changed according to the amount of snow and snow quality. The part where the snow plow comes into contact with the road surface is made of high-hardness urethane rubber so that the road surface is not damaged while shaving off the snow. Replace when worn.
The "grader" attached to the lower part of the snow removal truck plays an active role in removing hardened snow due to the traffic of vehicles. The metal plate that can change the angle is pressed against the road surface, and you can run while shaving hard snow that cannot be removed with a snow plow.

Or under the bridge Expressway when there is a general road and houses aside, the Expressway you will need to consider so as not fallen snow under. The sign on the right is installed in such a section, and the speed is reduced to remove snow.

Driving is very difficult at night or during snowfall because visibility is poor and the road surface is difficult to see. In addition, night work is physically and mentally burdensome. Even in such a situation, the operator adjusts snow plows and graders based on advanced driving skills and years of experience and performs snow removal work.
Snow plow in front of snow removal truck

Attached to the lower part of the body
Grader

Signboard indicating sections where snow cannot fall outside the shoulder (snow throwing is prohibited in the front and snow can be thrown in the back)
● Spraying deicing agent
If the road surface freezes, there is a risk that the vehicle may not be able to travel safely, for example, causing slip.If the road surface is frozen, it may cause a slip, for example, if the road surface is frozen. Must be sprayed to prevent the road from freezing. Sodium chloride (salt) is used as a deicing agent. Water usually freezes at 0 ° C, but if it contains salt, its freezing point will decrease, making it harder to freeze. Therefore, spraying salt on the road surface prevents freezing. The deicing agent is sprayed by an application vehicle, and a sign on the rear indicates that you are working when you are working. If you are too close to the spreader, the deicing agent may hit your car, so be sure to keep enough distance. In addition, when driving on the road surface sprayed with deicing agents or behind a spray vehicle, salt may adhere to the customer's car, so it is recommended to wash the car after using the Expressway.
Correlation between freezing temperature and sodium chloride concentration

Spraying antifreeze
● Rotary snowplow, snow removal by tractor shovel
When snow is thrown by the snowplow truck, the rotary snowplow throws snow on the slopes beside the Expressway. Where snow cannot be thrown, snow collected by a rotary snowplow is loaded onto a dump truck and transported to a snow dump.
NEXCO CENTRAL is strengthening its snow removal system for the winter of 2014 by installing seven additional rotary snow plows and 20 tractor excavators.
A rotary snowplow that throws snow on the slope beside the Expressway

In places where snow cannot be thrown, the snow collected by the rotary snowplow is loaded onto a dump truck and carried
● Snow removal work in service area and parking area
Snow removal is also performed in the service area (SA) and parking area (PA) used by many customers. In particular, the sidewalk section uses a small snowplow or scoop to remove snow frequently so that customers do not slip. The snow collected during the snow removal at the parking lot is transported to an empty space in the parking lot, and transported to the snow dumping area when it is collected.
Parking lot removes snow with tractor excavator

The sidewalk is snow removal by hand
● Equipment for snow and ice measures in snowy and cold regions
In snowy and cold regions where heavy snow falls, such as Hokuriku Expwy and Tokai-Hokuriku Expwy (in the Hida region), various facilities have been installed that are effective against snow and ice.
■定置式溶液散布装置
路面の凍結を防止する溶液を散布する設備です。路面凍結により登坂不能車両が出る可能性のある、縦断勾配のきつい区間などに設置しています。雪の降り始めや凍結が予想されるときなどに作動します。
定置式溶液散布装置
■ Stationary water spray snow melting equipment
A device that blows water from pipes installed along the road to melt or run off snow. Utilizes groundwater and tunnel spring water with a water temperature of around 10 ℃.
Stationary water spray snow melting equipment
■ Road heating
A device embedded under the road to warm the road and prevent freezing. It will be installed near the entrance of tunnels where vehicles can bring snow into the tunnel, near the entrances and exits of tunnels where the wind will blow and the road temperature will tend to freeze, and on steep sections where vehicles that cannot climb uphill will easily exit.
Road heating
Provision of information for safety and comfort
● Real-time information provision on the road information provision site "iHighway Central Japan"
For road information of interest, first see "iHighway Central Japan". You can check the pinpoint information and snowfall forecast of major interchanges (IC), and you can also check the snowfall situation and work situation from the images of live cameras installed around the road. It can also be used on smartphones. Also, if you set a frequently used route as My Route, there is also a service that receives e-mails about the start and release of traffic restrictions that occur on that route.

iHighway Central Japan http://c-ihighway.jp/
iHighway Central Japan
● Efforts to provide advance information on official websites, etc.
NEXCO CENTRAL is working to enhance the provision of advance information. When a heavy snow forecast is issued, information will be provided on the official WEB site, SA / PA electronic information board or wide area information board, etc., about three days before the snowfall. In addition, the special site `` Guide for Driving on Snowy Roads'', leaflets and posters distributed at SA and PA, tell you the need for winter tires and tire chains, the danger of getting stuck with ordinary tires, etc. .

NEXCO CENTRAL Official Website https://www.c-nexco.co.jp/
Guide for Driving on Snowy Roads https://www.c-nexco.co.jp/special/snow/
Important information such as heavy snow information will also be posted on the official website

Guide for Driving on Snowy Roads
● Information version on Expressway
Information on road conditions is provided on the IC information board, tollgate information board, and main line information board. In addition, a simple information board is provided in winter to provide regulatory information associated with snowfall. In addition, please use the highway radio that notifies you of necessary information in real time, including accidents, traffic jams, construction, and weather.
Before entering the Expressway, check the road and traffic information on the tollgate information board, etc.

The main line information board is in front of the IC on the main line and displays the information from there

Simple information boards are specially installed in winter
Interview with maintenance personnel