Efforts in the 3-Year Plan for Improving Safety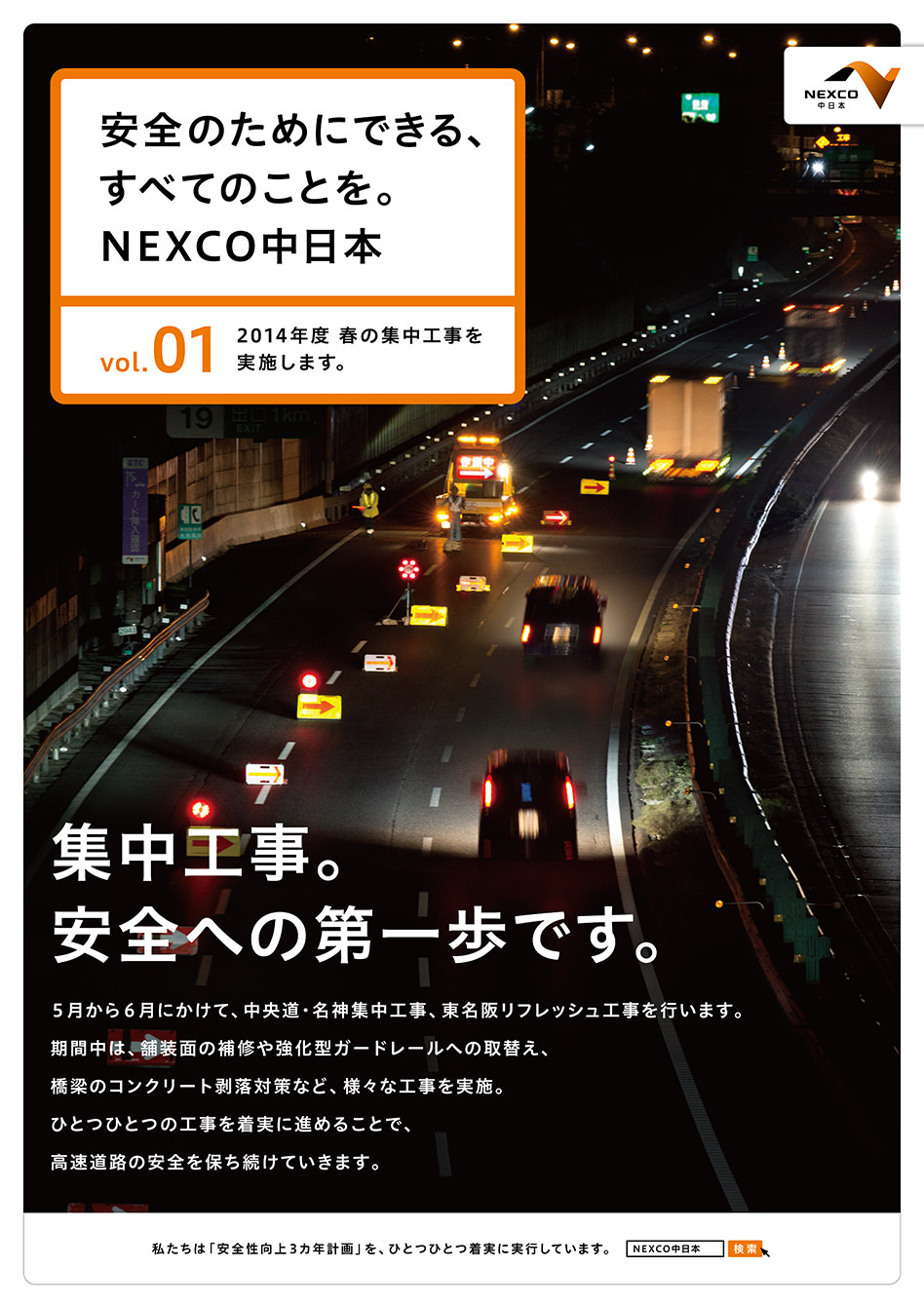 Purpose and benefits of intensive construction
Intensive construction is an intensive construction in a short period of time so that customers can use the safe Expressway. Chuo Expressway In the case of intensive construction, the number of annual construction regulations can be reduced by about 60% compared to the case where individual construction is performed, which has the effect of greatly reducing congestion due to construction.
Reduce the number of annual construction regulations (estimated)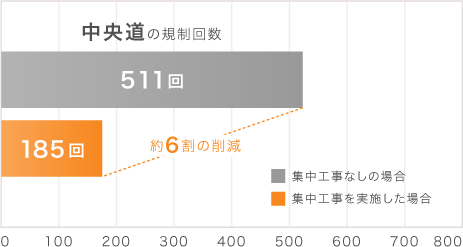 Contents of intensive construction
Based on 3-Year Plan for Improving Safety, pavement repair work to repair rutting and cracks on the pavement surface, replacement of aging guardrails with safer reinforced guardrails, measures to prevent aging concrete from spalling, etc. It will be implemented due to lane regulation.

Repair of pavement surface

Guardrail improvements

Concrete spalling measures
Timing of intensive work
The timing of the intensive work has been decided by comprehensively judging the following conditions. Every year, the intensive work of Chuo Expressway Expressway and Meishin and the Tomei Meihan refreshment work will be carried out every spring, and the Tomei intensive work will be carried out in the fall. During the intensive construction period of two weeks, construction will be suspended on Saturdays, Sundays and public holidays. (Some construction may be performed until early in the morning on Saturday)
New Year holidays, periods excluding congestion periods such as trays
When the weather is stable
When traffic volume is relatively low throughout the year
Considering planned construction work on other Expressway
Requests to customers
During a traffic jam, a following vehicle may collide with a stopped vehicle. When approaching the end of the traffic jam, turn on the hazard lamp and signal the following vehicle.
The maximum speed within the restricted section is limited. be careful.
Pace cars may be used to prevent accidents when construction vehicles enter and exit the regulations. For your safety, we ask for your understanding and cooperation in driving the pace car.


We have implemented continuous regulations to reduce the danger caused by repeated merging.



During the construction period, congestion is expected not only on Expressway but also on neighboring national highways. Road traffic information (iHighway Central Japan http://c-ihighway.jp ) Please check before leaving.
Interview with construction staff