Efforts in the 3-Year Plan for Improving Safety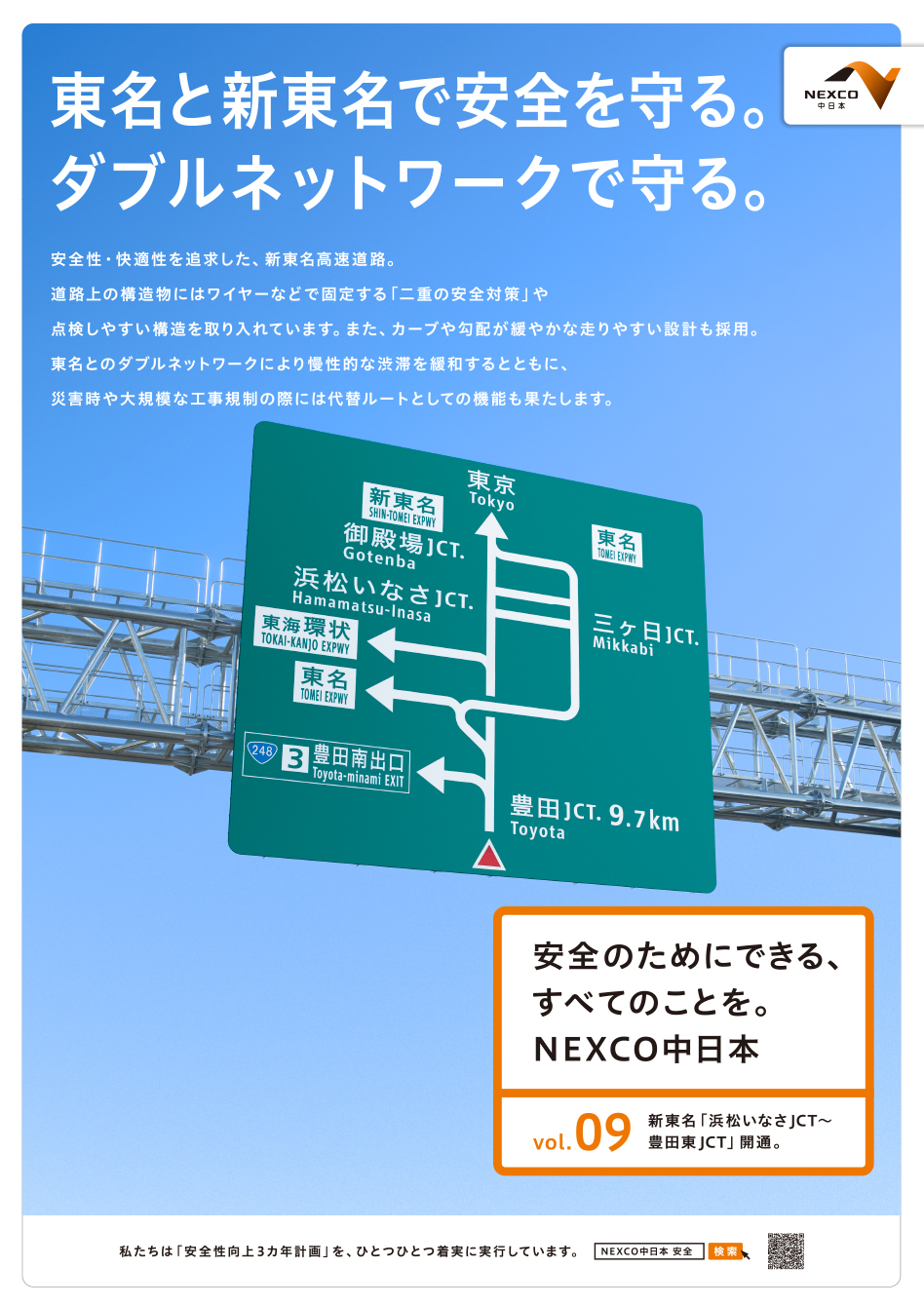 Shin-Tomei Expressway 's various technologies and ideas to further enhance safety, security and comfort
Steadily construction progresses towards the whole line opening of the 2020 Shin-Tomei Expwy (below Shin-Tomei Expressway). On February 13, 2016, the opening of the HamamatsuInasa JCT and the Toyota-higashi JCT section will finally begin. Shin-Tomei Expressway Tomei is expected to have various effects by being double-networked with the Tomei Tomei Expwy (hereinafter Tomei), and will be at the heart of Japan's aorta. For this reason, Shin-Tomei Expressway various technologies and innovations that have been cultivated so that customers can use it safely, securely and comfortably.
● Slower curves and slopes to reduce traffic and accidents
Expressway, curves that are as gentle as possible reduce the burden on the driver and reduce the likelihood of accidents. In addition, if the gentle slope, sag part (Out-bound there is less congestion in the recessed portion which reaches the uphill from the hill).
The curve of Tomei has a minimum radius of 300m, but Shin-Tomei Expressway has a minimum radius of 3,000m to make driving easier.
The maximum gradient of Tomei is 5%, but the maximum gradient of Shin-Tomei Expressway Tomei is 2%, making it easy to drive.
● Composite pavement for easy running and durability
On Expressway, where customers travel a long distance by car, road surface comfort is required. At the same time, strong durability is needed to minimize the number of repairs. In other words, it was necessary to develop a pavement technology that had the different characteristics of running easily on the surface and being as sturdy as possible below. That is composite pavement technology. The asphalt pavement with low noise and vibration is applied to the surface layer, which is comfortable to ride, and the lower layer is made of concrete pavement, which has excellent durability. In addition, high-performance pavement is used for the surface layer, which is excellent in running and visibility in rainy weather, and is expected to improve safety during high-speed running.
The asphalt surface layer reduces vibration and improves ride comfort, while the lower layer is made of solid concrete pavement to achieve both comfort and durability.

Compared with conventional pavement, high-performance pavement (right side of the photo) has better drainage due to rainwater entering gaps formed in the pavement, and approximately 80% of traffic accidents occur in sections where the number of accidents during rainy weather is actually high. In some sections, it has decreased.
By illuminating the lights in the same direction as the car is traveling, visibility is improved when driving. It has become easier to keep a proper distance between vehicles.
● New lighting technology that illuminates the safety inside the tunnel
The visibility in the tunnel is secured by lighting. In other words, it is no exaggeration to say that the progress of lighting will affect the safety inside the tunnel. Therefore, Shin-Tomei Expressway Tomei has adopted pro-beam lighting using LED lights as a new lighting technology. Instead of illuminating the road surface directly below and illuminating the road surface as with conventional lighting, the lighting angle is tilted in the direction of travel, and the brightness is concentrated on the cars running ahead. The visibility of the car ahead is improved, making it easier to keep a proper distance between vehicles. Indeed, it is a new lighting technology that illuminates the safety inside the tunnel.
Conventional lighting
Pro beam lighting
● Providing fast and accurate road information with cutting-edge IT technology
Shin-Tomei Expressway uses a CCTV camera to photograph and analyze road conditions around the clock. When an abnormality such as an accident occurs on the road surface, it is automatically sensed and an information board or ITS spot (a high-speed, large-capacity bidirectional communication is possible on the road) in front of the accident site via the road control center Information can be instantly provided to the corresponding car navigation system. The introduction of state-of-the-art technology has made it possible to notify customers of obstacles such as falling objects as soon as possible, and to prevent the occurrence of secondary accidents.


Information provision system diagram by automatic event detection
"Even in the construction of Shin-Tomei Expressway, we are working on safety measures based on the three-year safety improvement plan."

NEXCO CENTRAL
Toyota Construction Office Pavement Construction Team
Taichi Yabuki
Shin-Tomei Expressway pavement construction and labeling construction work in charge of the.

NEXCO CENTRAL
Toyota Construction Office Facility Construction Group
Kenta Yanase
At Shin-Tomei Expressway, was in charge of installation work such as information boards and construction of toilets in service areas.
What safety measures are being implemented at the new Shin-Tomei Expressway that will be opened this time?
For structures installed on roads, such as lighting fixtures and jet fans in tunnels, we are implementing double safety measures such as attaching wires. At the toll booth at Shin-Tomei Expressway, the location of the lighting was taken into consideration, and the toll booth was installed on an island (where the toll collection machine is installed) so that it did not protrude into the lane. In addition, we have implemented double safety measures for toilets in the service area, not only to meet normal building standards, but also to add components to prevent air-conditioning equipment and ceilings from falling.
Signs are considered even more secure than before, for example, they are installed in a place that does not protrude into the lane so that they will not be affected by a fall, and double safety measures are implemented by attaching wires.
For lighting fixtures, etc., wires are attached so that they will not fall even if the mounting brackets come off.

The jet fan strives to prevent falling by installing the mounting brackets twice.

Regarding signs, wires are attached so that they do not fall on the road even if the signs come off the pillars.
What other measures are being taken to prevent falling objects?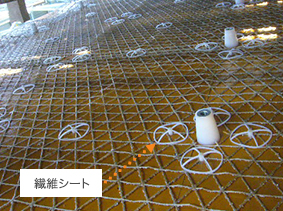 By inserting a fiber sheet when concrete is poured, the connection between concrete is strengthened and falling is prevented.
If there is a prefectural road that crosses under the bridge, concrete peeling measures are implemented. When placing concrete as a countermeasure, a fiber sheet for preventing falling is integrated with the concrete to prevent concrete pieces from falling.
Please tell us about other safety measures adopted by Shin-Tomei Expressway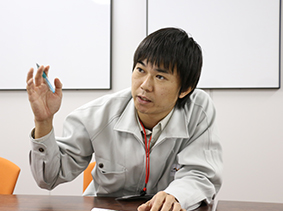 Shin-Tomei Expressway incorporates various safety measures that NEXCO CENTRAL has cultivated so far. For example, in order to notify customers of accidents and falling objects as soon as possible, a simple information board will be installed every 1 km, and a self-luminous delineator linked to weather observation equipment will be installed to guide the driver's gaze in the event of fog. And other new technologies. In addition, painting to prevent the back side from being reflected by sunlight and installation of signs with backlighting measures to prevent overlooking, concrete concrete of the median strip to prevent vehicles from jumping into the opposite lane in an accident etc. And various other safety measures. In addition, a solid rock fall protection fence has been installed on long slopes to ensure that falling rocks are safe from outside the Expressway area.
・ A self-luminous delineator is installed to guide the eyes when fog or bad weather
・ Signs painted so that the back side does not reflect
・ Median strip to prevent accident vehicle from jumping into the opposite lane
-Rock fall protection fence that can withstand even large rock fall
How about in terms of safety maintenance?
An important factor in maintaining and managing safety is its "easiness". By making it easier to access the inspection and making the inspection itself easier, the accuracy of safety maintenance and management has been improved more than ever. Specifically, as part of the Total Quality Management (TQM), which was implemented by the maintenance division and other Companies in our Group whole from the construction stage, stairs were installed on the slopes and inside the bridge girder, and simple entrances were installed on the entrance fences. In addition to improving safety for customers, we are working to make inspections and repairs easier. In addition, measures to make it easier to inspect the structure, such as installing LED lighting equipment in the bridge girder, and for signs that may cross the lane, make sure that traffic can be inspected and removed with only one lane regulation. At the boundary between the lane and the overtaking lane, the road is divided into left and right, and inspection passages are installed so that people can inspect directly.
・ Stairs installed to check the slope
・ LED lighting installed to brighten the inside of the bridge girder and enhance the visibility of the structure
・ Signboard divided into left and right so as not to cross the lane
・ Simple doors installed on entrance fences to facilitate access
Finally, please tell us your thoughts on safety for Shin-Tomei Expressway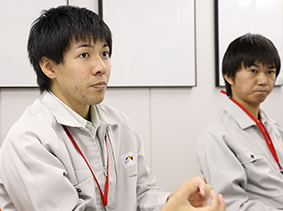 We have spontaneously found out what measures should be taken for safety and have been actively working on them. The experience of setting new safety measures and building a new Expressway is an irreplaceable asset. We will use this knowledge to further improve the safety of the entire Expressway including not only maintaining and managing Shin-Tomei Expressway, but also introducing new safety measures to existing Expressway. I would like. By connecting such know-how to the next generation, we want to be involved in the construction of safe, secure and comfortable Expressway spaces 50 years and 100 years into the future.
Benefits of opening Shin-Tomei Expressway
Shin-Tomei Expressway has been created with the aim of creating a safe, secure and comfortable Expressway environment by collecting the best of various knowledge and technologies cultivated up to now. Various benefits are expected from this new extension of the Japanese aorta. In particular, the benefits of the double network with Tomei are great for customers and the Japanese economy, alleviating chronic congestion, and also providing an alternative route to each other in the event of a disaster or large-scale construction regulations. Works.