Efforts in the 3-Year Plan for Improving Safety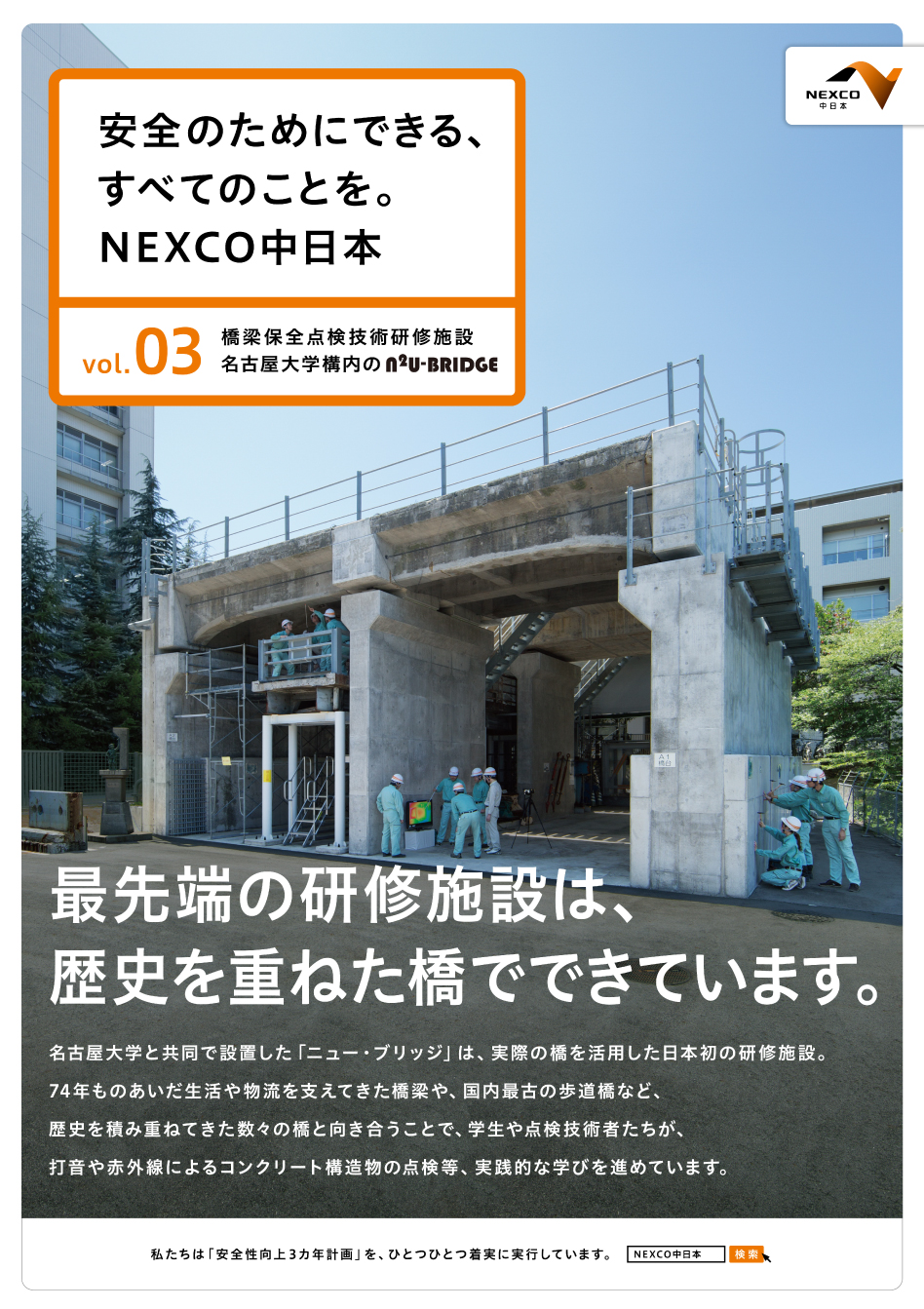 Human resource development through practical training
NEXCO CENTRAL is promoting human resource development including systematic safety education based on the "3-Year Plan for Improving Safety". As part of this, we are working to enhance training facilities that enable hands-on experience and education.
"N2U-BRIDGE" (New Bridge) using actual bridges that have been used for many years. And "E-MAC" which reproduced the Expressway indoors. These two training facilities will improve the knowledge and technical skills of employees.
Bridge maintenance inspection technology training facility N2U-BRIDGE (New Bridge)
"New Bridge" is a training facility jointly established by Nagoya University and NEXCO CENTRAL and Central Japan Highway Engineering Nagoya Co., Ltd. on the premises of Nagoya University. In order to maintain the safety and comfort of infrastructure such as bridges, we are developing human resources with advanced skills to perform appropriate inspection, diagnosis and evaluation. Here, we are rebuilding facilities using bridge materials that have been used for many years, and we have installed various degraded samples. You can learn more practically the changes that have appeared over time.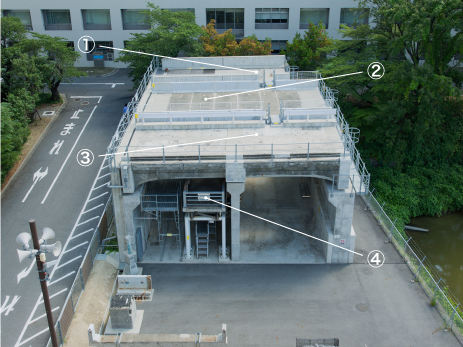 Former Shibuegawa Bridge (Nanto City, Toyama Prefecture)
Service years: 35 years

It is a steel plate girder bridge that was bridged on the Hokuriku Expwy. You can observe floor slab cracks and concrete deterioration caused by fatigue deterioration over many years.

Former Nichimatsu Bridge (Komatsu City, Ishikawa Prefecture)
Service years: 37 years

It was a prestressed concrete hollow slab bridge that was bridged as an overpass for the Hokuriku Expwy. In addition to observing cracks in concrete, you can also learn the internal conditions through slice-cut sections.

Former Kotogawa Bridge (Ube City, Yamaguchi Prefecture)
Service years: 74 years

Reinforced concrete T girder bridge that was bridged over National Route 190. In addition to corrosion of steel due to salt damage accumulated over many years, deformation due to carbonation of concrete can be seen. In addition, re-degradation of the repaired part can be observed.

Former Nishibiwajima Pedestrian Bridge (Kiyosu City, Aichi Prefecture)
Service years: 51 years

This is the first pedestrian bridge in Japan. You can see the rust of the bridge girder and the concrete deterioration of the floor slab due to the service life of 51 years.

Hikaru Nakamura, Nagoya University Graduate School of Engineering, Department of Social Infrastructure Engineering, Bridge Life Extension Promotion Office
Many bridges constructed during the period of high growth are aging, and the number will increase rapidly in the future. Proper maintenance of existing bridges is becoming increasingly important. For this reason, there is an urgent need to develop human resources who have basic knowledge of bridge design and construction according to the age of construction, and who can accurately inspect, diagnose, and evaluate various degradation events.
I hope this new bridge will help improve the safety of not only Expressway but also aging structures.
Main training content
■ Cavity exploration


Hammering inspection with a hammer is sound and vibration, and infrared thermography searches for voids, cracks, and delaminations in concrete due to differences in surface temperature.

このブラウザでは対応しておりません。IE9/Forefox/Chrome/Safari等をご利用ください。
■ Rebar search


Confirm the depth and position of the reinforcing steel in the concrete using electromagnetic induction.
■ Fatigue crack detection of steel


Steel joints are inspected for small invisible surface flaws using eddy current testing.
■ By crack gauge
Crack width measurement
In the visual inspection, crack gauges are used to measure the width of cracks generated in the concrete to determine the state of deterioration and the possibility of repair.
■ Concrete
Estimated intensity measurement
Check the strength of the concrete by hitting the surface of the concrete and using a rebound hammer to measure the strength from the degree of rebound.
■ Measurement of paint thickness of steel bridge


The coating used to prevent corrosion of steel materials may become thinner over time, so use a coating film meter to check whether the coating thickness has changed.
■ Inspection of invisible parts


The places that are difficult to see are photographed using an inspection camera attached to the tip of the pole to check for deformation.
■ Neutralization depth measurement


When concrete is neutralized by carbon dioxide, the internal rebar is easily corroded, so the depth of neutralization is measured.
Basic Course Program (2 days)
Form
First day
Current status of bridges in Japan
Outline of bridge structure ・ Flow of bridge maintenance ・
Inspection method and principle of non-destructive inspection equipment
lecture
the 2nd day
Explanation of deterioration status of New Bridge
Inspection equipment measurement training
New Bridge Practice
Inspection course program (3 days)
Form
First day
Overview of the current status of Japanese bridges, changes in standards, and changes
Estimation of deterioration mechanism (concrete members)
lecture
Explanation of deterioration status of New Bridge
New Bridge Practice
the 2nd day
Estimation of deterioration mechanism (steel members)
Inspection techniques (non-destructive testing), Ministry of Land, Infrastructure, Transport and Tourism periodic inspection procedures -
Explanation of record, inspection procedures of each organization, points of interest for inspection
lecture
Third day
Case study (damage diagram creation / damage judgment / estimation of deterioration mechanism)
Inspection equipment measurement training
New Bridge Practice
E-MAC技術研修センター
"E-MAC" was established in Kakamigahara City, Gifu Prefecture, for the purpose of "acquisition of failure repair technology" for machinery and equipment, "acquisition of civil engineering technology", and "to acquire a safety culture". Was. In the facility, electric facilities and tunnel emergency facilities used on the Expressway are installed, and the equipment used at the actual site is used to learn the work involved in inspections and function stoppages, and inspection and repair technologies Is being improved.
In addition, as part of our efforts to protect the environment and disasters, the center secures wells that can be used for drinking water, maintains private power generation facilities, stocks up disaster prevention products and prepares cooking facilities, etc. Will contribute as. In addition, we are taking care of the environment by collecting rainwater and sprinkling water on green spaces.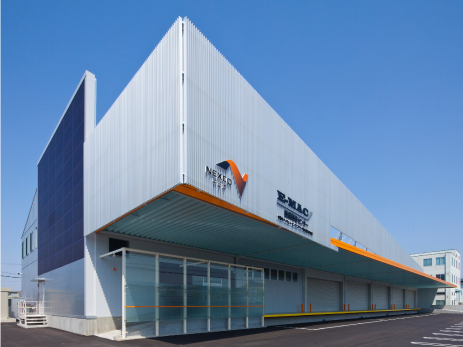 Kenji Nakajima Director, E-MAC Technical Training Center
We have been responsible for the maintenance and management of Expressway facilities since the opening of the Meishin Expwy. However, in recent years, failures have been reduced due to the sophistication and integration of facilities, and opportunities for gaining on-site experience have been reduced. Therefore, the "E-MAC Technical Training Center" was established with the aim of providing practical training that is more tailored to the field. Here, we will improve the skills of maintenance inspection technology and failure repair technology by reusing old equipment. In addition, we aim to improve our ability to respond by creating events such as breakdowns, and to raise awareness of safety by experiencing dangers with ourselves. From skilled technicians to younger generations. We will continue to pass on technology for safety.
Location 7-71-10 Unakamakaharacho, Kakamigahara City, Gifu Prefecture
Main training content
■ Measurement training using a water spray measurement vehicle


Training to measure the water level of the water spray equipment using a measuring vehicle.

このブラウザでは対応しておりません。IE9/Forefox/Chrome/Safari等をご利用ください。

■ Measurement training with water spray equipment inspection car


Training to measure the amount of water discharged from the water spray equipment, one of the tunnel emergency equipment, using a water spray equipment inspection vehicle.
■ Rope access


Learn while actually experiencing rope access technology, one of the inspection work at high places on the Expressway.

このブラウザでは対応しておりません。IE9/Forefox/Chrome/Safari等をご利用ください。

■ Rope access


You will learn while actually experiencing rope access, one of the techniques required for Expressway inspections.
■ Inspection of tunnel lighting equipment


In a tunnel reproduced indoors, you will experience inspection, cleaning, and structural inspection of lighting equipment using an aerial work vehicle.
■ Operation training for road information boards


Using road information boards that were actually used on Expressway, learn basic inspection work and restoration work in case of breakdown.
■ Incoming power distribution / in-house power generation equipment inspection


Experience inspection and restoration work at facilities that supply power and respond to power outages. By using the same equipment installed at the site, you will learn how to respond to the site.
■ Scaffolding and safety confirmation


Reproduce the scaffolding required for Expressway construction, inspection and repair. Go up and check the safety technology of the work you do there.
■ Experience field


You will learn how to notice dangers by projecting images of the Expressway a large screen, waiting for traffic to pass, and collecting falling objects across the Expressway.