Efforts in the 3-Year Plan for Improving Safety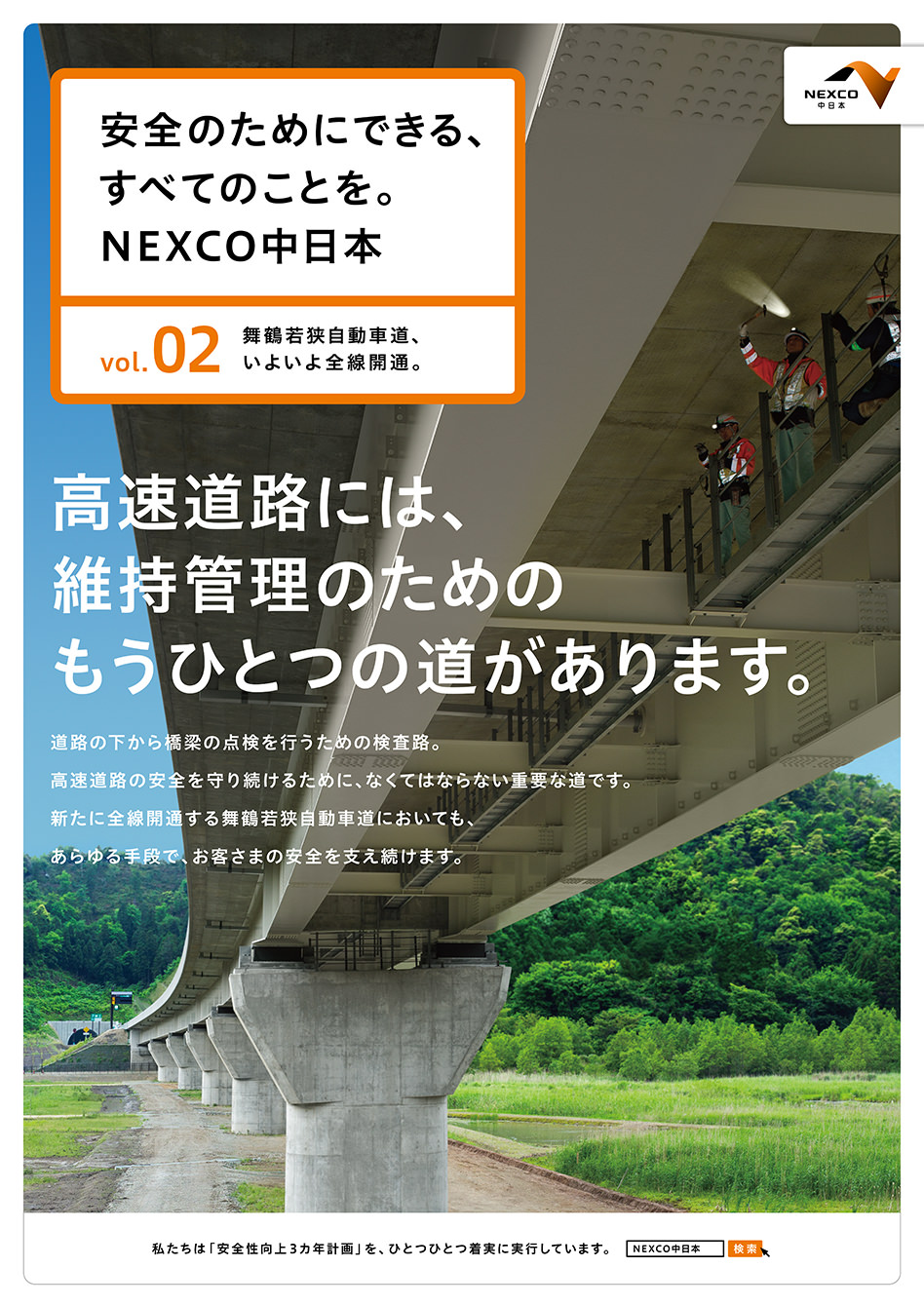 Maizuru-Wakasa Expressway whole line opened
Maizuru-Wakasa Expressway is an approximately 162 km Expressway from the Yoshikawa JCT (junction) on the Chugoku Expressway to the Hokuriku Expwy Tsuruga through Fukuchiyama, Maizuru and Obama.
With the opening of the section between Obama IC (Interchange) and Tsuruga JCT (approximately 39 km) on July 20, all lines will be opened.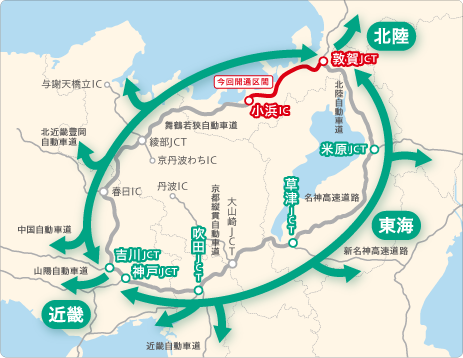 Maintenance effect by opening all lines
Maizuru-Wakasa Expressway forms a wide area network with the Chugoku Expressway, the Meishin Expwy, and the Hokuriku Expwy. Hokuriku, Tokai, Kinki and other nations are connected, improving access to various places. Even during Golden Week and traffic jams during summer vacation, the range of route choices is greatly expanded.
Maizuru-Wakasa Expressway brings Fukui Prefecture's Reinoku and Reinan areas closer to each other, deepening exchanges and cooperation between the areas. In addition, travel time will be shortened, and the two-hour area from Obama IC will also Large.
From ordinary roads such as National Route 27 to the Maizuru-Wakasa Expressway, traffic is switched and dispersed, and congestion is reduced. In addition, it is possible to run at a stable speed, reducing the amount of carbon dioxide emissions. Roadside environment is improved.
Maizuru-Wakasa Expressway will be an evacuation route in the event of a disaster, and will be useful for early recovery from the disaster. In the event of a major Nankai Trough earthquake, it is expected to function as a substitute for the damaged road.
Efforts to improve safety in open sections
■ Installation of inspection path


Inspection roads for inspection and repair are installed on bridges. We will continue to support customers' safety from under the road.
■ Introduction of road heating


Road heating is installed under the paved surface at the entrance and exit of the tunnel and on steep slopes. We strive to ensure safe driving in winter.

* Photo shows the introduction of Tokai-Hokuriku Expressway
■ Measures for dropping the jet fan


To secure the jet fan, the anti-shake hardware is reinforced to prevent it from falling, and double safety measures are taken by providing a role as a support metal.
■ Countermeasure for falling of guide plate


Auxiliary signs, which used to be on the main line, have been installed on the wall to prevent traffic in the lane even in the event of a fall. For fixing, double safety measures are taken by adding support brackets and connecting them to other support brackets with wires.
■ Measures for dropping heavy structures


Heavy structures such as large signs and information boards were installed so as not to protrude into the traffic lane.
■ Installation of a fall prevention fence


Fences are installed at places that cross railways and roads so that objects do not fall onto intersecting railways and roads.
It is designed not to let the snow piled on the upper part of the fence fall outside.
Interview with construction staff