3-lane (provisional) operation
Overview of 3-lane (provisional) operation
Overview of countermeasure examples
In sections where the actual traffic volume greatly exceeds the traffic capacity of the road and congestion occurs frequently, and in sections where the network is expected to be completed in the future, the shoulders will be used effectively and provisional 3 The use of lanes reduces traffic jams.
The three-lane (provisional) operation means that the current road width is not increased, the lane width and the shoulder width are reduced, and the operation is temporarily changed from two lanes to three lanes. Here are some examples from the Higashi-Meihan Expressway.
Overview of 3-lane (provisional) operation
Route Name
Operation section
Operation start date
E23 Higashi-Meihan Expressway
In-bound line
About 8km between Suzuka IC and Yokkaichi IC
July 14, 2017
(Approximately 2km near Yokkaichi IC will be operated in advance on June 9, 2017)
<Operation range>

<Width composition>


Effects of countermeasure examples
After three-lane (provisional) operation, the traffic situation in one month between Kameyama JCT and Yokkaichi IC increased by 1% compared to last year, but the number of traffic jams was about 20% and the traffic jam time was about 30% Decreased.
Item
Countermeasure effect
Aggregation section and period
Traffic volume
1% increase (47,400 units / day ⇒ 47,900 units / day)
Section: Kameyama JCT-Yokkaichi IC
Period: 2016: Friday, July 15, 2016-Sunday, August 14, 2016
2017: 2017.7.14 (Fri)-2017.8.13 (Sun)
Traffic congestion
Number of traffic jams
About 20% reduction (108 times ⇒ 82 times)
Congestion time
About 30% reduction (333 hours ⇒ 224 hours)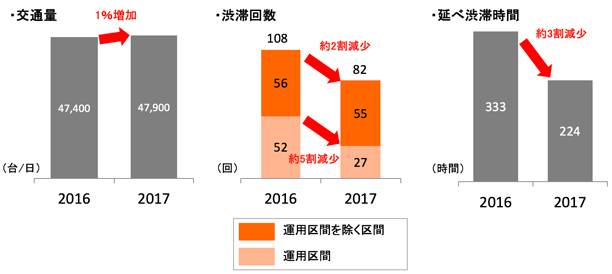 Examples of traffic jam countermeasures

Causes of traffic congestion