Overview of countermeasure examples
Shin-Tomei Expressway and Shin-Meishin Expressway are being developed to form a double network and to develop ring roads in metropolitan areas. When this network is completed, much of the current congestion will be eliminated.
Effects of countermeasure examples
Opening of Shin-Tomei Expwy (Shizuoka Prefecture section)
The traffic volume of Shin-Tomei Expressway Tomei + Tomei after its opening increased by 14% compared to Tomei before opening, and decreased by 40% for Tomei alone.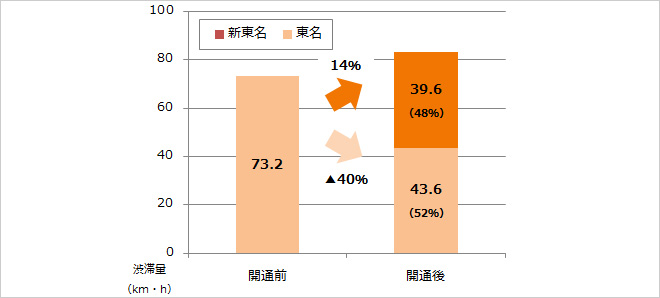 Source: Central Japan Expressway Co., Ltd., Ministry of Land, Infrastructure, Transport and Tourism traffic volume measurement data
(Total traffic volume between Gotemba JCT and Mikkabi JCT)
Before opening: Sunday, April 17, 2011-Saturday, April 7, 2012
After opening: Sunday, April 15, 2012-Saturday, April 6, 2013
On the other hand, the traffic congestion that had occurred in Tomei before its opening was reduced by 90% when compared to the sum of Shin-Tomei Expressway Tomei + Tomei.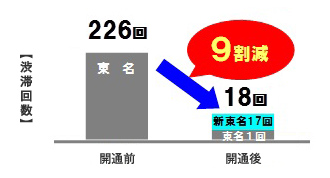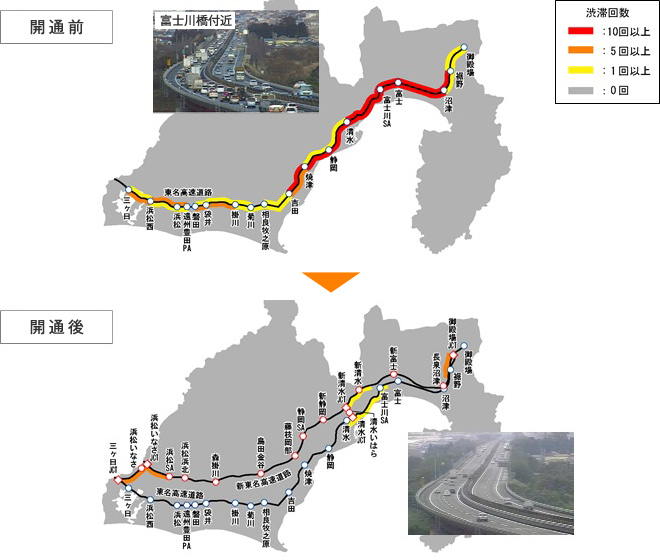 Source: Central Japan Expressway Corporation data
Number of traffic jams of 10 "km or more due to traffic concentration
Before opening: Sunday, April 17, 2011-Saturday, April 7, 2012
After opening: Sunday, April 15, 2012-Saturday, April 6, 2013
Examples of traffic jam countermeasures

Causes of traffic congestion